Mission
A community where the talents and value of all people are celebrated.
To support persons with disabilities and other barriers to independence in achieving their fullest potential as workers and as members of the broader community.
Goodwill helps persons with disabilities as well as people who are at an economic disadvantage, or may lack education or work experience.
Kris - Overcoming Obstacles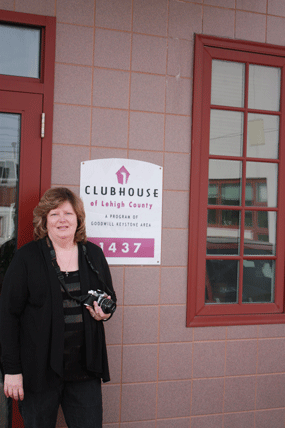 Kris joined the Clubhouse of Lehigh County to get the support she needed. Kris always dreamt of going to college. Marriage and family came first, but that dream of going back to school was always on her mind.
15 years ago she set out to get a college degree. Then an obstacle to her success intervened: the challenge of mental illness. Kris had to postpone her dream as she focused on becoming well again. She went to outpatient and inpatient facilities to seek help. As part of her treatment, Kris joined Clubhouse of Lehigh County in 2005 to get the support she needed.
Like Kris, all Clubhouse members face the challenges of recovering from mental illness. The mission of the Clubhouse of Lehigh County, a program of Goodwill Keystone Area, is to offer persons with mental illness a safe and healing environment where each person is given the opportunity to explore their personal and vocational potential to its fullest, and to receive support in achieving their goals.
Kris began going to the Clubhouse a few days a week. As a Clubhouse member, she started in the services unit by cutting out coupons. As her recovery grew stronger, she worked with a group to produce the Clubhouse newsletter, took computer classes and participated in bowling, fishing and museum trips. On these trips, besides her new Clubhouse friends, her constant companion was her camera. Through her camera she began seeing her community, its gardens and its people in a different way.
Fatoumata - Gaining Confidence Every Day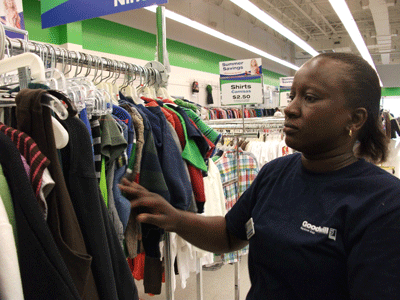 Fatoumata has overcome odds and obstacles. She came to the United States alone – without her family and friends – and that's just the tip of the iceberg.
Fatoumata was born in West Africa, and she was born deaf. Her teachers and family didn't know how to sign, so no one could teach her how to communicate. She struggled to tell others her needs and feelings and couldn't attend school. Hoping for a better future for his daughter, Fatoumata's father arranged for her to live with friends in the United States.
Once she settled in Berks County, she was connected with the Office of Vocational Rehabilitation (OVR), and was partnered with a teacher who taught reading, writing and sign language.
Fatoumata was interested in working at a store and she was referred to Goodwill. Goodwill job coaches began working with Fatoumata and arranged for her assessment and job training to take place at the Goodwill Store and Donation Center in Shillington. She was officially hired and converted from Goodwill client to Goodwill employee.