Fatoumata - Gaining Confidence Every Day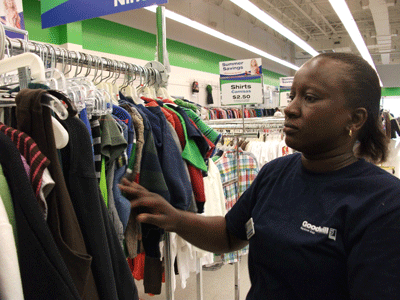 Fatoumata has overcome odds and obstacles. She came to the United States alone – without her family and friends – and that's just the tip of the iceberg.
Fatoumata was born in West Africa, and she was born deaf. Her teachers and family didn't know how to sign, so no one could teach her how to communicate. She struggled to tell others her needs and feelings and couldn't attend school. Hoping for a better future for his daughter, Fatoumata's father arranged for her to live with friends in the United States.
Once she settled in Berks County, she was connected with the Office of Vocational Rehabilitation (OVR), and was partnered with a teacher who taught reading, writing and sign language.
Fatoumata was interested in working at a store and she was referred to Goodwill. Goodwill job coaches began working with Fatoumata and arranged for her assessment and job training to take place at the Goodwill Store and Donation Center in Shillington. She was officially hired and converted from Goodwill client to Goodwill employee.