Donation Centers
All Goodwill Stores include a Donation Center on the front, side or rear of the building.
Search Stores & Donation Centers
"Give to Goodwill what you would give to a friend."
Goodwill accepts donations of gently used clothing, household items and furniture. Donations can be made at our stores and donation centers. The list below is to be used as a guideline. There are many items we can sell in stores that are not on the list.
PLEASE NOTE: Goodwill does not offer pick-up service, all items must be brought to our donation centers, thank you!
Goodwill is Pleased to Accept
Clothing
Footwear, Shoes, Boots, Sandals, Slippers, etc.
Outerwear
Jewelry & Accessories (handbags, ties, belts, scarves)
Antiques & Collectibles
Books
CDs, Records, Videotapes & DVDs
Games & Toys

Housewares (dishes, glasses, knick-knacks)
Linens & Rugs
Art
Sports Equipment - please note that we do not accept large exercise equipment
Musical Instruments
Furniture
(NOTE: only at selected locations: search for your local store page to see if they accept furniture or call your local store to be sure.)
Computers – more info: Dell Reconnect
---
What Not To Donate
The cost of disposing certain items takes away from funds we invest in our employment and training programs. We appreciate your donations and your help in keeping unsafe, broken or non-working items out of our stores by not donating items that do not meet current safety standards due to recalls or bans. As a result of the new e-waste recycling law in Pennsylvania, Goodwill has received a high-volume of TVs that we are unable to sell or that we can't recycle. We DO accept computers, monitors, etc. We work with Dell Reconnect in recycling computers. We are working to find a vendor that will help us recycle TVs. Until then, we are sorry that we can't take your TV donation.
Items We Cannot Accept
Air Conditioners
Any Recalled Items
Dehumidifiers
Hazardous Chemicals
Household Chemicals

Infant Furniture (Cribs, Highchairs, Car Seats, Strollers, etc.)
Kerosene Heaters
Large Appliances
Large Exercise Equipment
Lawn Mowers

Mattresses / Boxsprings
Small Engines
Tank or Cylinder Containers (CO2, Oxygen, Propane)
Tires
TVs
Weapons
CONSUMER PRODUCT SAFETY
Goodwill makes every effort to comply with governmental recall notices regarding consumer products. Goodwill does not independently test for lead or other contaminants in consumer products. All Goodwill merchandise is sold "as-is" with all faults. For recall notices, visit the in-store kiosk or the Consumer Products Safety Commission's website at www.recalls.gov.
---
Goodwill Donation Bins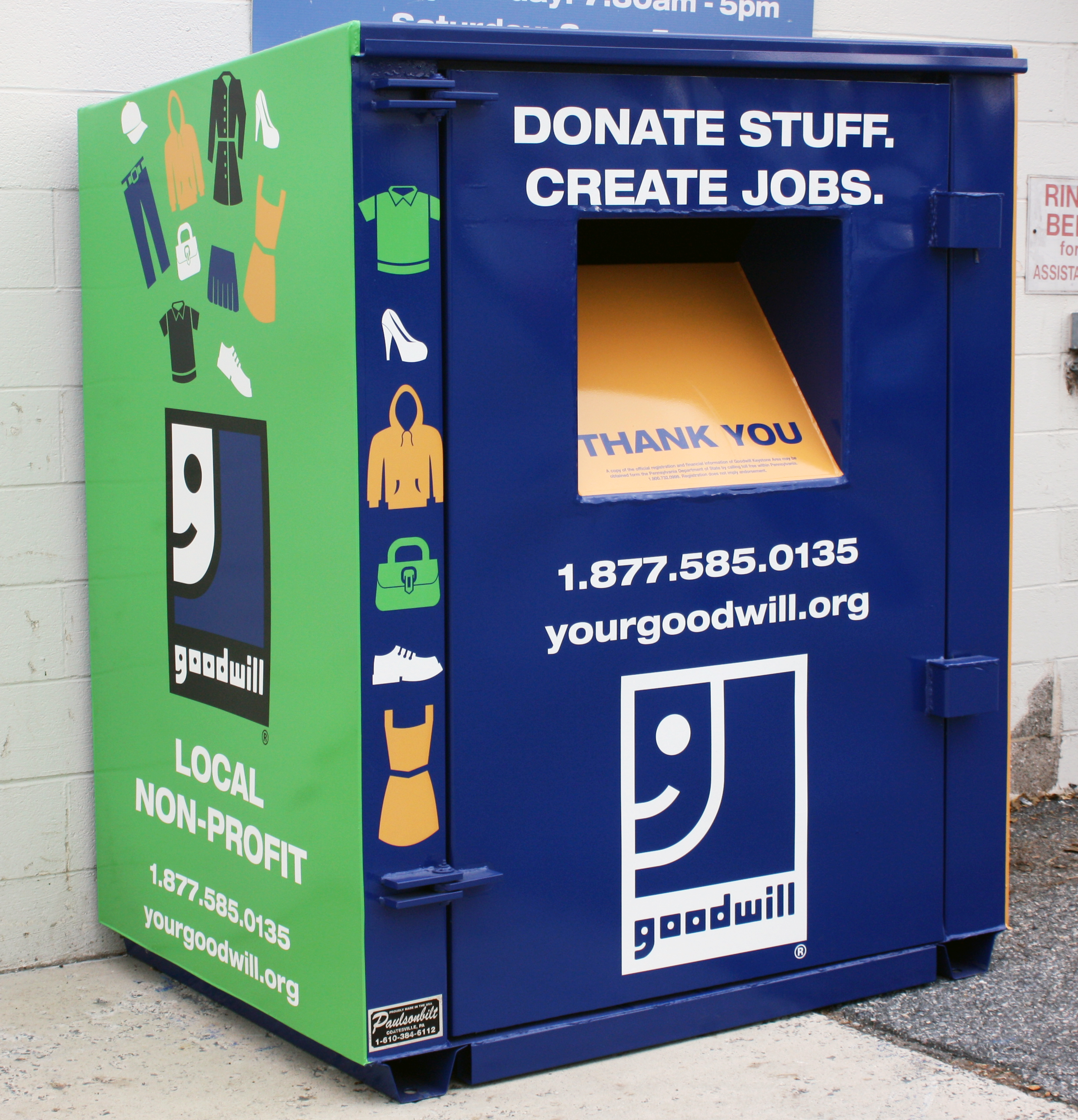 In an effort to make donating clothing to Goodwill more convenient for our donors, we have begun placing Donation Bins at a few of our Store locations and around the community throughout central and southeast Pennsylvania. If you see our bins out in the community you may donate with confidence knowing that your donation to Goodwill helps local community members with barriers to independence. 
For more information, please contact the store nearest you, or call 800.432.GIVE (4483).