What is Goodwill Labor Fulfillment?
Goodwill Labor Fulfillment assists businesses with consistent big or small projects at your facility. Our qualified workers come directly to you to complete these projects, which saves you time and costs of shipping and receiving.
Why use Goodwill Labor Fulfillment?
Competitive Pricing
Fast quotes
Quality work on time
Cost-effective
We are experts in...
Collating
Stuffing & sealing envelopes
Labeling
Assembling
Customized services
And So Much More!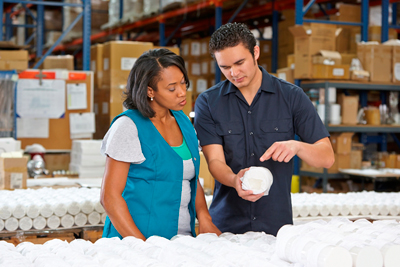 Through our labor fulfillment operation, we are able to process a variety of routine business services for many different companies. No job is too big or too small.
Contact Us Today
Chris Butler - Director of Business Services
cbutler@yourgoodwill.org
---
Customer Testimonials
Amerisource Bergen is a leading Pharmaceutical distribution and packaging company and, as such, our customers depend on us for timely deliveries and quality products. Since 2008, Goodwill Labor Fulfillment has provided us with dependable, hard-working men and women at our facility to help us meet those objectives. When we recently needed to ramp-up production, Goodwill was right there ready and able to respond to our increasing need for labor support. I recommend Goodwill Labor Fulfillment to any company looking for cost-effective, quality labor support along with timely and courteous customer service. 
– Robert Benson, Day Operations Manager, Amerisource Bergen Lehigh Valley
Crayola values our partnership with Goodwill. Their ability to fulfill our production needs in an efficient, accurate and cost-effective manner shines through year after year. We are please to partner with a company whose Mission is to help persons with disabilities achieve their fullest potential.  
– Linda Farina, Project Manager, Crayola
 Offering Excellent customer service and high value/high quality products are two of the core company pillars that have defined Kwik Goal's business for over thirty years. What makes our relationship with Goodwill so successful is that they share the very same beliefs. We consider Goodwill to be much more than a vendor. We consider them to be partners in our business. Those types of B2B relationships do not happen often and so we feel very fortunate to have a solid, reliable company like Goodwill supporting our packaging and production needs.
-  Ellen Farewell, Vice President, Purchasing & Product Management, Kwik Goal
WSI, a Top 100 3PL company, is a leader in providing integrated logistics and supply chain solutions to businesses nationwide. We utilize Goodwill Labor Fulfillment to support our value added co-packing and kitting operations. With Goodwill, we receive quality services, delivered on time, cost effectively while a the same time helping to support their Mission of helping individuals with disabilities
- Jason Meyer, Fulfillment Supervisor, WSI