Supportive Services
These are services that provide support related to maintaining a job or becoming more self-sufficient.
---
Supplemental Security Income/Social Security Disability Insurance and MAWD
Please visit www.icanworknow.org for more information.
---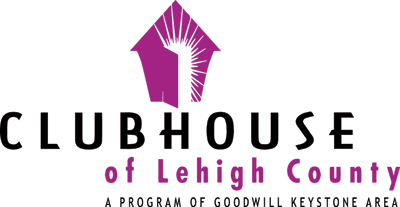 Clubhouse of Lehigh County
The Clubhouse of Lehigh County (1437 W. Gordon Street, Allentown, PA 18102) offers persons with a mental illness a safe, healing environment to explore their personal and vocational potential and receive support in achieving their goals. Instead of traditional therapy, the work of the house is the rehabilitation. As members contribute meaningful work to the house, they build confidence and a sense of purpose.
Be a Member – It's Free
Membership in the Clubhouse of Lehigh County is open to any Lehigh County resident who is 18 or older and has a history of mental illness. Membership is free for life.
Clubhouse Guarantees
A right to have a place to come
A right to meaningful relationships
A right to meaningful work
A right to belong
Clubhouse of Lehigh County
1437 W. Gordon Street
Allentown, PA 18102
Hours: Monday – Friday: 8am-7pm
With varying hours on holidays
For more information, contact:
610.433.9910
---
Drop-In Center
The Drop-In Center of Lehigh County (1437 W. Gordon Street, Allentown, PA) provides a stress-free atmosphere for persons 18 and older who have experienced mental health issues.
What The Drop-In Center Offers
Activities
Games
Outings
Holiday gatherings
Recovery
Employment
Education
Community Resources
Empowerment
Helps participants achieve their goals
Enhances quality of life
Encourages leadership
The Drop-In Center
1437 W. Gordon Street, Allentown, PA


For more information, contact:
610.433.1803