Kayla - Learning job skills to succeed.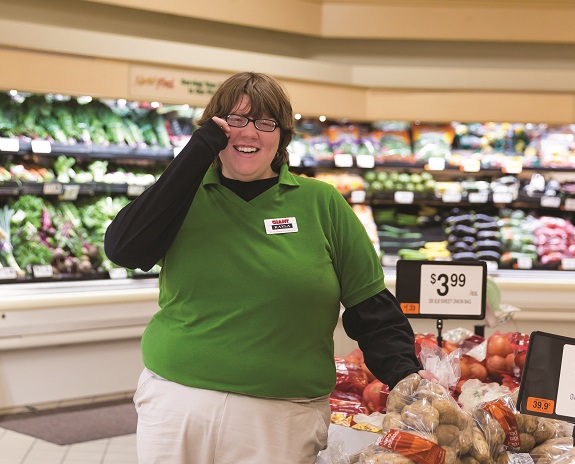 Goodwill's Summer Work Experience and Assessment Program (SWEAP) has provided many young adults, between the ages of 16 and 21, with their first paycheck. The program, which was conducted in Berks, Dauphin, Cumberland and Lancaster counties placed participants in employment to learn basic job skills while earning a paycheck. 
Participants in SWEAP received paid job training at Goodwill Stores and Donation Centers, GIANT Food Stores, and other businesses. They worked 20 hours a week for seven weeks. Youths were supervised by a Goodwill job coach at all locations.
Over the 2014 summer, Kayla participated in SWEAP and received paid job training at GIANT. Kayla's group learned a variety of jobs and tasks at GIANT. "My favorite part of the job was helping out in the produce department. I enjoy husking corn," described Kayla. She also received her first paycheck this summer, "I saved half of my paycheck, but also bought something fun with the other half."  
"As part of our promise to be a better place to work, we are committed to helping people learn the necessary job skills that will help them to advance and be successful. We are honored to partner with Goodwill and to also employ many associates who started their career path through SWEAP." - Chris Brand, public and community relations manager for GIANT Food Stores.
 For more information about Goodwill's programs and services, contact Sue Soderberg:
ssoderberg@yourgoodwill.org
717.394.0647
---
Your financial contributions make a difference!


Your generous support enables us to develop innovative, nationally recognized programs and it gives us the flexibility to address emerging needs long before government programs can respond.
Click the "Donate" button to make a secure online donation through your PayPal account or with any debit or credit card. Your donation will make a difference in the lives of those we serve.
Goodwill Keystone Area earns over 75% of its operating income through its social enterprise of stores and business services. These entrepreneurial activities also provide paid training for those receiving services. This income covers a large part – but not all – of our operating expenses. One hundred percent of your gift is applied directly to services for people.
Thank you.