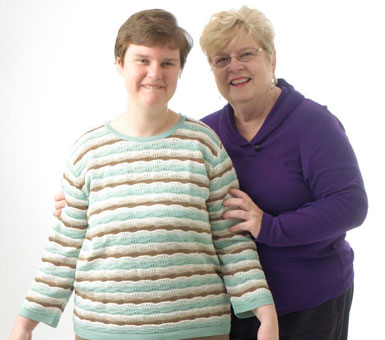 For most people, walking from a stone surface to grass is no big deal. But for Mary, that could be like trying to step over the Grand Canyon. Mary, who has autism, has limited communication skills and severe sensory issues. She has difficulty handling loud noises, depth perception, changes in routine and terrain. A change in the ground's incline, surface or color presents a huge challenge.
With the help of Goodwill Keystone Area's Community Skills Program, Mary is moving toward overcoming some of those obstacles.
The program helps those with significant disabilities care for their personal needs, such as eating, dressing and hygiene. It focuses on basic housekeeping skills such as wiping tables, dusting and vacuuming and emphasizes how to plan and prepare simple food items. Among other benefits, the program develops work skills and habits necessary for success.
Mary started in a Goodwill vocational program in 2005 shortly after graduating from high school. At the time, she was having trouble navigating her environment, described program manager Bonnie Mock. It was decided about a year ago that she would come to the Community Skills Program to work on her sensory issues. She also spends a lot of time working on communication - talking to her peers and going out in the community and talking with others.
"It's amazing the challenges she has everyday and how hard she works everyday," Mock said. "When she first came to us, just going out to the van and getting in the van was a huge obstacle - just to be able to step into a van. She now does that without a problem."
When Mary started at Goodwill it allowed her mother Linda to continue working. Even though her daughter lives in a residential community now, the program relieves Linda of much of the day-to-day care she requires.
Her mother praised the Goodwill staff and complimented their ability to get Mary to do things she may otherwise not have been able to accomplish. "As a parent with an adult with a disability, it's important that she has structure in her day and for her to have that makes it much more comforting," Linda said. "I know she's in a good environment and she's productive and feels valuable."
Community Skills serves about 60 people at locations in Harrisburg and Elizabethville. It can accommodate people coming full-time or part-time between 8:30 a.m. and 2:30 p.m., Monday through Friday. The program also helps special needs high school students in developing the skills needed to transition to a vocational program after graduation. Those in the program do volunteer work, such as Meals-on-Wheels, visit nursing homes and work with the Humane Society of Harrisburg Area.
"This is about improving quality of life for not only those in community skills, but for their family and caregivers," said Jennifer Ross, Goodwill's senior director of marketing and public relations. "When you improve the quality of life for everyone, it will improve quality of life for the community."
The above article was featured in The Patriot News.
For more information about Goodwill's programs and services, contact Sue Soderberg
ssoderberg@yourgoodwill.org
717.394.0647
---
Your financial contributions make a difference!


Your generous support enables us to develop innovative, nationally recognized programs and it gives us the flexibility to address emerging needs long before government programs can respond.
Click the "Donate" button to make a secure online donation through your PayPal account or with any debit or credit card. Your donation will make a difference in the lives of those we serve.
Goodwill Keystone Area earns over 75% of its operating income through its social enterprise of stores and business services. These entrepreneurial activities also provide paid training for those receiving services. This income covers a large part – but not all – of our operating expenses. One hundred percent of your gift is applied directly to services for people.
Thank you.