Topping the Charts, Popping Some Tags with a 20-Dollar Bill
Most of you have probably heard the song "Thrift Shop" by Macklemore and Ryan Lewis, which mentions Goodwill. It was shot in part at a Seattle Goodwill Outlet. We think it's cool that something we have known about for a long time – thrift shopping is fun and saves you cash – is mainstream.
We appreciate Macklemore and Ryan Lewis telling the world that thrifting is cool. Who wants to pay $50 for a T-shirt? Our customers are proud to find low-priced items that suit their style and they show off their new outfits, shoes and purses to their friends on Facebook, Twitter and Pinterest. They are proud #ThriftShop and #Goodwill enthusiasts. They decorate their home with items found at Goodwill.
Be Proud of Your Thrift Shop Purchase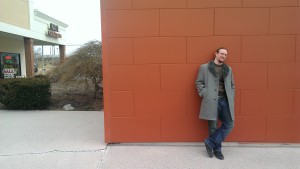 Styling like Macklemore outside a Goodwill thrift shop.
If you only have $20 in your pocket, and need an outfit (or two), that $20 goes much further at Goodwill than any other retail store. AND, like Macklemore and Ryan Lewis, you will have fun stuntin' in them.
Think like Macklemore and go to Goodwill. Fill your closet with come ups for less. Mother's or grandpa's clothes could fit your style perfectly.  Be it geek chic, retro, or en vogue, going to a thrift shop could make your day.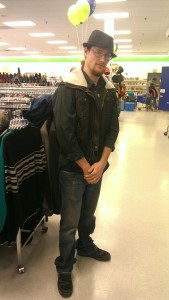 Through your generous donations and your purchases, Goodwill funds job training programs and helps people with disabilities or other employment challenges live a full and productive life. Your thrift shop purchases and donations create jobs and opportunities.