Social distancing has caused many of us to get outside and explore nature to find some peace. While I don't consider myself an excessively "outdoorsy" type of person, I enjoy the patterns of nature, specifically through fashion with florals – either realistic or abstract.
If you follow me on Instagram, you know I have a love for pattern, texture, and color, but specifically patterned pants or shorts. It's a way to express my creativity through my clothing.
While shopping at Goodwill Keystone Area stores, I am drawn to the racks of pants. Because Goodwill organizes the clothing by colors and patterns, I can quickly spot a floral, striped, or otherwise-patterned trouser or pair of jeans in my size. It is one of the first places I start when I visit my local Goodwill store. If I am lucky enough to find something with potential, my next top is to the shirts, blouses, or jackets to top off the look before I hit the fitting rooms. When I find a match that looks great, my last stop would be the shoes and bags (if there is a unique color I am looking to complete the outfit).
These black, cream, and brown Loft skinny jeans made me giddy.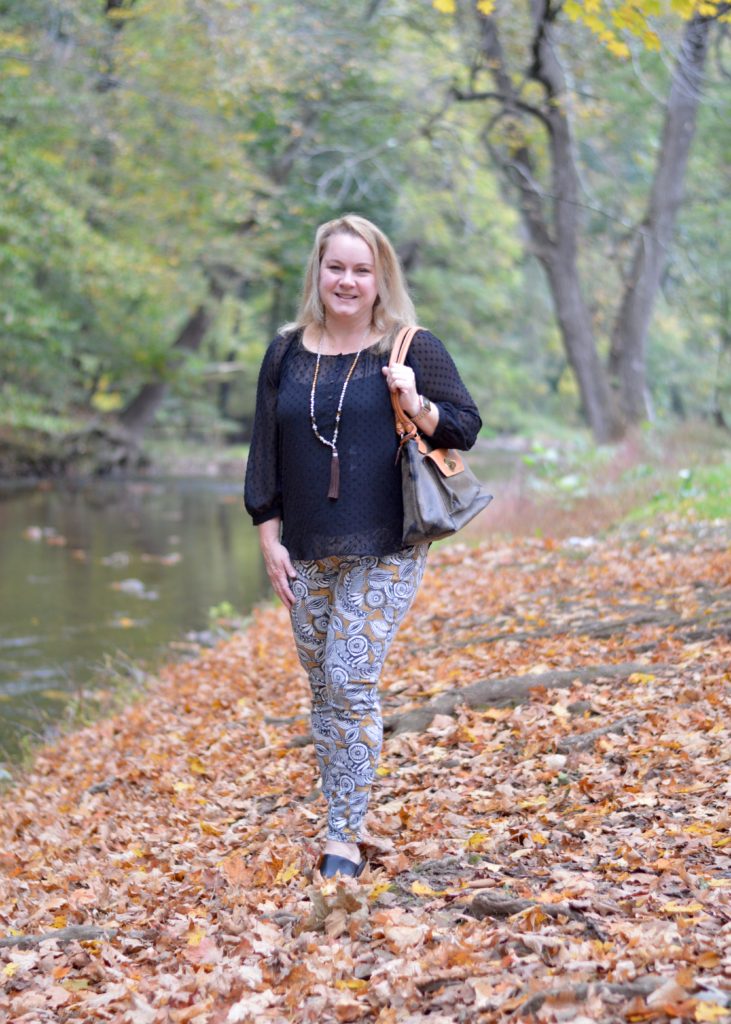 They ticked off everything I was looking for and since they had black as a primary color, I knew I had something in my stash at home to coordinate with them. They retail for $79, but my cost was $6.50. Not bad! And they work for all seasons – a cream tank top and sandals in the summer with a jean jacket thrown over it or a chunky black sweater and tall boots for winter.
For fall, I paired it with a sheer Swiss dot blouse from LC by Lauren Conrad, a Kohl's brand.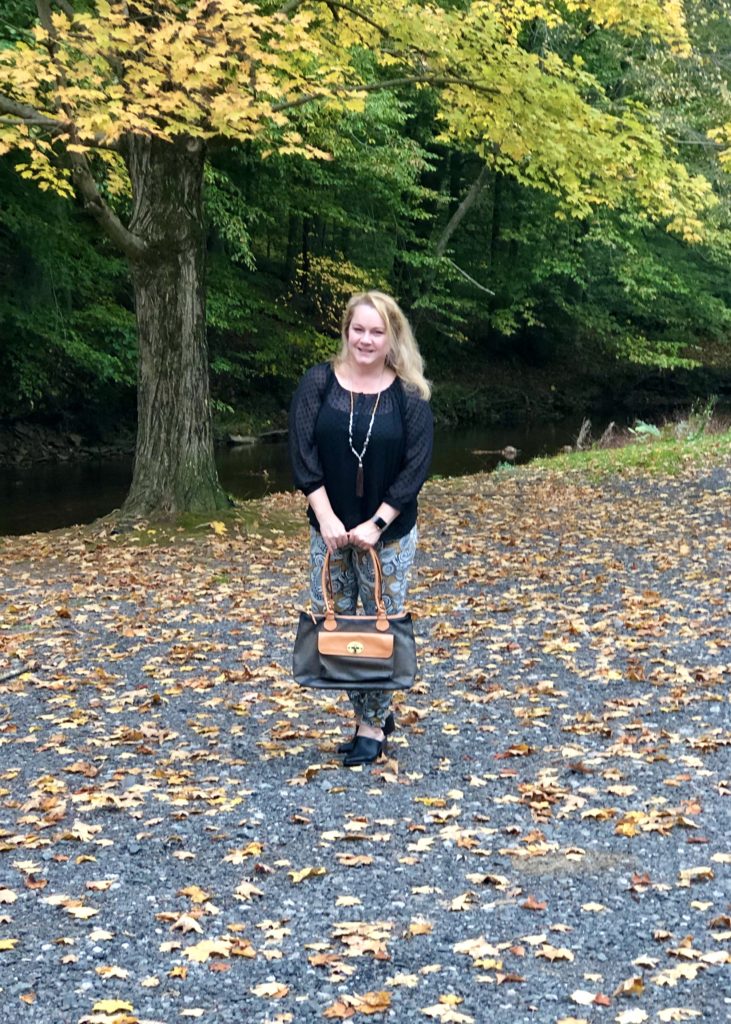 I added a new-with-tags Loft tank top underneath. (Retail: $26.99; Goodwill: $6.50). There is a slight pattern-mixing going on here since the pattern of the Swiss dot is noticeable. Pattern mixing is something I'm also a big fan of in fashion.
The pebbled leather satchel from Bric's was a splurge at $14.97.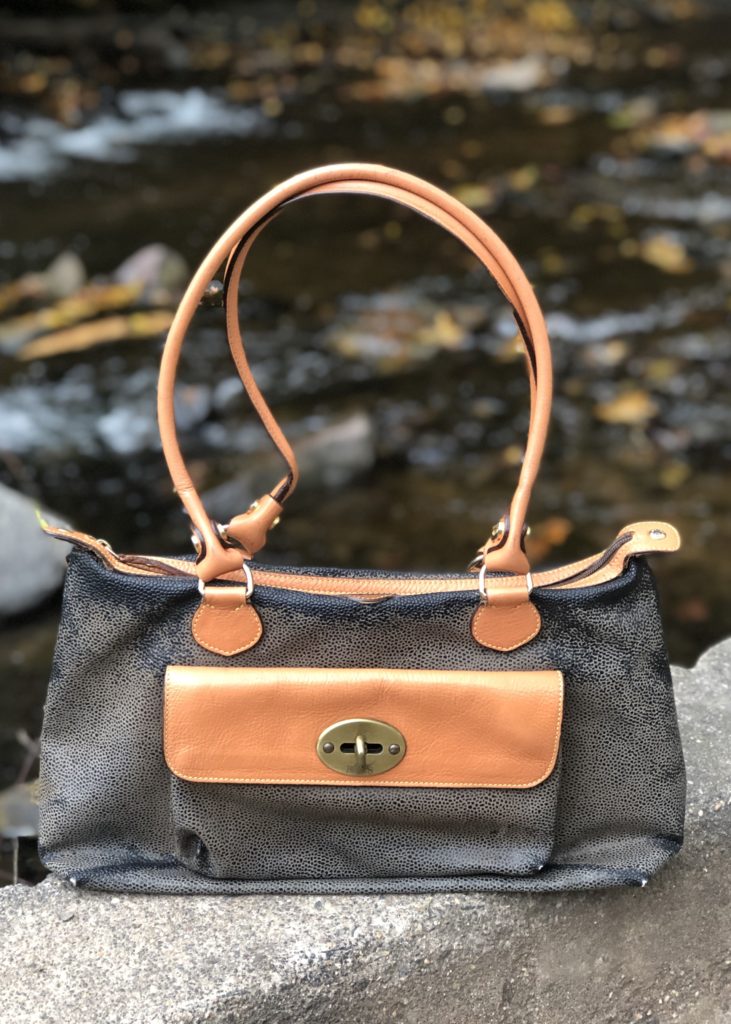 I usually don't pay that much for a bag, but since the brand was new-to-me, I investigated it online before checking out and discovered that Bric's typically produces high-end luggage and travel bags. The bag would have sold for about $300 when new! Shoes and necklace were my own.
I considered patterns a signature style. They bring me joy when I select a creative outfit from my closet. And I love that I can quickly and easily find patterns pants, shirts, and jackets when shopping at Goodwill Keystone Area stores. I know my selections will be unique (and maybe a touch eclectic) but always affordable. Best of all, my pattern obsession helps my local community through my purchases at Goodwill.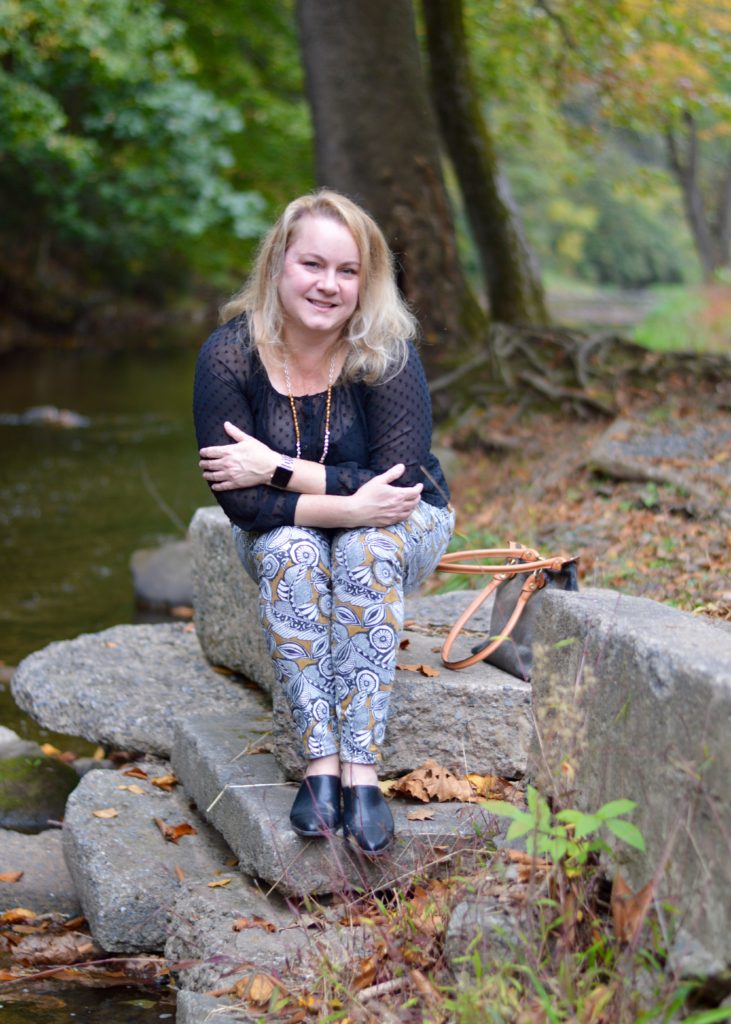 From my closet to yours,
Kirsten
Jeans: $7.50
Blouse: $4.75
Tank Top: $6.50 (new with tags)
Bag: $14.97
Total: $34
Retail: $430+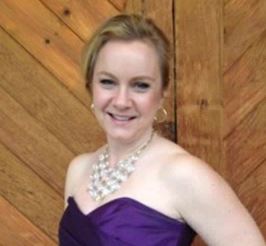 About The Blogger
Kirsten is a 40-something mom, wife and marketing professional. She loves all things crafty, tasty and fashionable, especially while being frugal. She enjoys hunting for treasures at her local Goodwill Keystone Area stores to decorate her home and wardrobe.