The single easiest way to update an outfit during the cooler months is to add one accessory: a scarf.
According to herstylecode.com article 7 Ways to Wear a Scarf with Everything "Scarves are one of the most versatile, practical, and fashionable cold-weather accessories. They're very inexpensive and their low price allows you to fill your wardrobe with a wide collection of scarves with varying styles, patterns, and materials for any occasion. You can completely transform the look of almost any outfit just by adding a scarf, which makes these accessories a life-saver for chronic outfit repeaters. When the bulky, dark pieces in your fall or winter wardrobe start looking a little dull or depressing throughout the season, throwing on a bright patterned or textured scarf adds instant interest and balance to your look.
The best part about scarves is their extreme versatility. Scarves are readily available in an incredible variety; these accessories come in countless different styles, colors, patterns, and materials that make it almost impossible to find an outfit that can't be spruced up by a scarf of some kind. If you want to incorporate scarves into your wardrobe in as many ways as possible, keep reading to learn how to wear a scarf with everything to create a fashionable finish for any look."
I really could not have said it any better myself. I whole-heartedly agree with everything the article said. Scarves are season-less accessories but are a fabulous option for fall and winter month to add not just style, but warmth and protection from the south-eastern Pennsylvania winds.
This beautiful camo-patterned J. Crew scarf was found NWT (new with tags) at the Shillington store on a recent outing.
I was drawn to the color and pattern, and when I noticed the J. Crew price tag, I was elated. The retail price was $55. Goodwill Keystone Area's price: $1.97. The pink, olive, and slate blue colors are surprisingly versatile.
I paired it with a green lace sweatshirt from Loft (Goodwill's price: $4.75; Retail: $59).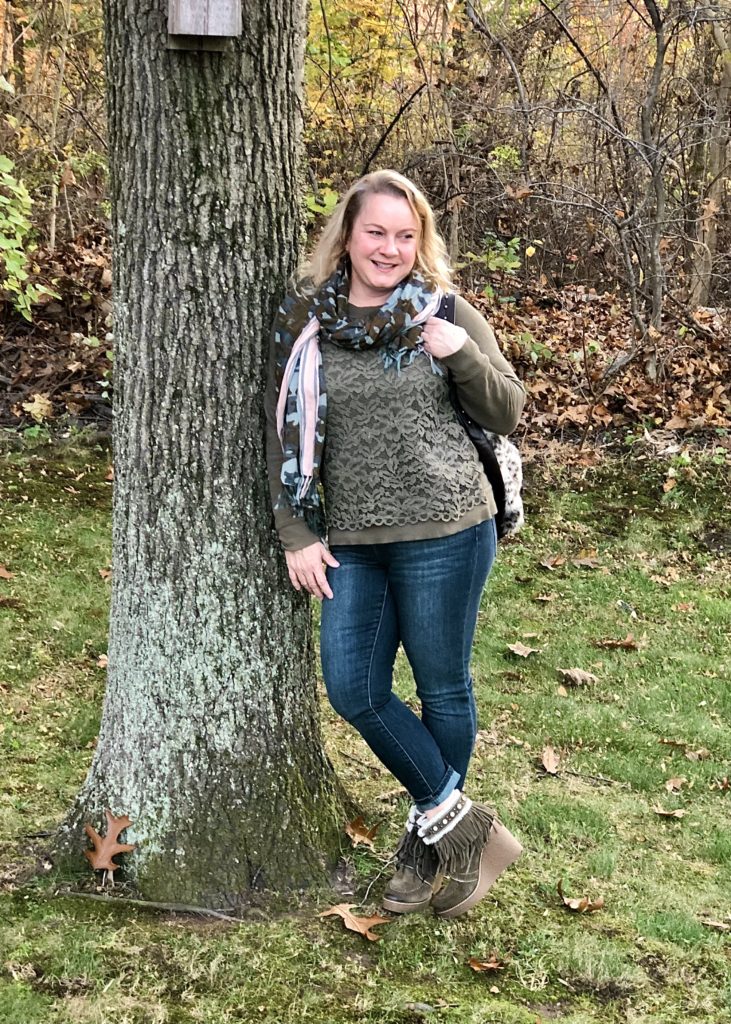 The DKNY jeans (Goodwill's price: $6.50; Retail $69.50) and Sam Edelman "Kemper" fringed booties (Goodwill's price: $12.97; Retail: $150) were also both NWT items, which can be the holy grail of thrifters everywhere! I am an equally-opportunity thrifter, so finding used items and gently washing my finds or taking them to a dry cleaner if needed is never a problem for me. I enjoy a good NWT find, but some of my best finds have been pre-loved!
Lastly, I added a faux-fur bag from Carlos by Carlos Santana.
I liked mixing the animal print with the camo for a fun fall look. My cost at Goodwill was $6.97, but this would have sold for around $100.
Hopefully, you'll give scarves a try, not just as accessories for on top of your coats this fall. Pick up some fun colors and patterns next time that you are shopping at your local Goodwill Keystone Area. You can't beat the style scarves will add to your fall fashions for just a few dollars!
From my closet to yours,
Kirsten
Scarf: $1.97
Sweatshirt: $4.75
Jeans: $6.50
Shoes: $12.97
Bag: $6.97
Total: $33.16
Retail: $433.50
Savings: 97%!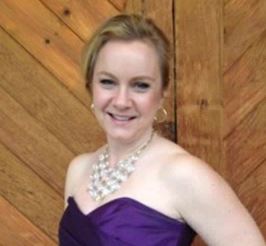 About The Blogger
Kirsten is a 40-something mom, wife and marketing professional. She loves all things crafty, tasty and fashionable, especially while being frugal. She enjoys hunting for treasures at her local Goodwill Keystone Area stores to decorate her home and wardrobe.