Ron Kratofil, Goodwill Keystone Area's  President and CEO and #1 Pittsburgh Steelers fan, was a really great sport when he entered the Goodwill store meeting this morning donning a Tony Romo Dallas Cowboys jersey!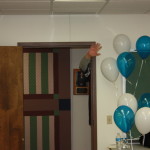 He reluctantly entered.
Not only did he have to show off his jersey to all the store managers, my camera was there AND a local TV station showed up to cover the event. How will he ever live this down?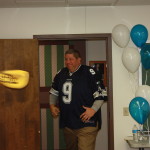 He was supported by a could of terrible towels wavers, but the reason he had to wear the attire of his least favorite team was due to Goodwill employee voting. To support the employee giving campaign that culminated in December, employees who donated were able to vote – no matter what they gave – for the team jersey they thought Ron should wear all day.
Goodwill Employees Give Back
The campaign took in the highest total in its history, $25,600 for Goodwill's mission to help people with disabilities and other barriers to employment.  As a nonprofit, Goodwill relies on cash donations as well all donations of stuff that it sells in its stores to help fund job training and community skills classes that help people in local communities.  Goodwill Keystone Area serves a 22-county area in south central and southeastern PA.