By stylist and blogger, Annette K.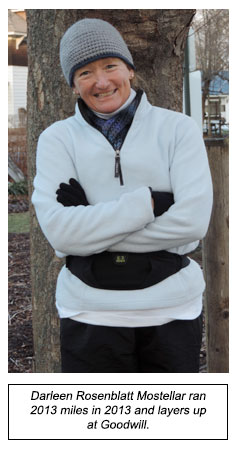 Allentown native Darleen Rosenblatt Mostellar didn't let frigid weather get in the way of her 2013 New Year's Resolution!  In fact, she didn't let wind, rain, snow or sleet get in her way either.
On December 31, 2013, Darleen ran her 2013th mile in her quest to run 2013 miles in the year 2013.
"And I ran one extra for good luck," she said.
Considering Darleen is among the 50-something age group and a working mom of 2 teenage kids, running 2014 miles in one year became a daily priority and commitment.
"Lots of people ask me how I fit it all in," she said. "It was persistence, dedication, and wearing lots and lots of layers."
Darleen shops at Goodwill stores where she can purchase her layers at thrifty prices and keep within her family budget.
"I run outside in all kinds of weather. I never used a treadmill," she said.
From fleeces, wools, cottons and blends, Darleen dresses with many layers in frigid temperatures including three on her legs and up to four on her upper body.  Then she uses a scarf around her face and mouth to help shield the cold air.
Darleen has been running for 35 years and has completed 28 marathons. Among which are Boston, Marine Corp in Washington DC, Philadelphia, Harrisburg, and The Goofy Challenge in Orlando, FL. Her most recent run was the Christmas Classic in Bethlehem PA, where she and her son ran together.
A mentor to younger runners and inspiration to many, Darleen has made her 2014 resolution.
2014 miles… and maybe an extra one for good luck.
Don't let dropping temperatures become an excuse to ignore your goals and resolutions. Layer up at Goodwill where you can find clothing for all types of weather at prices for all types of budgets.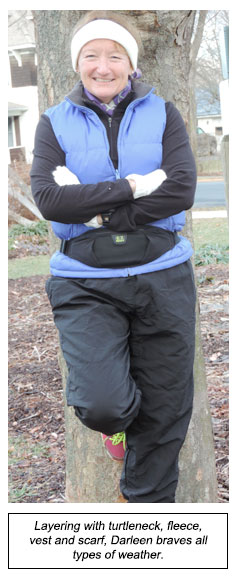 All clothing pictured comes from the Goodwill store in Bethlehem, PA.
Cost of clothing: running pants $4.00, fleece pullover $4.00, turtleneck $3.50, vest $6.00, scarf $2.00, gloves $1.00, headband .49
Have fashion tips or blog ideas? Interested in doing a donation drive at your home community, business, church or school? Contact Annette Kaiser at akaiser@yourgoodwill.org.
Thanks to Darleen Rosenblatt Mostellar for sharing her story and to store manager Phil Koch and assistant manager Sandra at the Goodwill Store in Bethlehem, PA for their time and assistance.