By stylist and blogger, Annette K.
When Christine Bachman was a teenager, she played drums in an all-girl band. She wore a beautiful taffeta gown with spaghetti straps and a sparkly bolero to keep her shoulders covered. The band played three nights a week for three years at local clubs and each night they opened with the same song, "A Pretty Girl is like a Melody."
Christine just turned 88 and that song continues to be the anthem for her life.
"I don't feel like I'm 88," she said. "I still like to be modern."
A former cosmetic specialist at Hess's Department Store in Allentown PA, Christine always had an eye for style.
"A neighbor who used to wear cute outfits all the time told me she shopped at Goodwill. I decided to go and check it out," she said. "But instead of shopping, I ended up getting a job." That was 20 years ago and Christine has been working at Goodwill ever since.
"Chris is an amazing person," said Goodwill team leader Donna McElvenney. "She is a ball of energy and a positive and great person to be around."
Today, Chris helps shoppers find and choose clothes and housewares to fit their thrifty budgets. She encourages her fellow seniors to "dress modern, moisturize and not to dress like an old lady."
Her favorite color to wear is red, and she has picture-perfect porcelain skin that women 40 years her junior are in envy of (trust me!). She loves to shop at Goodwill and take advantage of the huge selection of "modern" clothing.
Christine's beauty doesn't stem from the reds she wears, her flawless skin or her impeccable fashion sense. But instead, her beauty is timeless and comes from the colorful fabric of her life.
On January 24, 2014 Christine celebrated her 20 year anniversary as sales associate at Goodwill.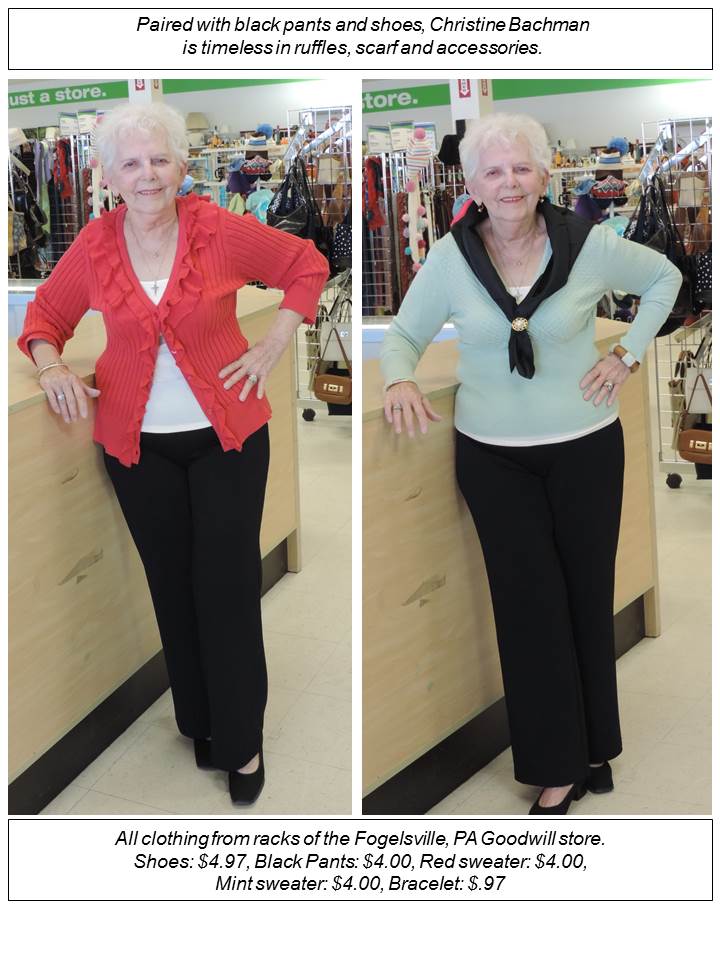 Special thanks to the staff at the Goodwill store in Fogelsville, PA and to Christine for sharing her story.
Are you an aspiring fashion designer? Enter the Goodwill Re-Design Contest. The Re-Design Contest offers aspiring fashion designers, students, fashionistas and hobbyists the opportunity to show their creativity by repurposing items purchased at Goodwill. Finalists will have the opportunity to display their work at the Goodwill Runway Show on April 24, 2014 at the Body Zone, Wyomissing, PA. Doors open at 4:30pm, the show begins at 6:30pm. The show is Goodwill's largest fundraiser in Berks County. For more information about the Goodwill Runway Show, go to www.yourgoodwill.org