Occasionally you may come across a new seasonal item of clothing or an accessory in an advertisement you love but would never pay the full retail price for it. I try never to pay full price for anything, but there are trends I'd love to copy by finding a decent facsimile at my local Goodwill Keystone Area store.
A few weeks ago, I received an email from Dr. Martens highlighting a shoe – the Adrian Snaffle Loafer in Plum.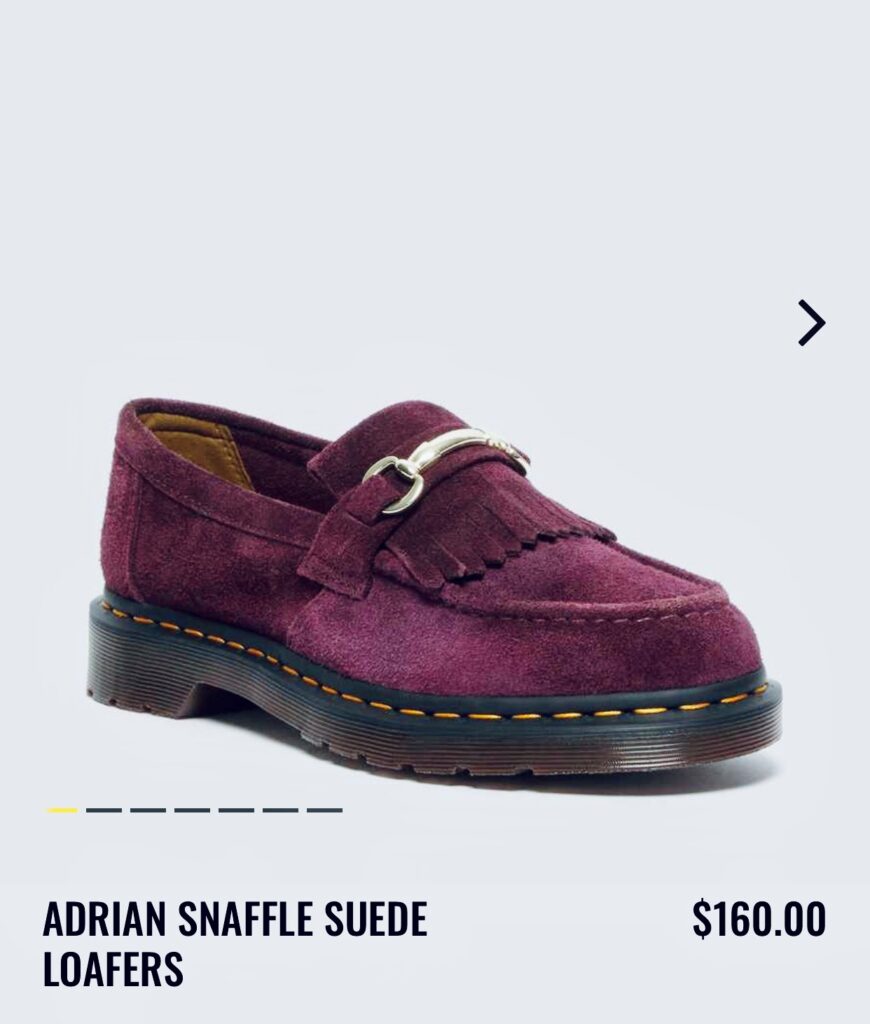 They are beautiful, tasseled loafers made in England with the class Dr. Marten yellow stitching and sturdy lug sole. The color is a striking deep purple – perfect for fall. And the price – $160 – was way beyond my budget for fall, especially with two kids in college. I'm always thrifty, but I'm especially aware of ensuring my budget stays on track.
Fast forward a few weeks, and while cruising the shoe aisle in my local Goodwill, I came across a pair of stunning suede purple loafers in my size. I always check all the shoe rows – not just the black or neutral selections. You never know when you will find footwear in a unique color.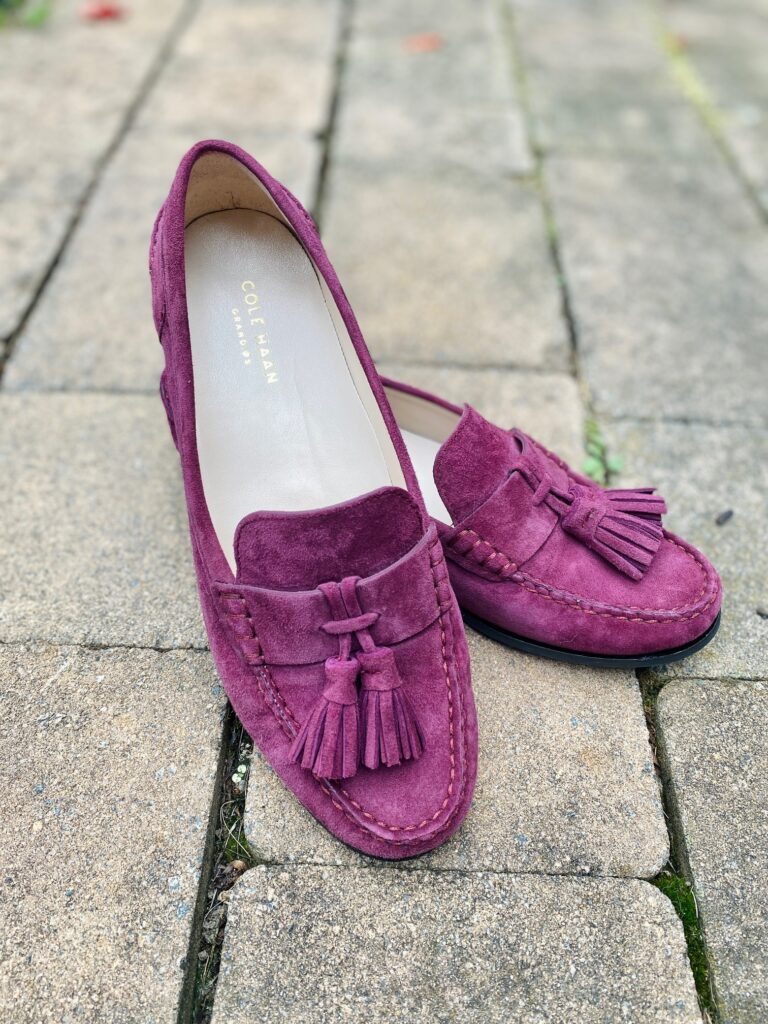 Picking these up, I knew the suede was high quality, and seeing the label, and I knew I had a winner – Cole Haan. From their website, "Cole Haan loafers, driving shoes, and slip-ons are crafted for a perfect fit, exceptional comfort, and incredible versatility – and to get on or off in a flash. Whether you're on the search for the perfect women's driving loafers, suede loafers, or leather loafers, Cole Haan's selection is the ultimate in efficiency, always ready for you to slip into and go–right up until the point where someone compliments you on your excellent taste."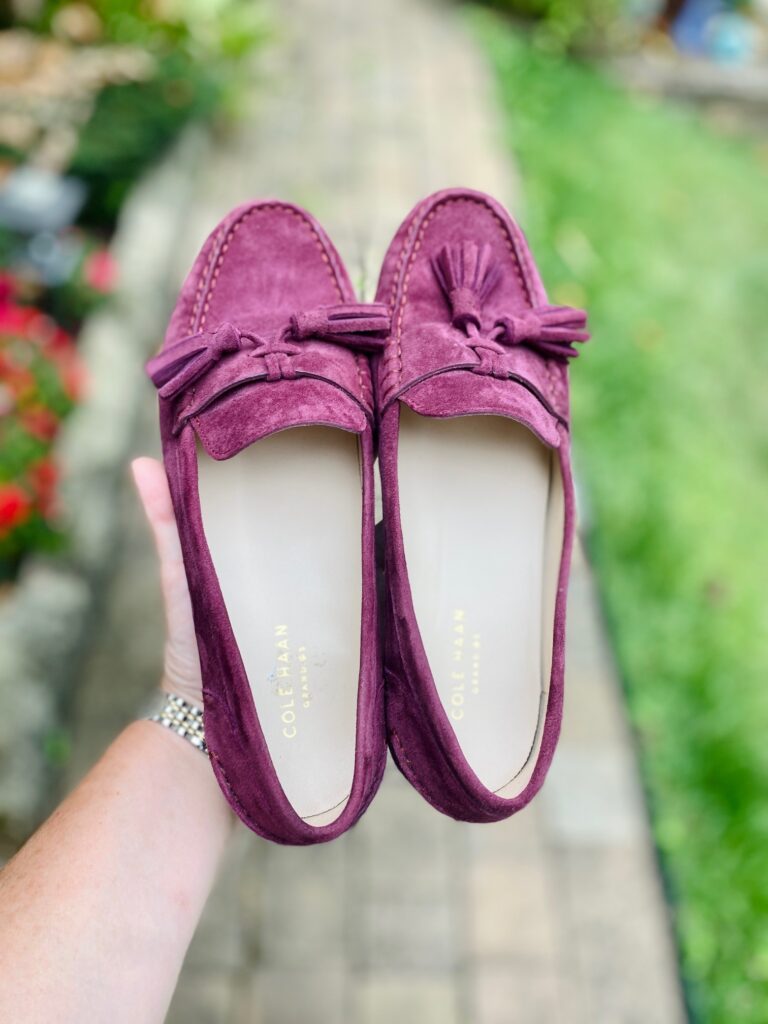 This pair has little to no wear and a price of $9.99. These lovely loafers are a fantastic dupe for the Dr. Martens version, and I knew they would join my wardrobe. And to top it off, their original price was the same – $160!
Keep your eyes open for current trends. You never know when you'll ever be able to find a similar style when thrifting at Goodwill Keystone Area.
From my closet to yours,
Kirsten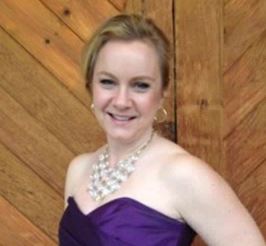 About The Blogger
Kirsten is a 40-something mom, wife and marketing professional. She loves all things crafty, tasty and fashionable, especially while being frugal. She enjoys hunting for treasures at her local Goodwill Keystone Area stores to decorate her home and wardrobe.