Can you believe it?! Spring is almost here! This is my favorite season of the year. Why, you ask? Because, I can finally start letting my feet breathe by trading out the boots for sandals. Because, I don't have to wear a sweater and coat on top of my stylish shirt. Because even though I love hats, I am ready to let my hair flow freely. It's time to go and update my closet for the new season.
Every year we see fashion change. I wanted to clue you in to some of the new fashion for this season. First are capris or hemmed pants. You can even hem your own pants.
Next try some scarves that are lightweight fabrics, which are all the rage this spring. It is the chic way to accessorize. It will also be a nice change from the thick scarves of winter.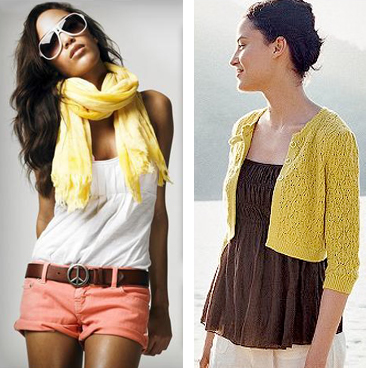 And last, to help with the transition of seasons, cardigans may be your best friends. These sweaters are not only fashionable but helpful as the weather starts to warm up. You can even try to knit one yourself!
For more fashionable spring ideas you can check out this helpful website:
http://diyfashion.about.com/od/diyfashion101/tp/2010_Spring_Fashion.htm
If you enjoyed this post, fan Goodwill on facebook or follow me on Twitter.