I'm often asked about whether floral is in or out, or if it's even acceptable. It can be as long as you stick to one fashion rule – Keep it simple. Rather than talking about floral, let me show you.
I literally found these two blazers side by side at a Goodwill store.

Here we have what might look like two very similar floral blazers to some people, but to others, like myself, I see two different things.
First, the pink blazer is decked out in everything from shoulder pads to lace and bead trim, and it's completed with a cinched waist. Also not to mention the bright pink floral pattern! This blazer, in my opinion, is just over the top. It screams out of this decade. Now the second blazer, it's simple. I could see Kate Middleton wearing this one. It isn't loud or embroidered to death. It's just pretty and elegant and does the job.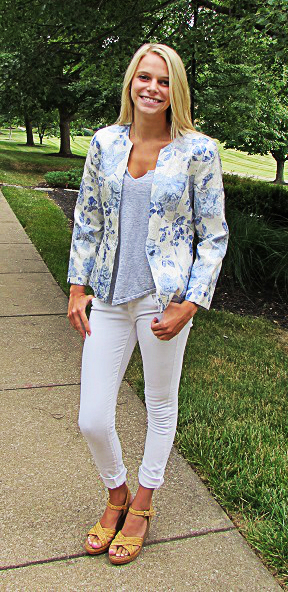 So when you are deciding on a floral piece, keep in mind that simple is always the way to go. Your floral is the staple to your outfit, let it accentuate your clothes – not disguise them.
Peace and Progress,
Alexandra K.