My family and I have still been sticking close to home this summer, but we have been doing some exploring in our back yard, visiting sites in our county we may have not seen before. It's surprising how many local attractions, shops, restaurants and more that we had not had the chance to visit yet. The pandemic made me realize that my county (Berks) is full of unique architecture, lots of history, beautiful vistas, and much more.
Touring the towns, neighborhoods, and countryside close to home, even if just for a few hours, might help you reminisce about childhood memories, provide more background about your local history and heritage and give you more pride about where you live. Do an internet search for your city, town, or county's attractions and explore the results! You may find a few things you didn't know were so close by. Don't forget to think like a tourist!
On a recent visit to Reading, I coordinated a blog outfit for a site-seeing excursion. We've been battling our way through a hot, humid summer, so comfortable and lightweight are must-haves every day lately. I'm ready for fall fashions, but we still have July and August to get through!
This navy floral blouse from Loft (Goodwill: $4.95; Retail: $59)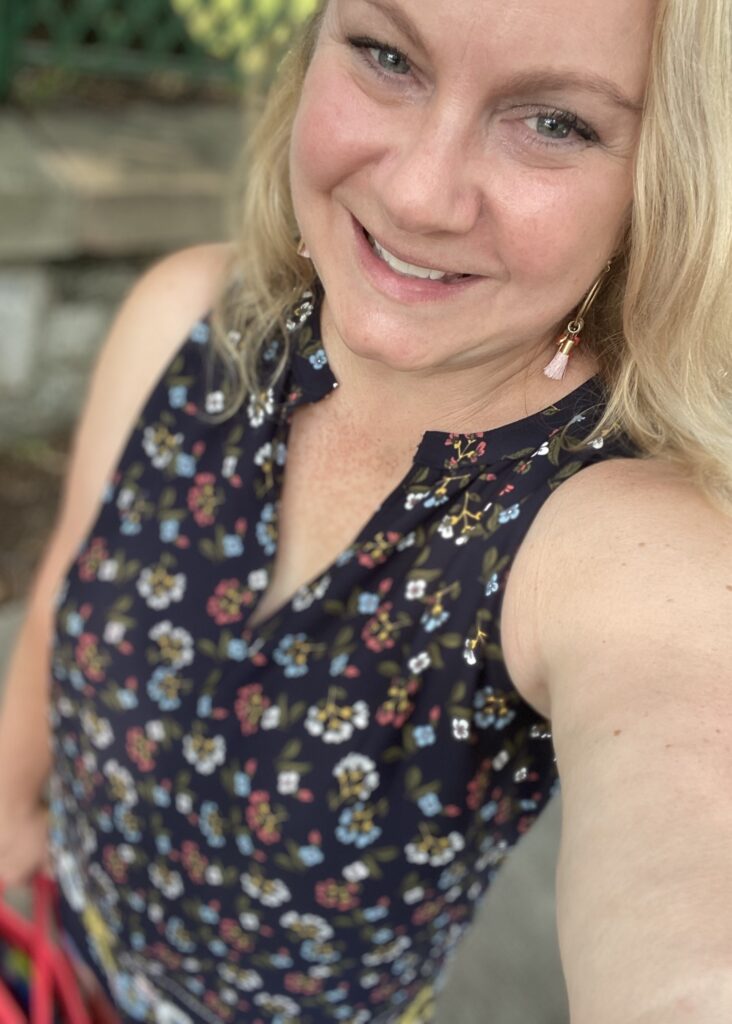 just skimmed my frame and didn't cling to me. Come fall, I can add a cardigan or jacket and extend this summer staple into a new season. InStyle just shared an article that dark florals will be popular this autumn and winter. Why not start adding some to your wardrobe now?
Who doesn't love denim shorts? You can dress them up or down, wear them out or mow your lawn. These classics from Gap (Goodwill: $4.99; Retail: $49) are perfect for any summer occasion.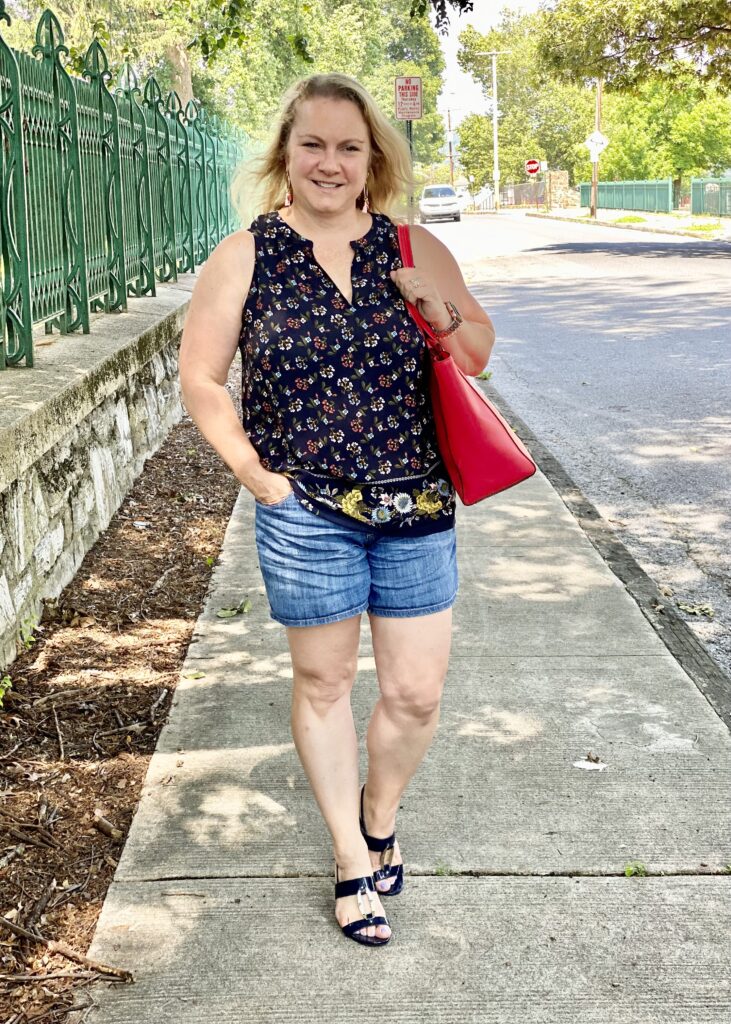 Comfortable shoes are a must and these Bandolino navy sandals (Goodwill: $7.47; Retail: $79)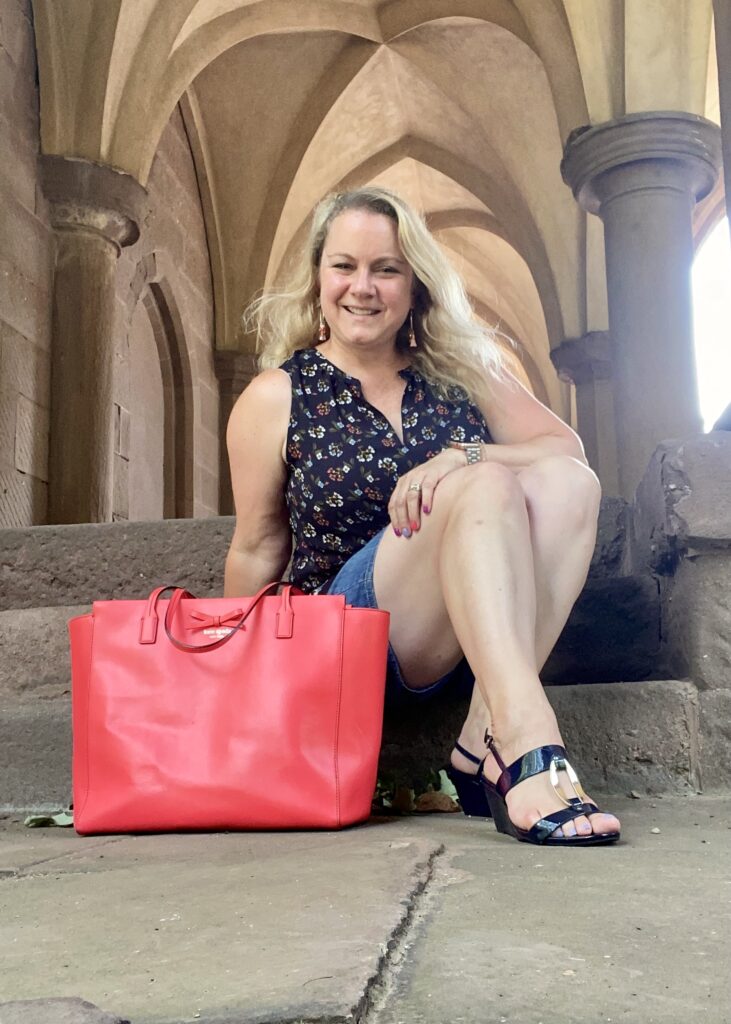 worked well for a cruise around some historic neighborhoods. I definitely would have worn something sturdier if we had been walking farther. But, these work well for a casual tour or a day at work, or a night out.
For a final pop of color, I added a large tote from Kate Spade(Goodwill: $20; Retail: $300).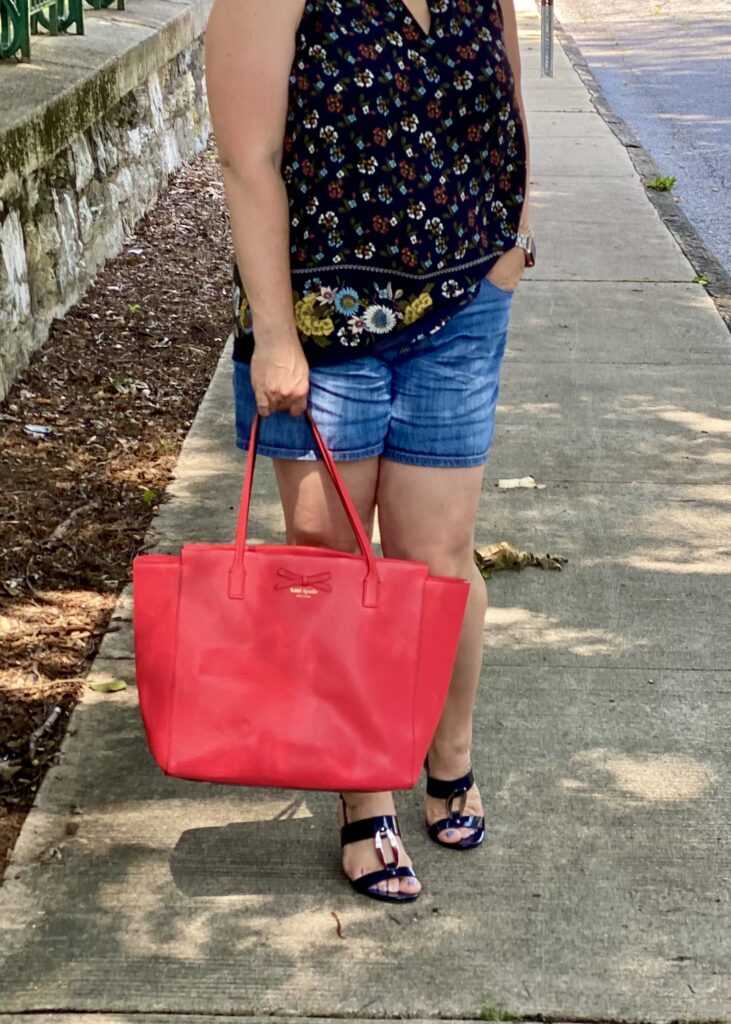 I splurged on this at $20 at my local Goodwill Keystone Area store, but it was well worth it. After checking it over for authenticity, I knew I would get my money's worth from the investment. It held all my necessities – sunscreen, water bottles, and snacks.
When exploring, don't forget to Google the locations of all your nearby Goodwill Keystone Area stores! You need a souvenir of your travels, and I can't think of a better place to get something special to remind you of your staycation!
From my closet to yours,
Kirsten
Top: $4.95
Shorts: $4.99
Sandals: $7.47
Bag: $20.00
Total: $37.41
Retail: $487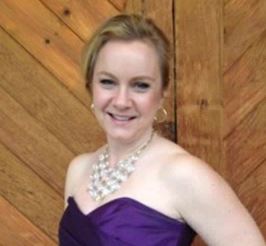 About The Blogger
Kirsten is a 40-something mom, wife and marketing professional. She loves all things crafty, tasty and fashionable, especially while being frugal. She enjoys hunting for treasures at her local Goodwill Keystone Area stores to decorate her home and wardrobe.