This past weekend we really got a taste of spring. Balmy temperatures, windows open and people working in their yards. For me a rite of spring is to start to transition my winter to spring/summer wardrobe in my closet and to make sure I'm pedicure ready – for those open-toed sandals I've been more than ready to wear.
I'm feeling as colorful as an Easter egg in this vibrant, water-colored outfit. A patterned sleeveless blouse from JohnPaul Richard was the starting point for this look.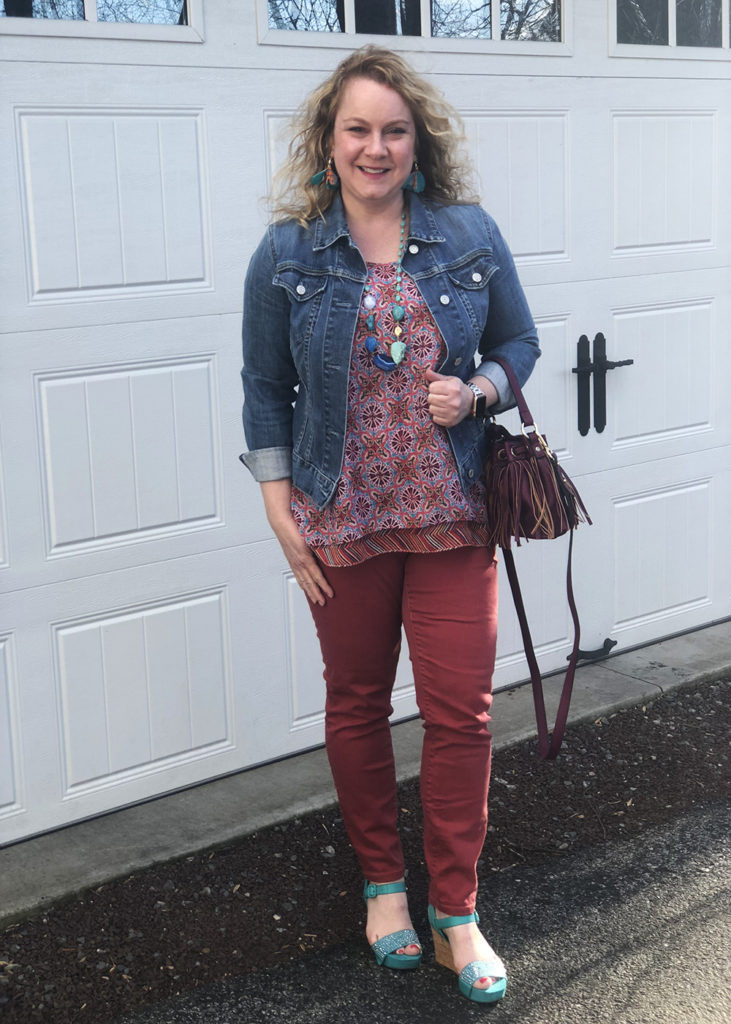 New it sold for around $45, and I paid $4.50 at my local Goodwill Keystone Area store.
Next, brightly-hued denim (from Loft) added more of a punch. Colored denim is still in for spring and I am already picturing these with a simple black tank top and black sandals later in the season. My price at Goodwill was $6.95, but denim like this sells for $69 at the retail store.
A simple jean jacket was the perfect topper for these cooler spring days.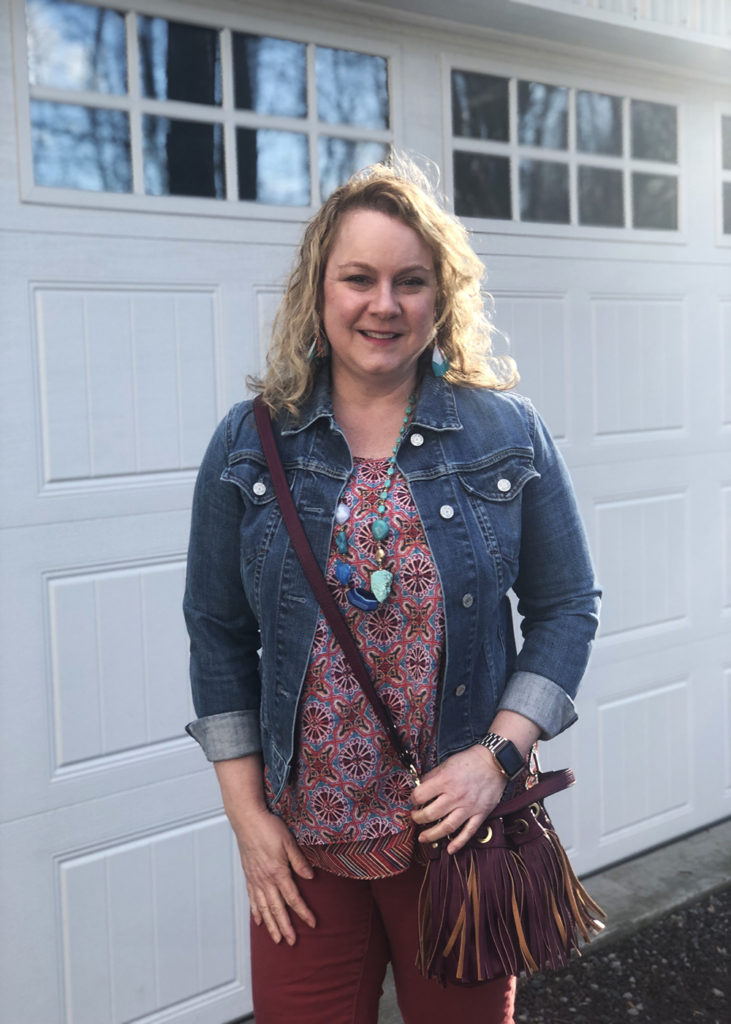 Jean jackets are a closet necessity for me and this one from Gap has been featured in several posts and in lots of everyday outfits. For just $6.50, its cost per wear is already negligible. I love this piece!
Since there were so many colors in the top, I had plenty of options for accessories. The fun, fringed purple cross body bag is from Sondra Roberts Squared.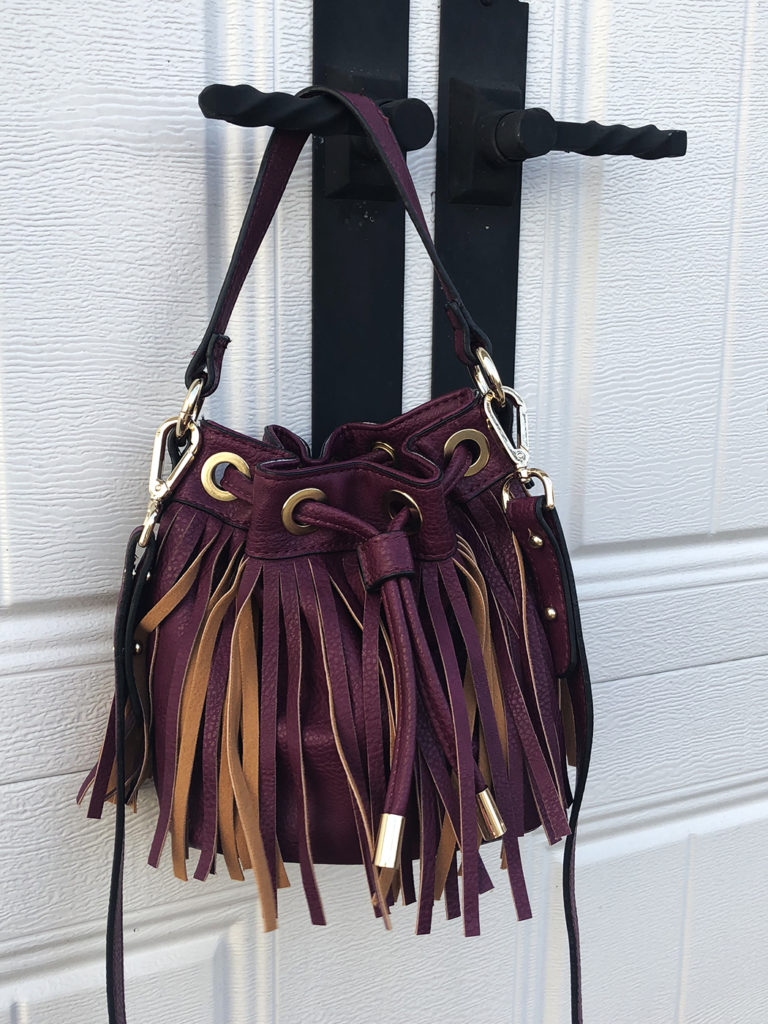 While not a high-end brand, this bad retailed for about $75.00 – my cost? $4.97!
Since I already had featured plenty of red and purple in the outfit, why not turquoise? I'm a huge fan of Nine West footwear and these turquoise bejeweled cork sandals did not disappoint, especially for only $7.47!
A stone and bead necklace ($3.97) and feathered and bead earrings (also $3.97) were both originally from Target.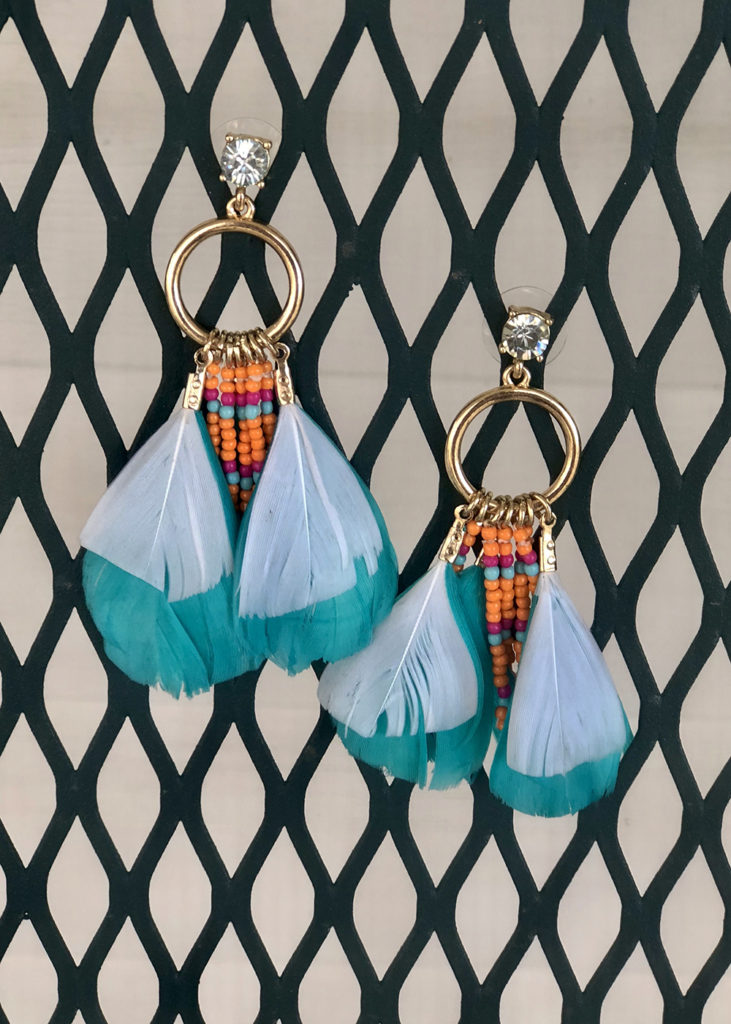 Their colors pulled the outfit together and made me feel like a rainbow or an Eater egg.
It's time to open those windows and change up your wardrobe! If you need some new spring pieces, be sure and visit your local Goodwill Keystone Area store for a few Easter gems!
From my closet to yours,
Kirsten
Top: $4.50
Jeans: $6.95
Jacket: $6.50
Purse: $4.97
Shoes: $7.47
Necklace: $3.97
Earrings: $3.97
Total: $38.33
Retail: $375+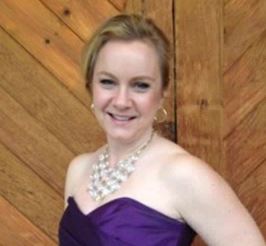 About The Blogger
Kirsten is a 40-something mom, wife and marketing professional. She loves all things crafty, tasty and fashionable, especially while being frugal. She enjoys hunting for treasures at her local Goodwill Keystone Area stores to decorate her home and wardrobe.