Since we've all been spending more time at home, my wardrobe has gotten a lot more casual and comfortable. Staycation has become the new vacation destination and the patio has become the new hot al fresco dining spot. Either way, I'm spending a lot of time in my backyard.
Not having to dress up has it's good and bad parts, but looking good is still important to me. I'm just doing so in a much more casual way these days. Goodwill Keystone Area stores have reopened, I have begun visiting a few nearby and it feels great to be thrifting again.
On a recent visit, I picked up a few pieces for a backyard dinner date. The C & E blouse was new-with-tags from Marshalls (their price $19.99; value $28.99).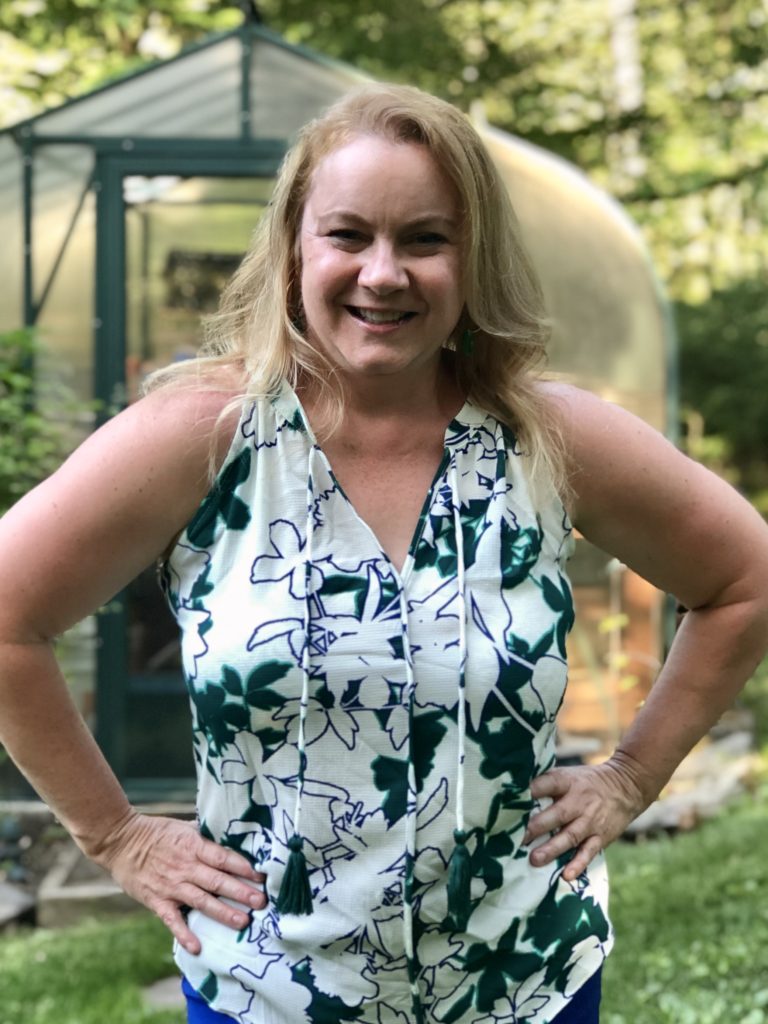 Goodwill's price was $7.50. It was a white sleeveless style with a royal blue and emerald green floral print that will be good for warm days. The neckline was accented with decorative tassels and the fabric draped well. It could work well for work or play and can transition into fall with a cardigan or jacket.
If I pick up an item of clothing that has an unusual color (such as the blue or green in the blouse), I like to see if I can find something to coordinate with it at the same time. These royal blue cotton shorts from Apt 9 (a Kohls brand) were a great find.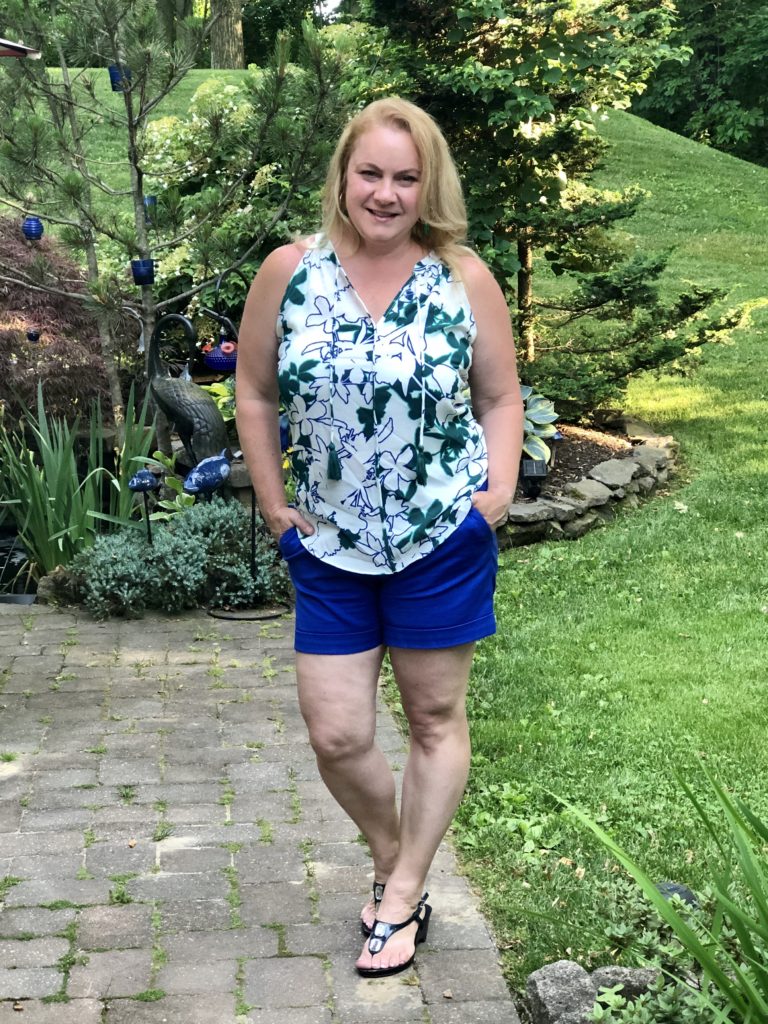 The smooth fabric and cuffed style elevated them to a bit of a "dressier short" status and the color was rich and bold. Kohls original retail price was $36, but I saved almost 90% and picked them up for $3.99.
Finally, a sparkly sandal from Keneth Cole in a dark navy color adds a bit of shine.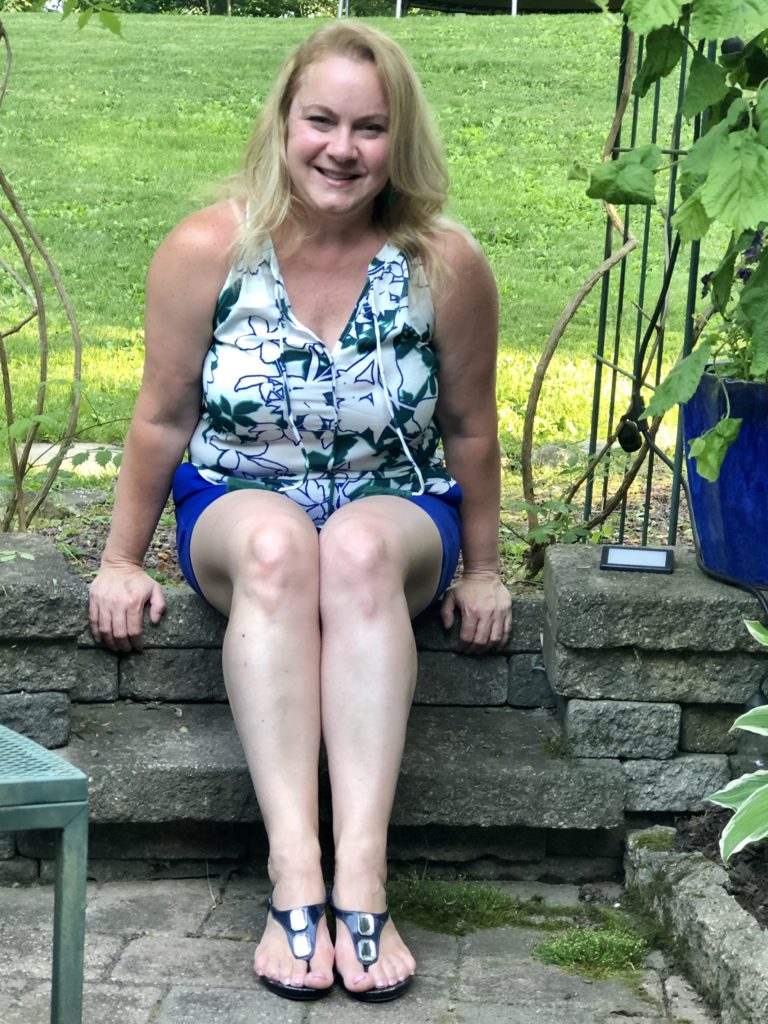 Adding a comfortable yet stylish shoe to a simple outfit can sometimes be your best accessory when you don't need a bag or jewelry. My cost was $7.47; retail was $89.
Goodwill Keystone Area outfits me for all kinds of situations – even if I'm just hanging out in my backyard.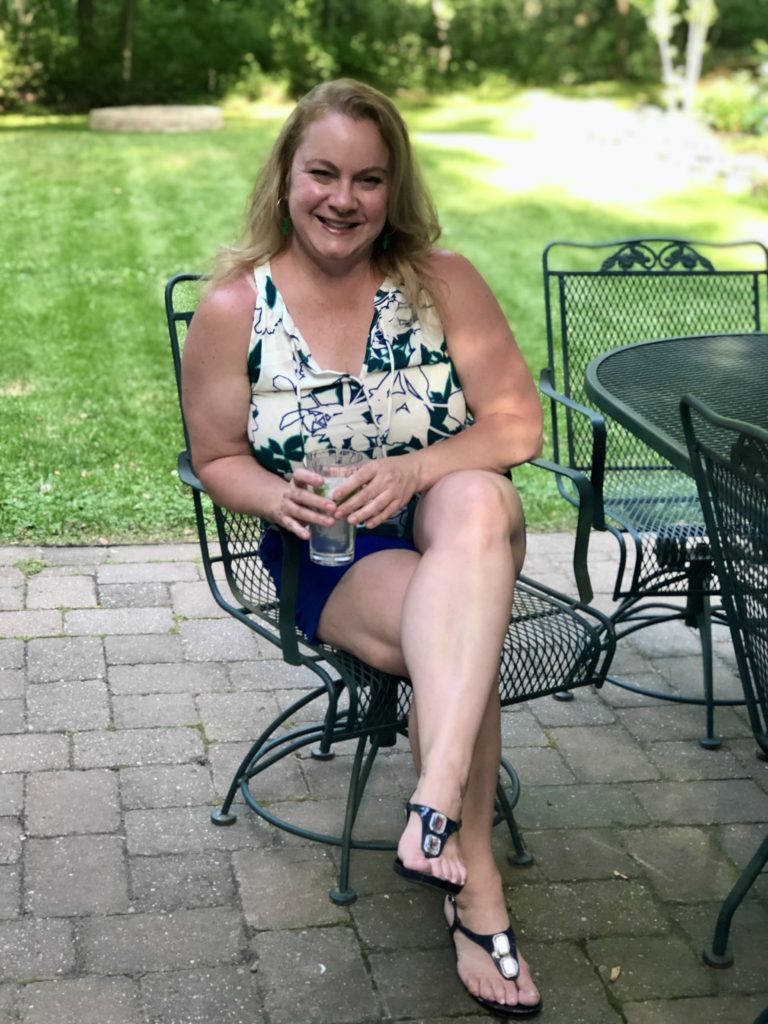 If you plan to visit a store, Goodwill Keystone Area has many safety precautions in place and here are a few things to take note:
If you are ill, you will not be permitted to shop
Mask must be worn unless covered by a medical exemption
Dressing rooms are not open, so choose clothing items wisely
All sales are final, no returns at this time
Bathrooms are also not accessible right now
Reward Card sales are not currently being offered.
Monday 10 am-11 am will be reserved for seniors and at-risk shoppers only.
Donation centers are open for self-service donations of clothing and housewares (no furniture)
List of Goodwill Stores open as of June 18:
From my closet to yours,
Kirsten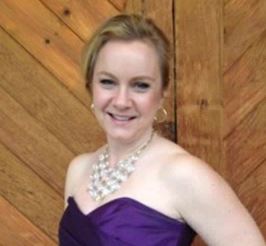 About The Blogger
Kirsten is a 40-something mom, wife and marketing professional. She loves all things crafty, tasty and fashionable, especially while being frugal. She enjoys hunting for treasures at her local Goodwill Keystone Area stores to decorate her home and wardrobe.