Summer is the perfect season to spend some time watching "America's Pastime", eat some cracker jack and hot dogs and cheer for your favorite home team at the ballpark.
One of the best parts of attending a game is being able to show your enthusiasm for your team by dressing the part. Sportswear can be quite pricey, but Goodwill Keystone Area stores offer options for team logo wear, especially if your favorite teams are from Philadelphia, Baltimore or Pittsburgh. You can also find plenty of local college attire, especially Penn State.
This vintage-style bedazzled Phillies t-shirt is perfect for those hot summer nights at Citizens Bank Park.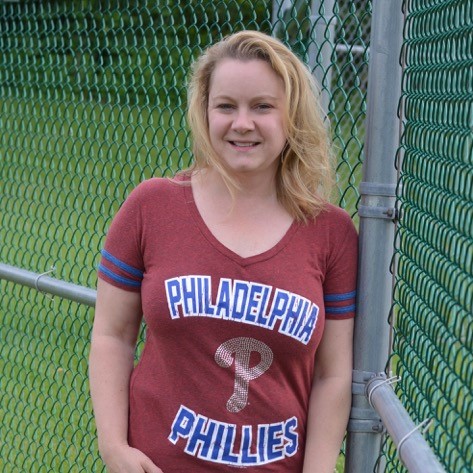 A new t-shirt like this from Genuine Merchandise by Campus Lifestyle would have retailed for $40, but I picked it up for just $3.95. Way cheaper than a ticket to the game!
White jeans are a classic summer choice. These crisp white skinny jeans by Mossimo from Target are the perfect partner to the red, white and blue shirt.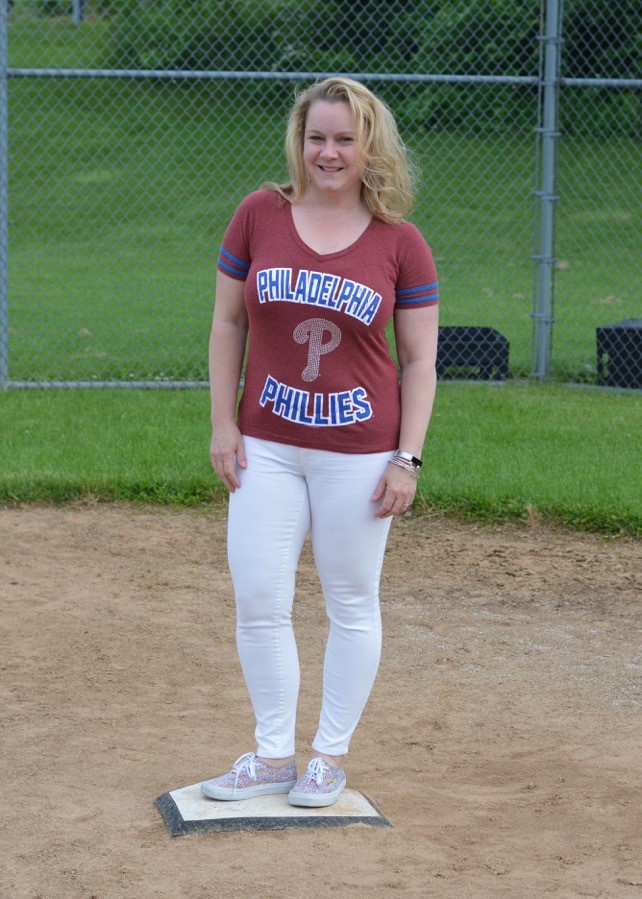 Keeping the footwear casual are these limited edition Beatles "Yellow Submarine – All You Need Is Love" sneakers by Vans. I found these at the outlet in Reading for only $2.25.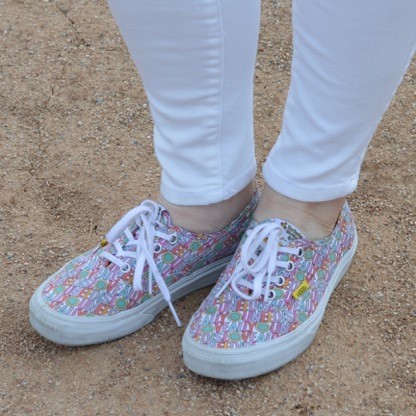 They retailed for $64.99. I can see these being a popular choice for footwear this summer. The colors are bright and cheerful and they are comfortable!
While visiting colleges in New York with my daughter, I stopped at a neighborhood Goodwill and picked up a college sweatshirt at a fraction of the price of new. Looking for logo wear, be it a professional sports team or a local college, is a great reason to visit a local Goodwill.
Shirt: $3.95
Jeans: $6.50
Sneakers: $2.25
Total: $12.70
From my closet to yours,
Kirsten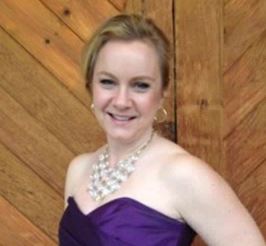 About The Blogger
Kirsten is a 40-something mom, wife and marketing professional. She loves all things crafty, tasty and fashionable, especially while being frugal. She enjoys hunting for treasures at her local Goodwill stores to decorate her home and wardrobe. She is a stylist and volunteer for the fundraiser the Goodwill Runway Show, which is held every spring in Reading, PA.