And the big winner from this year's Emmy Award Red Carpet Showcase is… You!
While you may not have gone to the Emmy's in your limousine, you can immediately add elegance and style to your wardrobe from this year's red carpet color palette.
The Pantone Color Institute – known as the international authority on color – identifies 4 colors that are universally flattering to everyone despite hair, skin or eye color or tone. These four colors–Mellow Rose, True Red, Indian Teal and Eggplant–appeared over and over again on Sunday's 65th annual Emmy awards.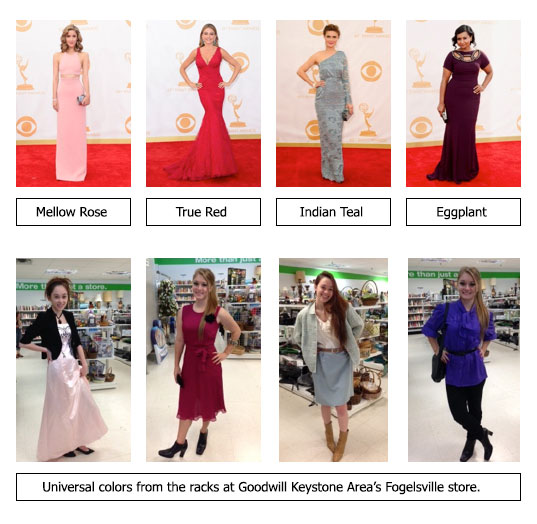 Whether looking for formal, business or casual wear, these colors will flatter everyone. No more second guessing.
Universal colors-they are in, they're hot and at Goodwill Keystone Area stores.
Emmy photos, www.hollywoodlife.com.
Thanks to models Ashley and Sarah- Parkland High School.
For comments or fashion blog suggestions, please email Annette Kaiser at akaiser@yourgoodwill.org.