February is the month for pinks and reds for Valentine's Day and Go Red for Women (Heart Health) and I'm embracing those colors right now. The past blog two posts have featured vibrant reds and today I'm feeling "Pretty in Pink".
This outfit started with these new-with-tags White House Black Market denim.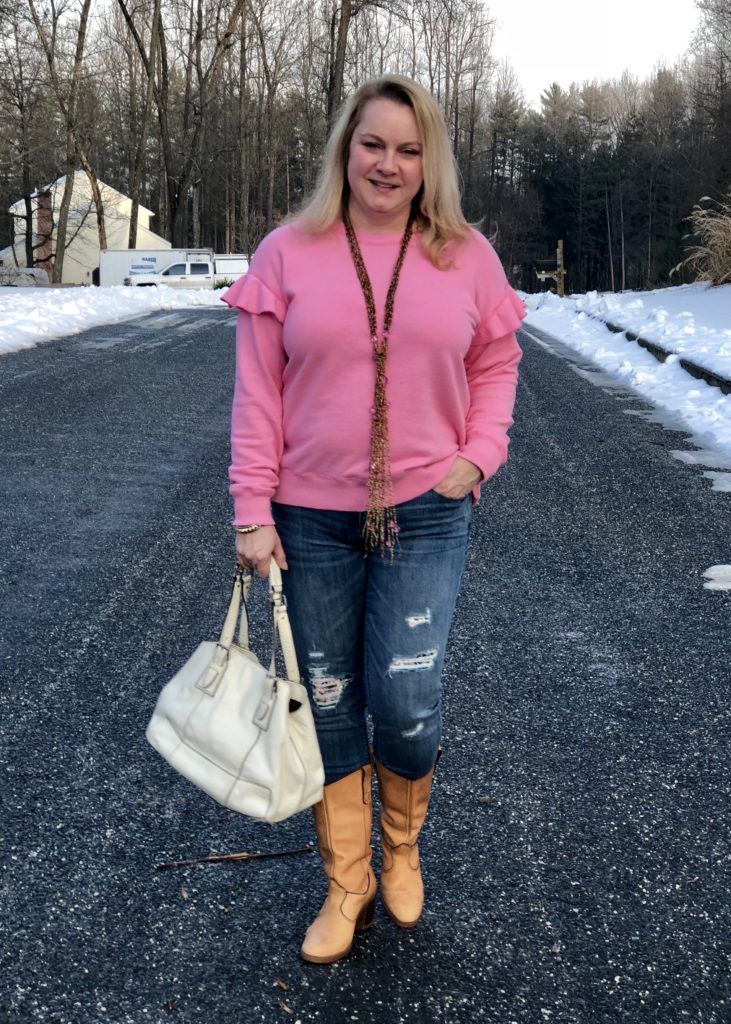 I typically would have passed these jeans by (priced at $20 at Goodwill), but because I was looking for exactly this type of distressed denim I at least decided to try them on. In the fitting room, they checked all my boxes and sparked joy – faded color, inset floral fabric in the patches, perfect length – and in the end I saved 80% off the original price and got exactly what I wanted. I'd rather have one pair of perfect jeans for $20, than spend that amount on 3 or 4 pairs of so-so jeans.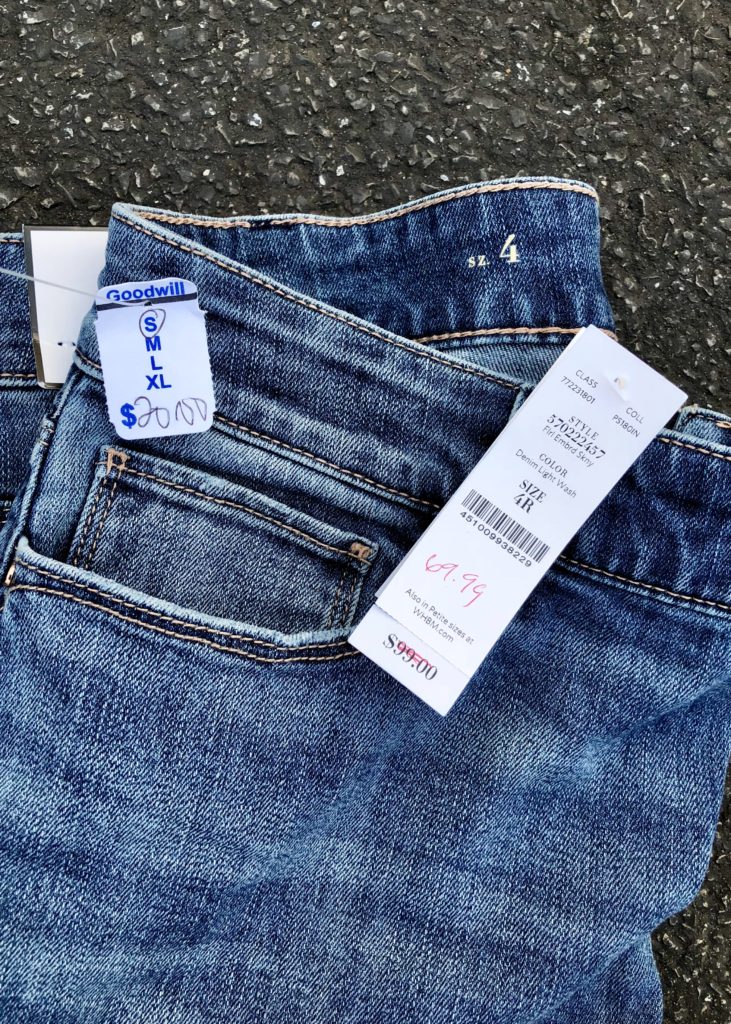 I'm trying to "Marie Kondo" my life, so I'm making better purchasing decisions and being more thoughtful, even when thrifting.
I wanted a fun color to pick up the floral fabric in the patches and this Hollister sweatshirt fit the bill.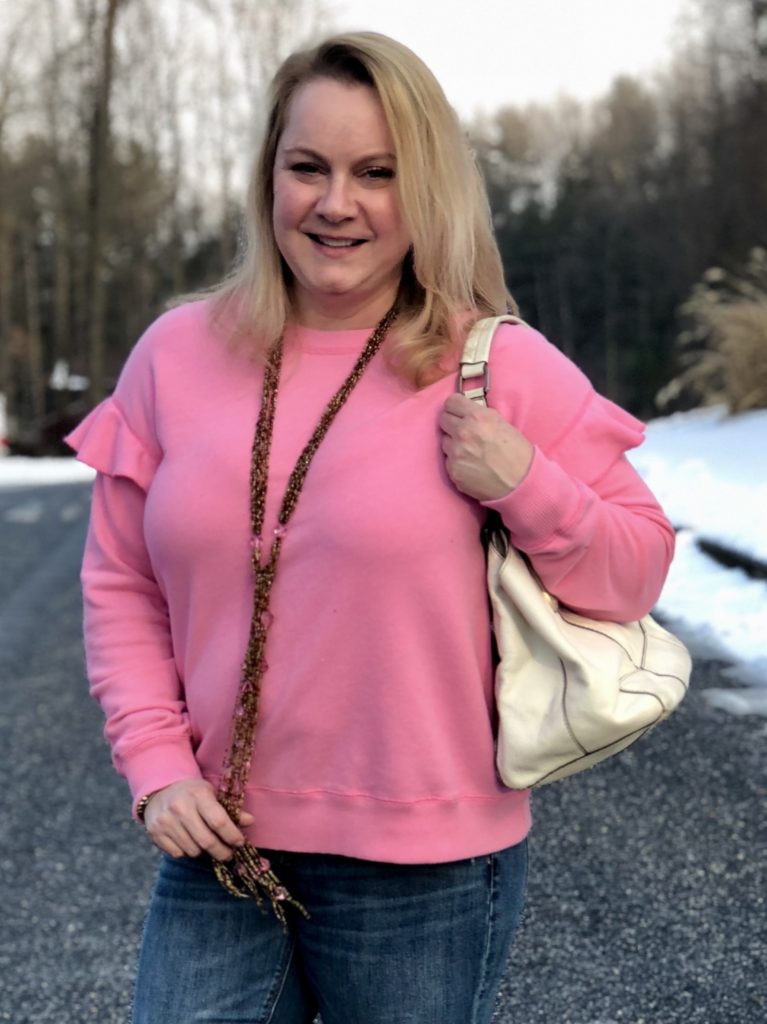 It was soft, comfortable and I liked the ruffles on the sleeves. Hollister is a mall brand popular with teenagers, but I loved this bubblegum pink sweatshirt and the price – $4.50. This would have probably retailed for about $40 when new.
To keep the look casual I added vintage cowboy boots with a stacked heel.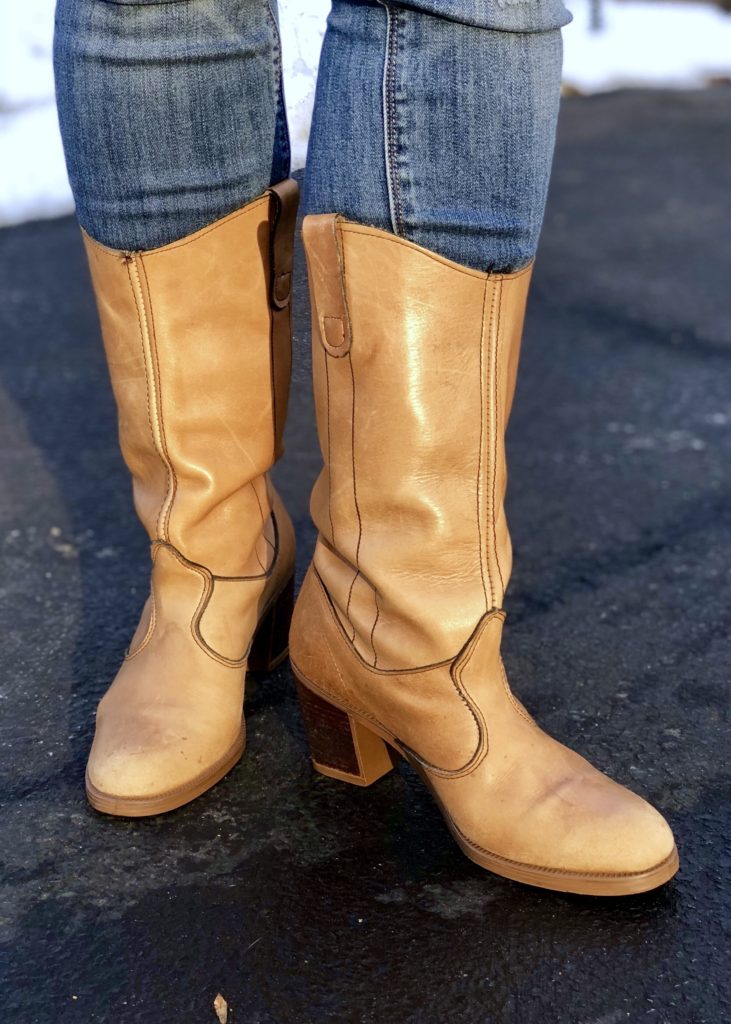 I couldn't find a label on them, but they are genuine leather and stamped "Made in USA" and were $6.97. They are already soft and broken in, so I avoided that uncomfortable "wearing in" process of new boots. If I had to guess, they were probably around $100 when first purchased.
For accessories, I added a brown and pink beaded lariat necklace.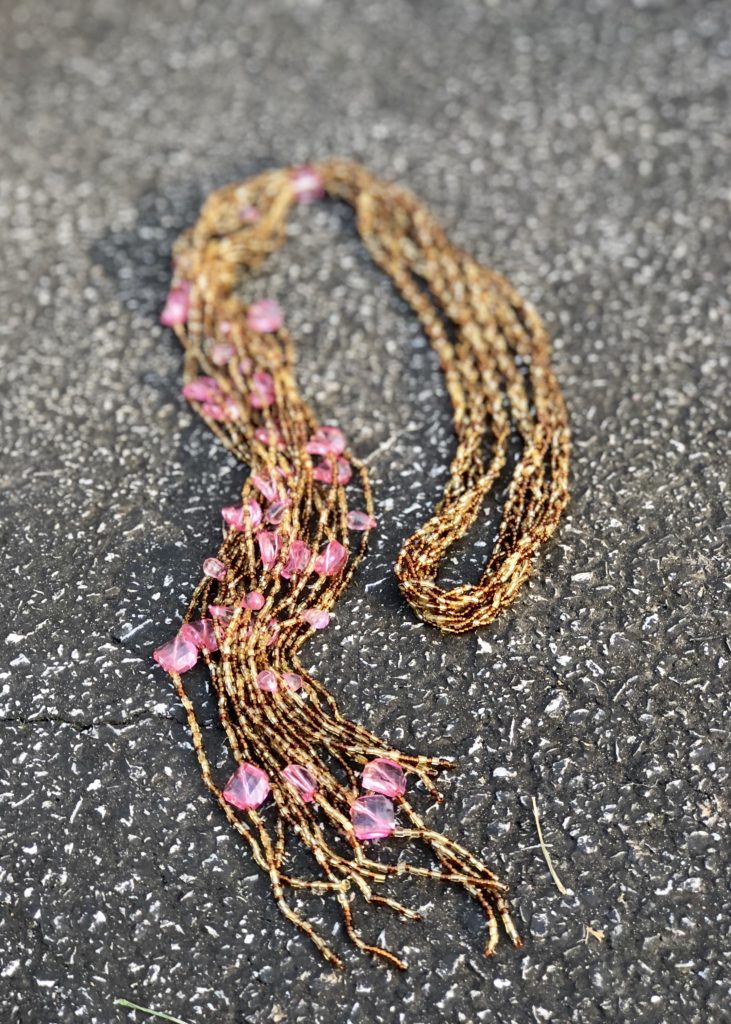 The colors worked perfectly with the sweatshirt and boots. It could be draped or tied in a variety of ways. It was $0.99 at a recent 50% off day at one of my local Goodwill Keystone Area stores.
The ivory Calvin Klein bag is a Goodwill purchase I made over 10 years ago.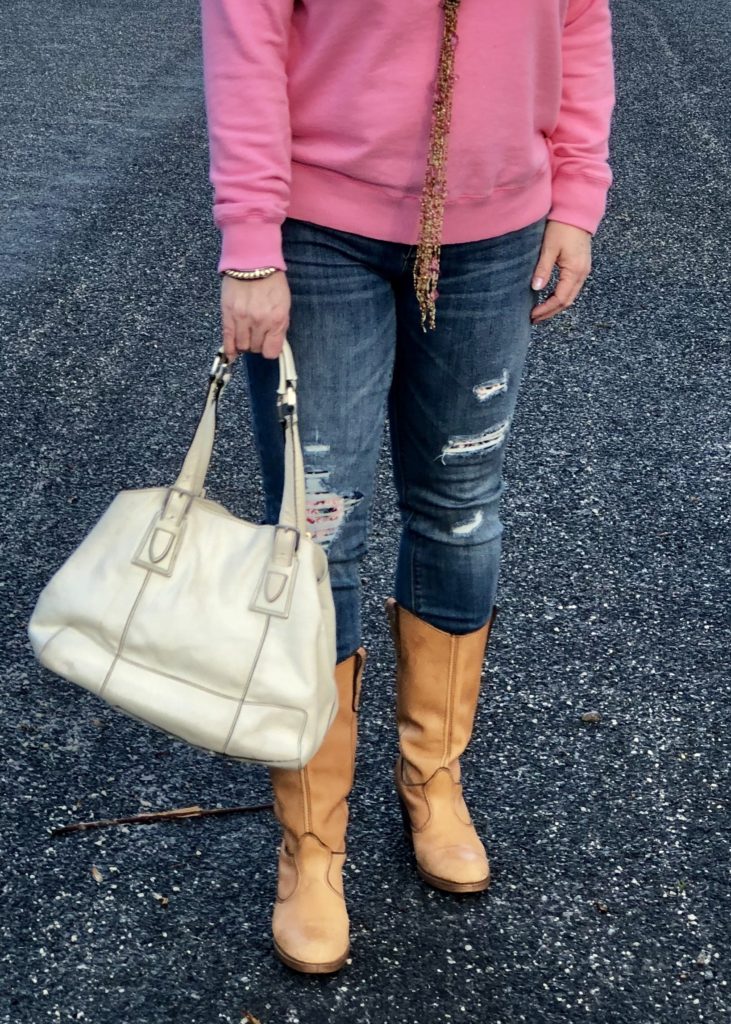 It was also new-with-tags when I found it. The tag was marked $249, but I snapped it up for $10.50. It has served me very well over the years and has been a great investment. I proudly keep the tags still in the bag and show it off when anyone asks me about what treasures I have found at Goodwill.
By dressing "Pretty in Pink" with finds at Goodwill Keystone Area, I saved 92% off the retail value of this trendy, casual outfit which is a perfect look for February.
Want to save EVEN more? Shop Goodwill Keystone Area store's 50% OFF SALE Monday, February 18, details here!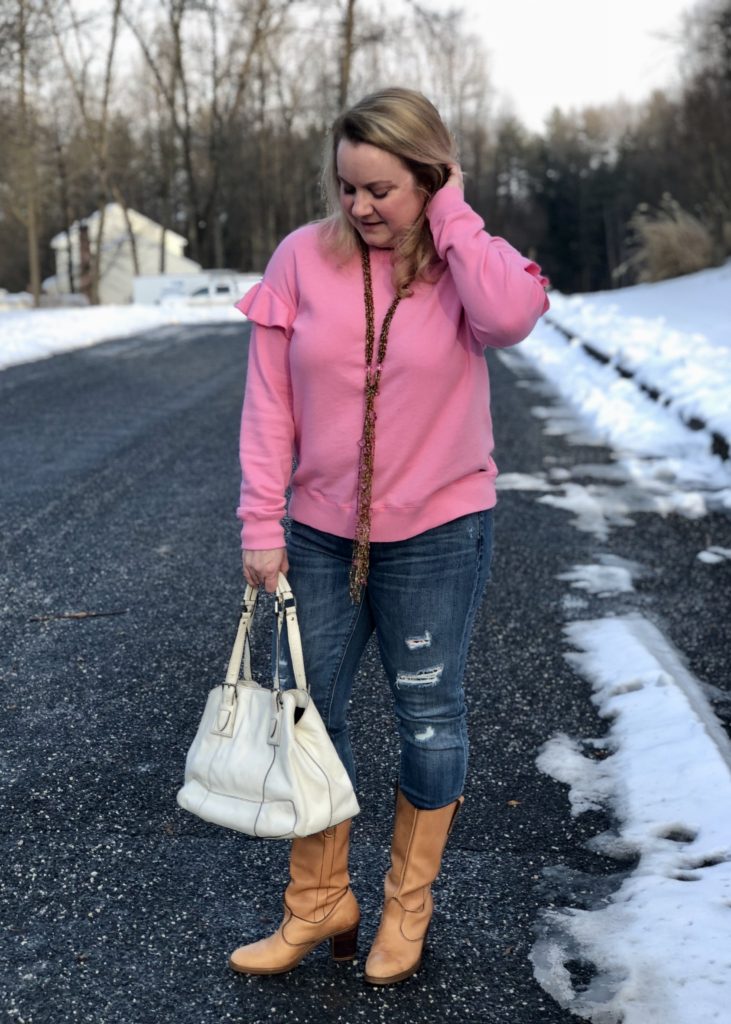 From my closet to yours,
Kirsten
Jeans: $20
Shirt: $4.50
Boots: $6.97
Necklace $0.99
Bag: $10.50
Total: $42.96
Retail: $510+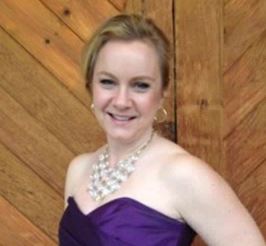 About The Blogger
Kirsten is a 40-something mom, wife and marketing professional. She loves all things crafty, tasty and fashionable, especially while being frugal. She enjoys hunting for treasures at her local Goodwill Keystone Area stores to decorate her home and wardrobe.