Early on, I learned that sometimes you had to suffer for fashion: Heels so high that they pinched, un-breathable faux leather leggings, itchy wool sweaters… but never did I think that being a fashion blogger would provide more outlets of fashion pain. In this week's blog, I wriggled into gray leopard print tights and a lined leather jacket in 90-degree weather to show you how to transition your summer style into fall fashion favorites. There's also no chance of a good hair day when the humidity is making everything frizzy and sticky. I hope you all enjoy this week's entry on how to seasonally change up your wardrobe and appreciate the lengths I go to keep you stylish and thrifty!
Seriously, I long ago gave up my stiletto heels and binding or tight clothes. I work for a school now and need to be able to run around and dress in colorful, yet comfortable clothes when I'm around our students. My goal is to dress like a high school art teacher – a little off-beat, a little boho, but lots of fun. (Full disclosure: I am not a teacher; I work in marketing and fundraising).
With this look, I want to show you how to transition your summer dresses for cool weather.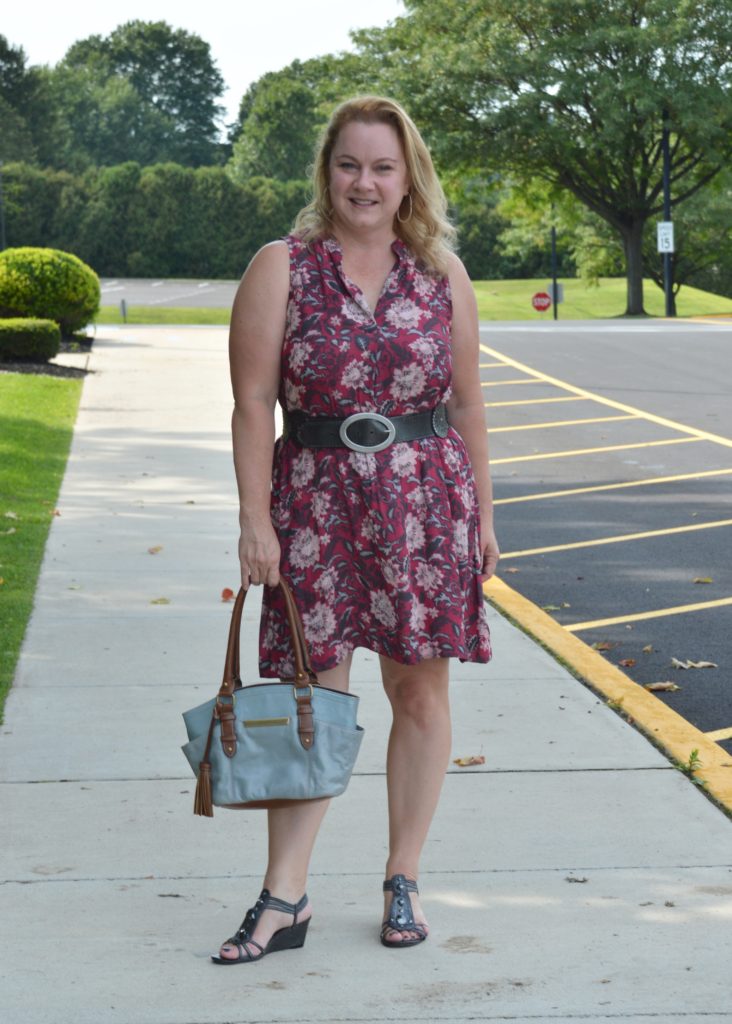 All pieces this week are from the bins at the Goodwill Keystone Area store in Reading. The only exception is the shoes in my summer look and the tights in the fall outfit – they are my own. My estimation of the cost of this outfit is under $5. A real bargain for multiple seasons of style!
Right now, this light-weight floral dress from Loft is perfect for the warm, late summer days we are experiencing.
It came with a self-tie belt, but one of my favorite fashion tips is to remove them and the little belt loops provided. Chances are they won't fall at your natural waist. By adding the chunky, pierced leather belt from Aimee Lynn (a boutique brand), I changed the feel of the dress from subdued to making a statement.
The bag for both seasons is a pale gray Tignanello. The brand is easy to find at Goodwill Keystone Area stores as they are sold in many local stores including Boscov's, Macy's, and from various online retailers. However, they are of good quality and come in a multitude of colors and variations – from this little bucket bag to roomy totes to cross-body styles. Look for this brand when out thrifting!
To create the cool weather look, I layered on this pewter leather jacket from Bradley Bayou.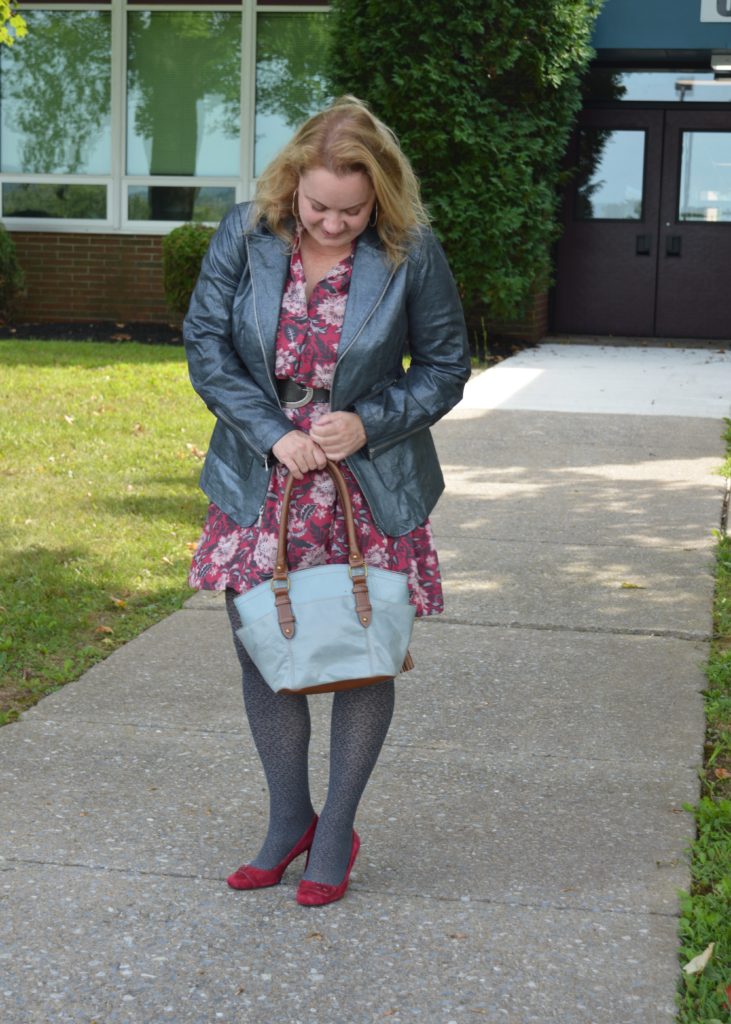 It's not too heavy as it won't get me through winter, but it is perfect for those chillier fall days. It would also look great over jeans and a t-shirt and black biker booties (all of which are in my closet!). To pick up the burgundy tones in the dress's pattern the Franco Sarto suede pumps add just the right pop of color.
I could also layer the dress over a light-weight long sleeve tee or turtleneck or add a blazer or cardigan. Heavier tights and knee-high boots would also extend this look into colder days.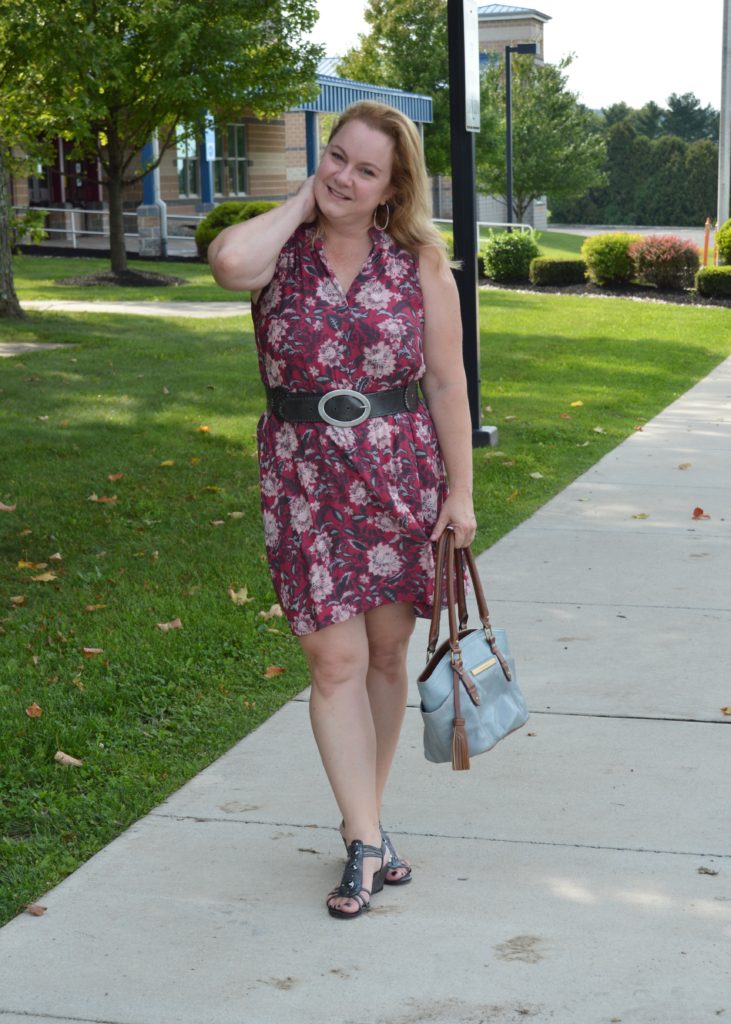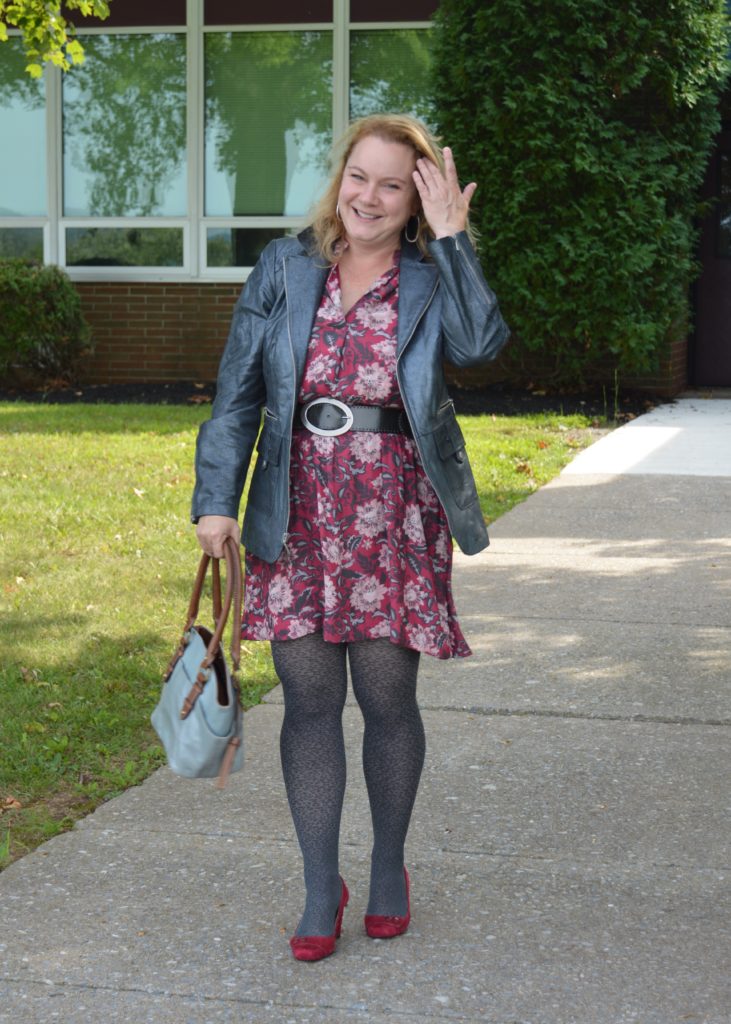 Goodwill Keystone Area stores still have plenty of summer clothing right now (when all the other stores have moved on to fall clothes) and maybe my tips can help you can envision how to transition dresses, skirts, or other pieces from season to season!
From my closet to yours,\
Kirsten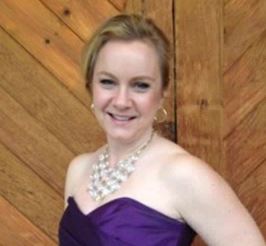 About The Blogger
Kirsten is a 40-something mom, wife and marketing professional. She loves all things crafty, tasty and fashionable, especially while being frugal. She enjoys hunting for treasures at her local Goodwill Keystone Area stores to decorate her home and wardrobe.