Styles and trends are always being recycled and revived and this season some of my childhood favorites from the mid 80s are coming back! Several of the iconic items I have been seeing in the October fashion magazines include scrunchies (I'm not kidding!), lots of denim (including acid washed) and colorful, enamel pins.
My youngest daughter is modeling these trends so I let her pull this look together from my stash of blog finds. She started with the burgundy dress by Robert Rodriguez.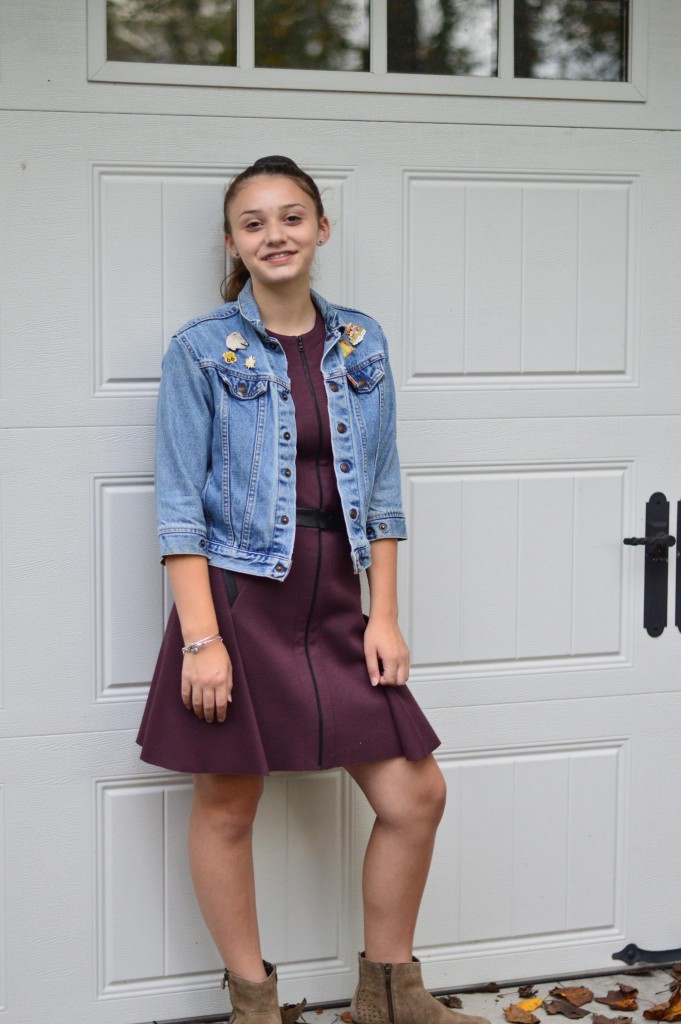 This is one of my higher-end finds, which I discovered at the Morgantown store for $5.50. It would have cost $475 when new. The original description stated: "Fused jersey creates the look of neoprene on this futuristic Robert Rodriguez dress. Contrast trim and decorative zips detail the swingy, pleated skirt. Snaps secure the leather-trimmed waist. Laser-cut hem. Exposed front zip." It has a very modernistic appeal, perfect for a trendy teen.
She made the look her own by layering on an acid-washed Levi's denim jacket.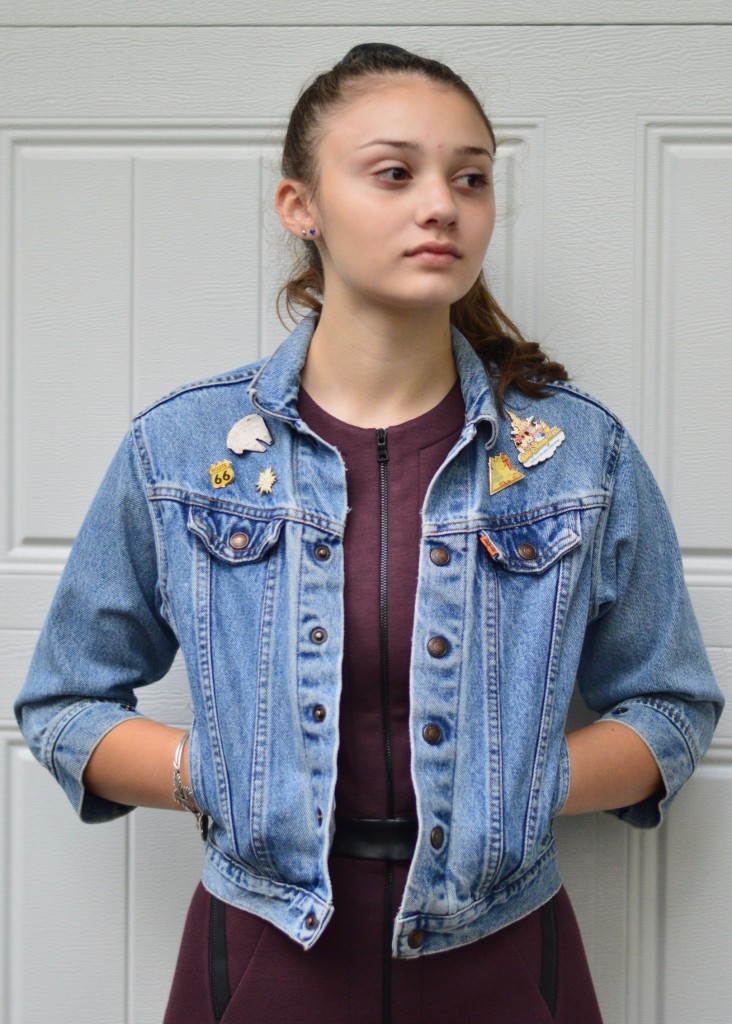 She added vintage and new enamel pins, some of which were from the 80s. Another classic item she added was a velvet scrunchie, using it to pull her hair into a fun, high ponytail.
She added age-appropriate flat, taupe, suede boots decorated with brass studs from Limelight.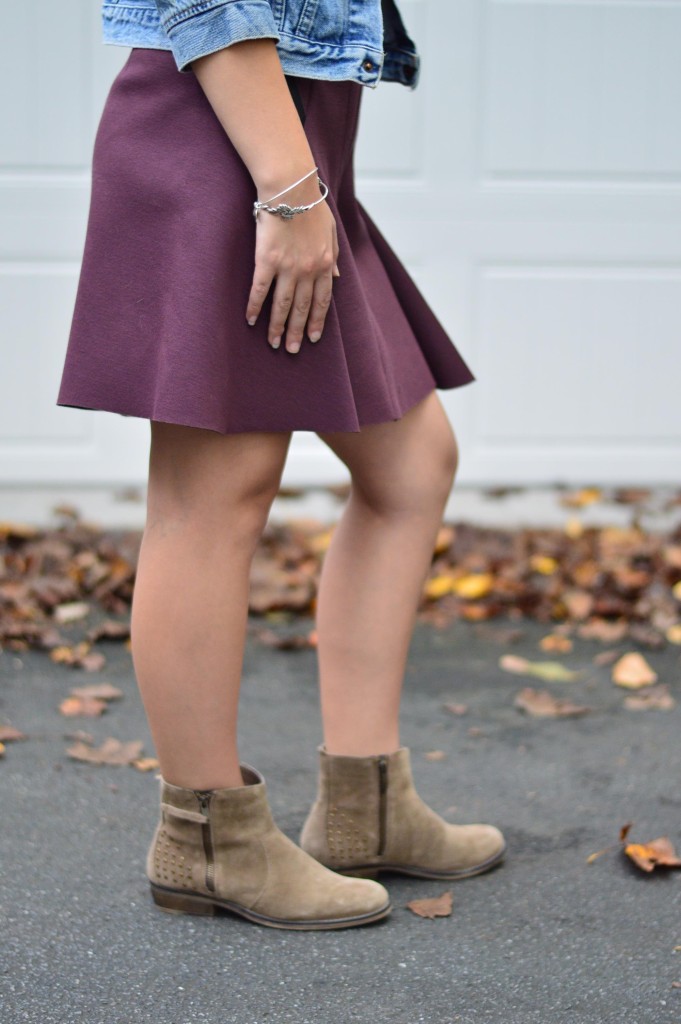 They would have retailed for about $64.99, and I picked them up for just $4.97.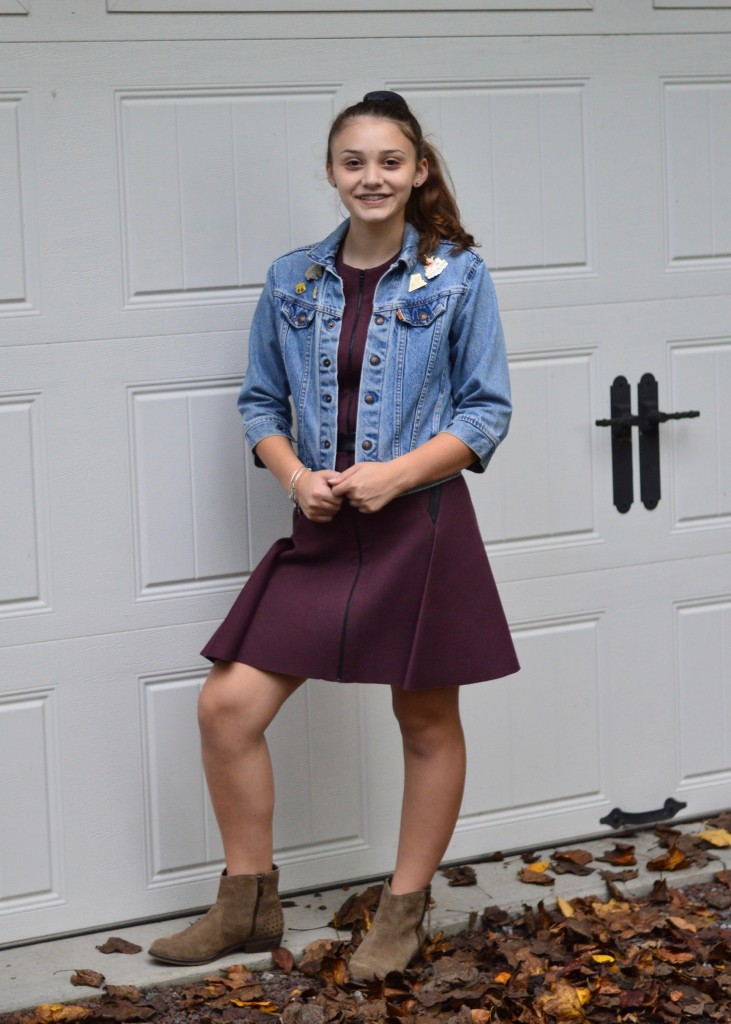 Sometimes trends disappear into the back of your closet for a while, but they eventually emerge, ready to be made new again. And the beauty of shopping at Goodwill Keystone Area stores is that you can find all styles of clothing and accessories from a variety of years and make them your own! (I saved 98% off of the original retail on this look!)
Jacket: $1.00 (from the Reading Outlet)
Dress: $5.50
Boots: $4.97
Total: $11.47
Retail estimate: $615
I saved 98% off of the original retail on this look!
From my closet to yours,
Kirsten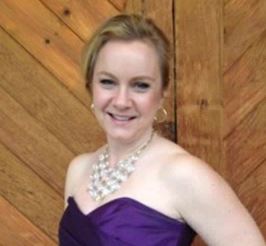 About The Blogger
Kirsten is a 40-something mom, wife and marketing professional. She loves all things crafty, tasty and fashionable, especially while being frugal. She enjoys hunting for treasures at her local Goodwill Keystone Area stores to decorate her home and wardrobe. Meet up with her at one of Goodwill's shopping events! Check the event pages for details.