Spring is so close! I can feel it and I am definitely ready to bring out my florals, pastels and sandals. We've had (what seems to be) a very long winter here in NE Pennsylvania, so everyone I know is excited for the warmer weather that will be heading our way soon.
But, there are still some chilly days ahead, so dressing in layers is still the best bet for these early April days. This outfit has the best of both worlds: open-toed sandals and a long-sleeve jacket.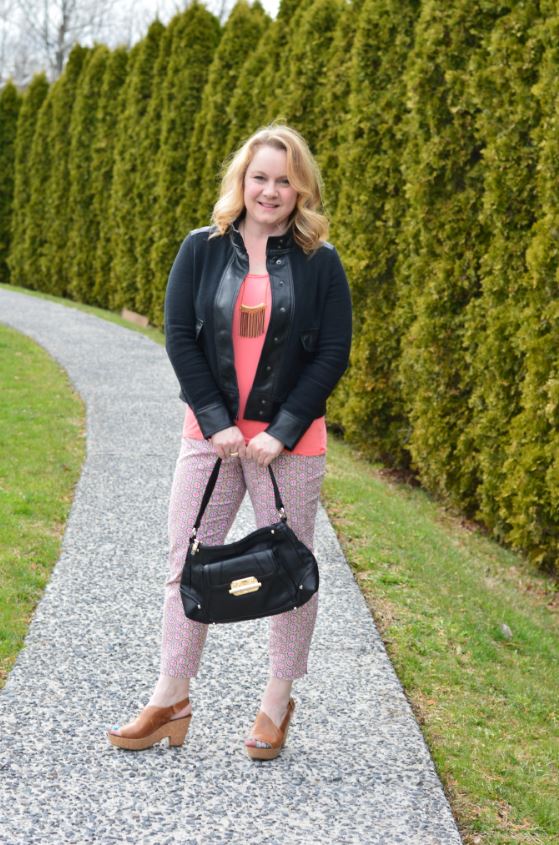 I started the look with these patterned Ann Taylor Loft ankle-length pants. I loved the color combination and based the rest of the outfit on it. Print pants always seem to have a resurgence in spring and I've seen florals and graphic print pants in many of my recent fashion magazines.
To highlight the pink, I chose a Gap pocketed t-shirt in the same salmon color.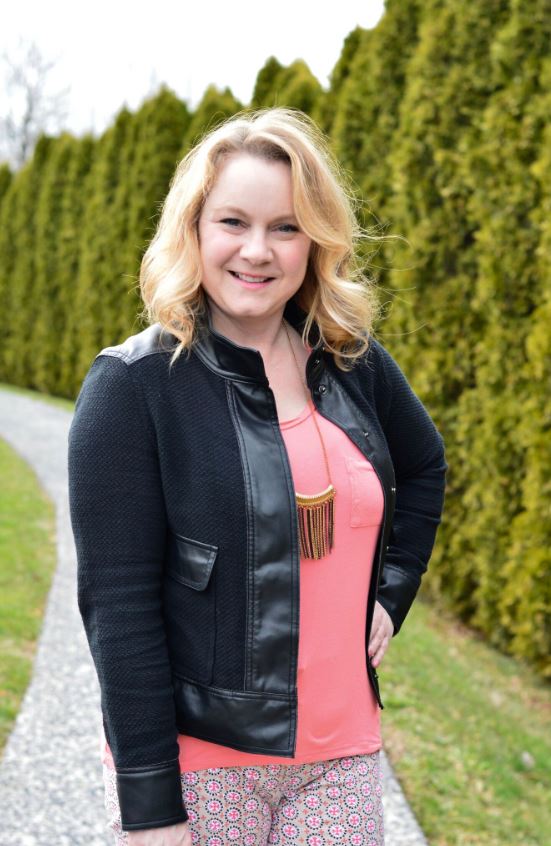 Casual pieces can fit nicely under jackets and blazers for a professional work atmosphere. I can pair this in summer with shorts to get more versatility out of this basic tee.
The knit and vegan leather jacket is from the Who What Wear line from Target.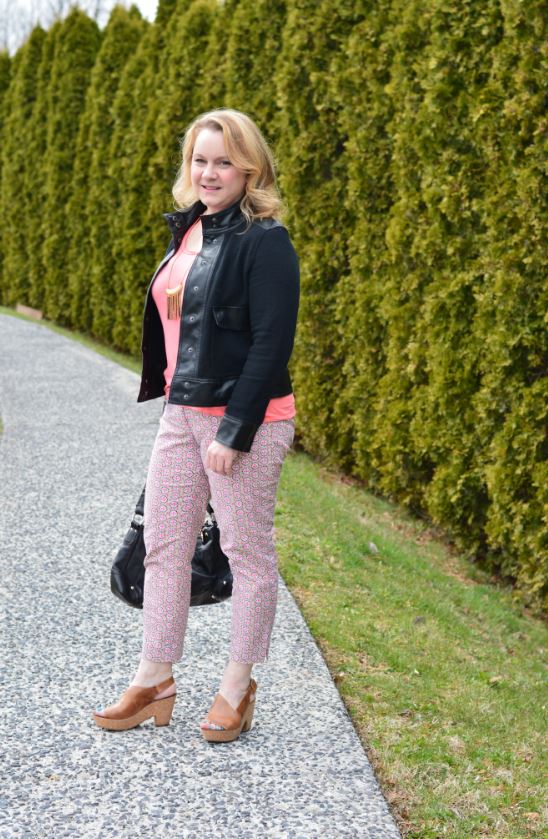 This was a splurge at $12.99 at Goodwill, but the perfect fit attracted me to this piece. It has a classic, but modern feel and I can see this jacket working with my wardrobe for a long time.
As for accessories, I kept them neutral. The B. Makowsky was also a splurge at $12.97, but this brand sells bags for several hundred dollars each, so I didn't mind.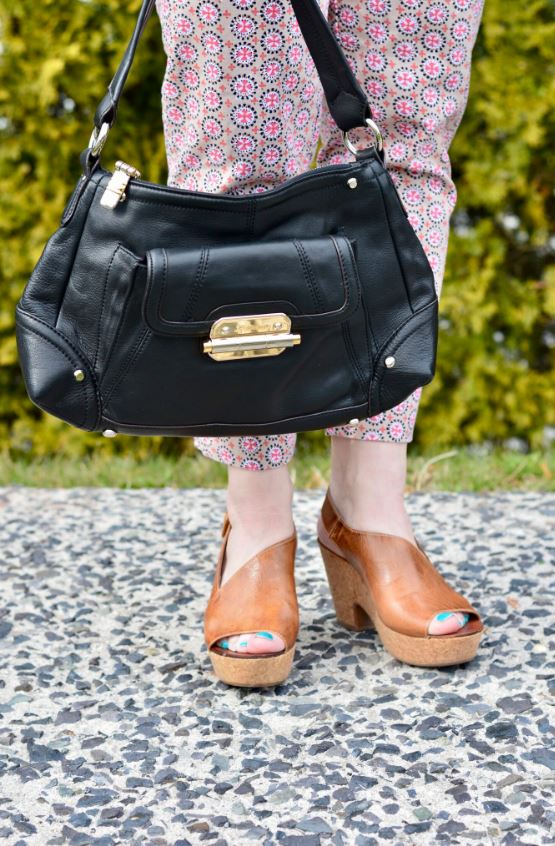 The buttery soft leather and high quality silver and gold details made it worth every penny.
A gold and black fringed necklace added a modern touch.

And the shoes were a wonderful surprise. They were new without tags (no wear on the bottom) and were just $6.99. When I got home and did my research, I discovered they were over $200 when new. The leather is soft and the stacked wedge makes them very comfortable. I was very happy with this find!
Spring is just about here and spanning the seasons with jackets or blazers is easy with trendy pieces from Goodwill Keystone Area stores.
Pants: $5.50
T-Shirt: $3.95
Jacket: $12.99
Bag: $12.97
Shoes: $6.97
Necklace: $3.97
Total: $46.35
Retail: $550+
From my closet to yours,
Kirsten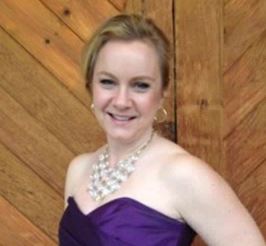 About The Blogger
Kirsten is a 40-something mom, wife and marketing professional. She loves all things crafty, tasty and fashionable, especially while being frugal. She enjoys hunting for treasures at her local Goodwill Keystone Area stores to decorate her home and wardrobe. Meet up with her at one of Goodwill's shopping events! Check the event pages for details.