It's well after Memorial Day and almost 4th of July, and if you follow antiquated fashion rules, I'm more than able to wear white. I love white jeans and shorts as a neutral in the summer season despite worrying I will end up spilling something on them!
These jeans are from NYDJ.
(Not Your Daughter's Jeans) A little back story from their website: "NYDJ jeans are made by women, for women—all shapes, all sizes, all women. Back in 2003, comfortable and flattering jeans for every woman simply did not exist. Most jeans had low waists and fit uncomfortably, and if they did fit well, they were just not stylish. Originally founded as "Not Your Daughter's Jeans," we set out to design jeans that fit in all the right places and make every woman feel comfortable and confident—like her best self."
I do find their jeans to be comfortable and flattering, however I prefer Goodwill Keystone Area's price of $4.75 over $119 retail. Higher-end denim is one of my favorite thrift items to find at my local Goodwill. These will be a summer staple for work or for weekends. I am happy to report that this brand is crafted in the USA.
My plaid sleeveless blouse is from Universal Thread, a Target brand committed to using more sustainably sourced cotton and recycled polyester.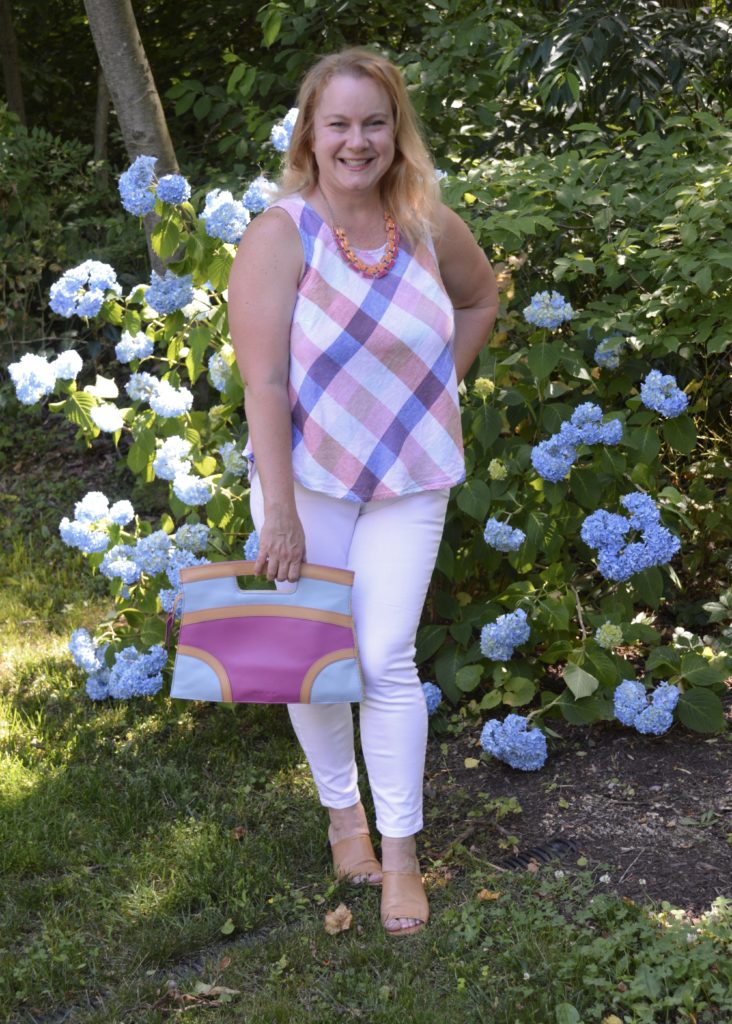 This colorful top is a blend of cotton and linen. I love the look of linen, but when not blended with another fiber, it wrinkles easily and ends up looking frumpy. Their price point, even at full retail, is not bad if you are looking for a socially conscious brand. This top would have sold for $19.99, but it was $4.75 at Goodwill.
My clutch was a fun find. At $9.99, it was a bit pricey,
but I researched the comps before I bought it and although Hype is not a well-known brand, the leather is high quality and soft and the color block style was playful and unique. The brand used to be able to be found at TJ Maxx and Marshalls stores for under $100.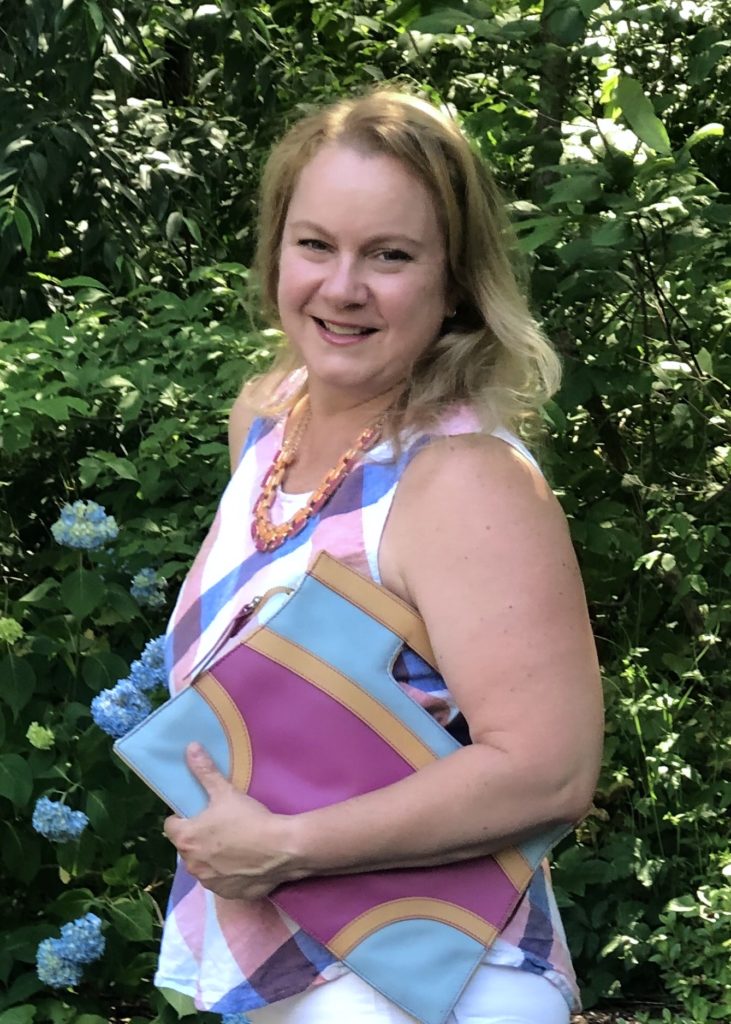 I kept my shoes neutral in a classic 90s kind of way – square-toe slides from Liz Claiborne. They are comfortable and would go with almost any outfit this summer. Retail would have been around $60, but these were purchased at the outlet in Reading (before the closures) for $2.75. Finally, my necklace was an older Goodwill purchase but the colors matched so well I just had to add it in. It was $3.97 and purchased several years ago.
While my daughters probably wouldn't enjoy this outfit, I think it's perfect for another outing… in my back yard.
If you plan to visit a store, Goodwill Keystone Area has many safety precautions in place and here are a few things to take note:
If you are ill, you will not be permitted to shop
Masks will be required for all shoppers and employees (unless covered by a medical exemption)
Dressing rooms are not open, so choose clothing items wisely
All sales are final
Bathrooms are also not accessible right now
Reward Card sales are not currently being offered.
Monday 10 am-11 am will be reserved for seniors and at-risk shoppers only.
From my closet to yours,
Kirsten
Jeans: $4.75
Top: $4.75
Clutch: $9.99
Shoes: $2.75
Necklace: $3.97
Total: $26.21
Retail: $300+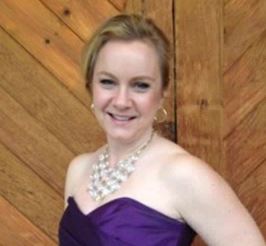 About The Blogger
Kirsten is a 40-something mom, wife and marketing professional. She loves all things crafty, tasty and fashionable, especially while being frugal. She enjoys hunting for treasures at her local Goodwill Keystone Area stores to decorate her home and wardrobe.