By stylist and blog writer, Annette K.
Kate Middleton's classic style and beauty made her pregnancy seem effortless and natural. And now, her elegance and grace are synonymous with maternal fashion.
Gone are the baggy shirts, cover-all pants and over-sized sweatshirts. Today's mom-to-be is polished, fit and confident. She wears streamlined cuts of traditional fabrics, like plaids and herringbone and completes the sleek look with leggings, camis and scarves.
Are you expecting? Don't settle for drab colors and tired looks. Let your local Goodwill store deliver all the layers and accessories for your classic style. Endless possibilities await at Goodwill ….and you won't need a royal budget.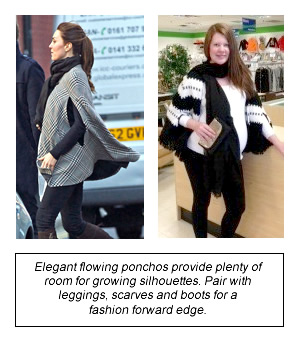 Special thanks to model Jessica Klein-Goodwill Keystone Area employee, Fogelsville, PA. On October 15th Jessica gave birth to son Jase Steven. Both mother and baby are healthy and well. Congratulations!
For comments and blog suggestions, please contact Annette Kaiser at akaiser@yourgoodwill.org
Accessories and clothing are from the racks of Goodwill Keystone Area's Fogelsville,PA store.
Photos taken from People Magazine:   Link to People Magazine article.