Red plaid is almost synonymous with Christmas. You see plaid ribbons and bows on wreaths and presents and little girls with crisp plaid dresses waiting in line to see Santa. Plaid is such a classic, yet modern pattern and can fit almost any occasion.
The star of this outfit is a vintage (1980s or 1990s) plaid zip-up blazer from Dress Barn.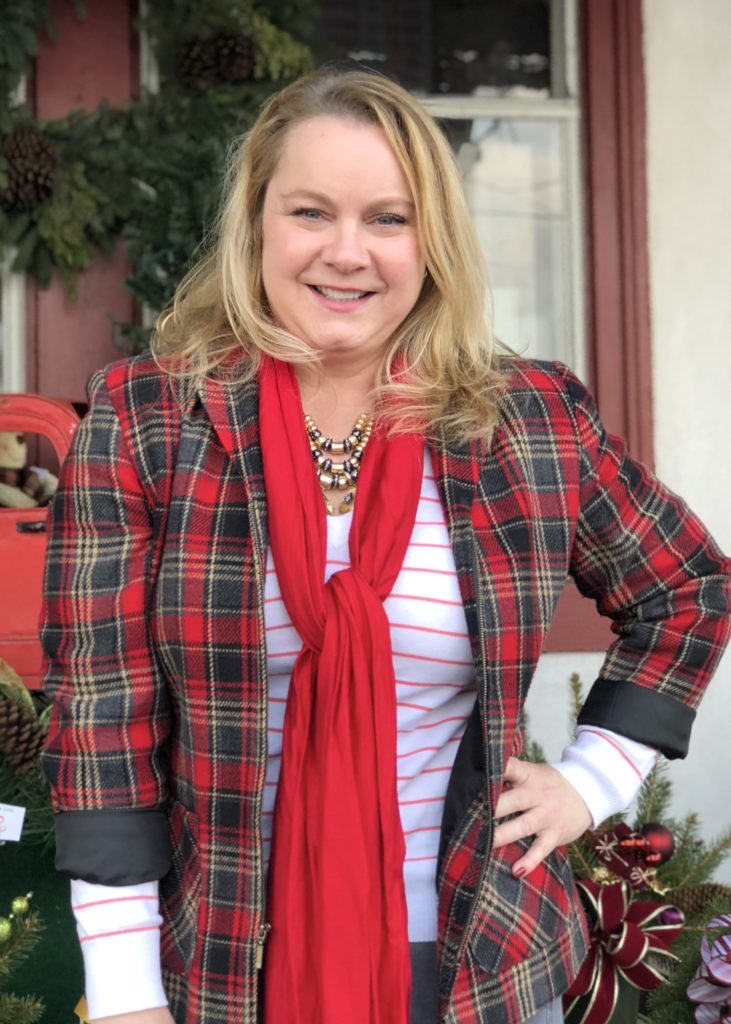 I was attracted to the cheery pattern and knew I could modernize the look by adding the right accompaniments and rolling up the sleeves. I plucked this blazer (and the sweater) from the bins at one of the Goodwill Keystone Area outlets, so I am estimating my cost on each piece at around $1.
To play off the red tones, I added a striped cotton sweater from J. Crew (also from the bins).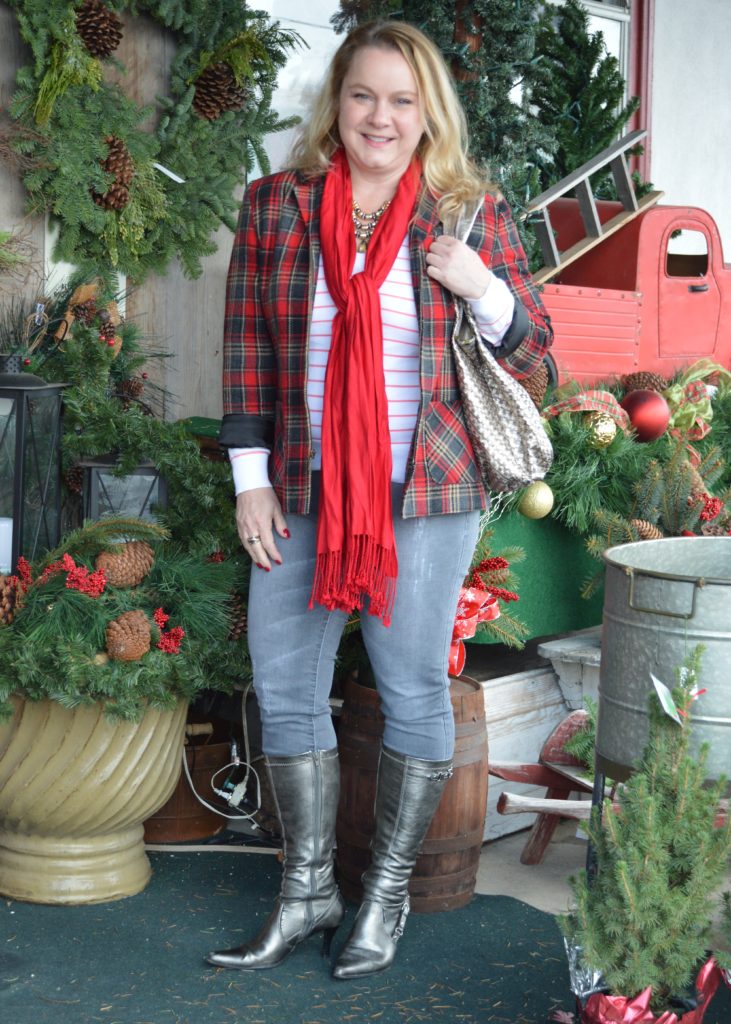 It is a classic v-neck that will be in style for a long time. Sweaters from J. Crew start at about $80, so this was an amazing price. The cotton is lightweight enough to wear in warmer temps, and layer on in the cooler months.
Grey skinny jeans (instead of standard blue) were a nice neutral. These are from Elle (a brand sold at Kohl's). My price at Goodwill was $5.50, but these jeans retail for about $50, so I saved 90%! They are slightly distressed which pairs nicely with the structured blazer.
To add some shine, I added metallic boots and bag. The woven leather hobo shoulder bag from Elliot Lucca (only $4.97!) is a real beauty for the holidays.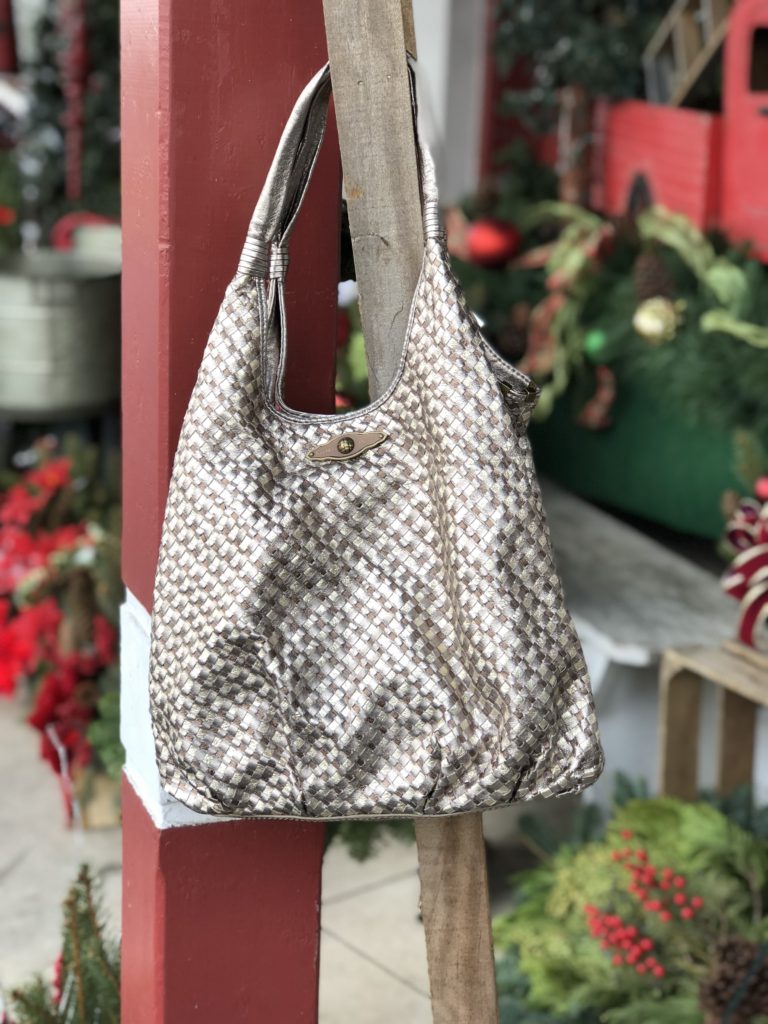 The metallic finish is subtle without being too shiny and bold. This brand is known for it's intricate woven patterns and this bag would have retailed for around $140.
The zip-up pewter boots with the stiletto heel from Fioni (a Payless brand) added a little glamour.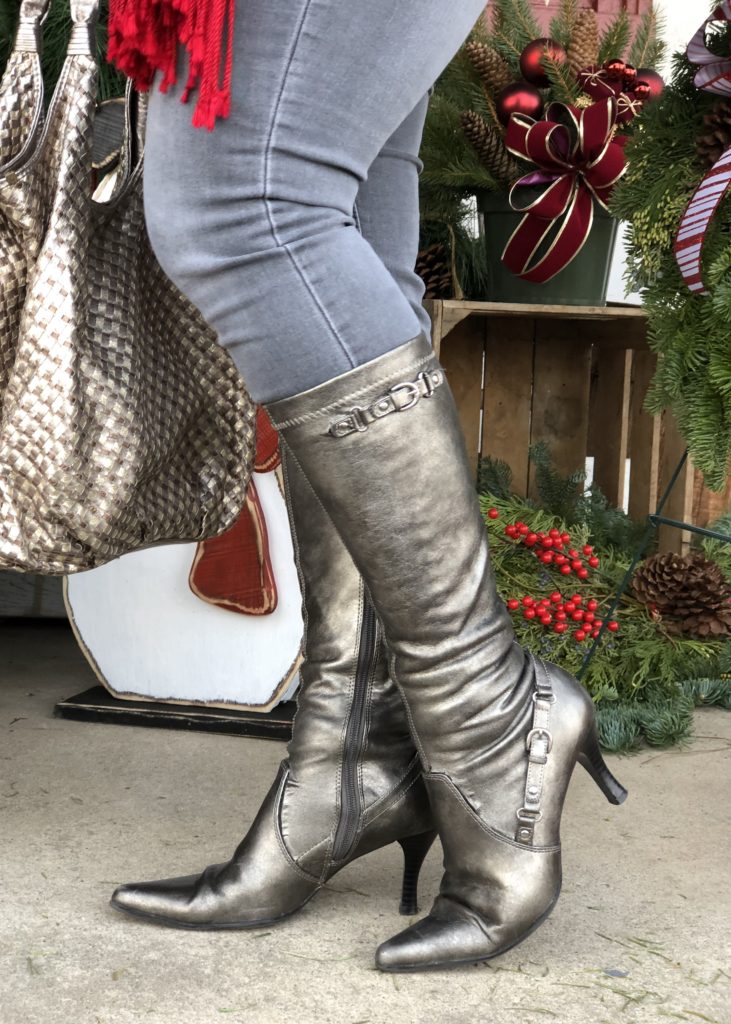 The heel was low enough to be comfortable as I walked around and shopped at a local garden shop, Cedar Hill Flowers.
Finally a red scarf ($2.00) and a gold and silver beaded necklace from Chico's added the finishing touches. I snapped up this statement necklace for $5.00 at my local Goodwill, but it sold for about $59. What a bargain!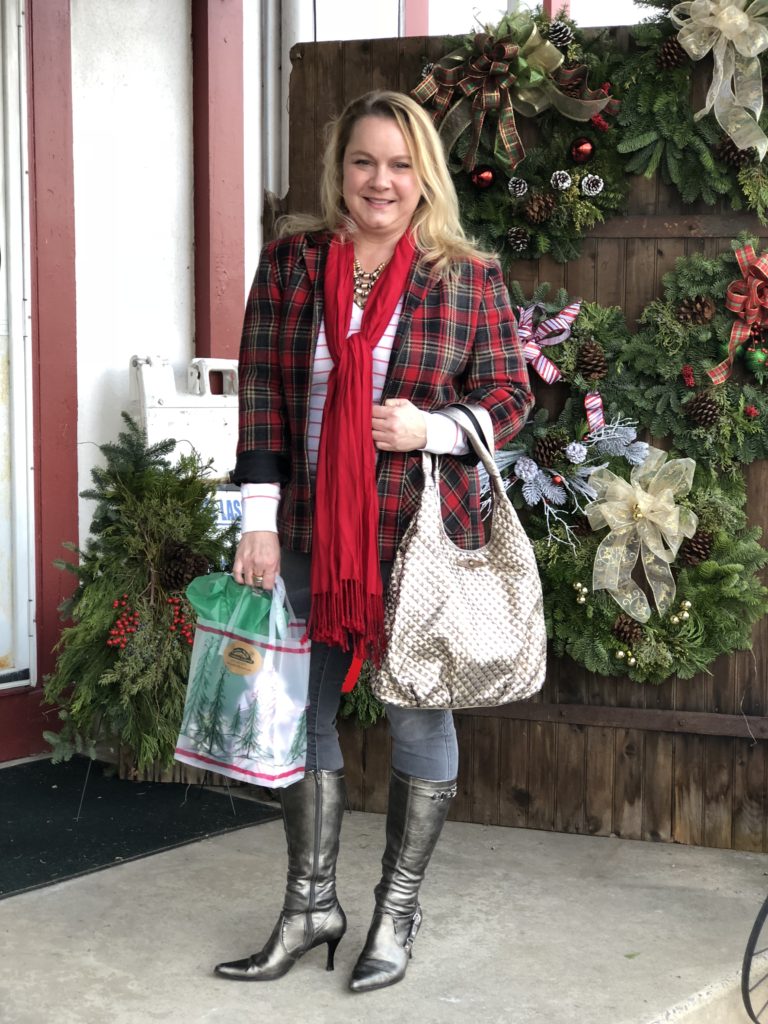 Add a pop of plaid this holiday! Goodwill Keystone Area stores makes it easy and thrifty to weave this pattern into your wardrobe! Pick up a jacket or scarf next time you are shopping at your neighborhood Goodwill.
Happy Holidays!
Kirsten
Blazer: $1.00
Sweater: $1.00
Jeans: $5.50
Boots: $6.97
Bag: $4.97
Necklace: $5.00
Scarf: $2.00
Total: $26.44
Retail: $400+
About The Blogger
Kirsten is a 40-something mom, wife and marketing professional. She loves all things crafty, tasty and fashionable, especially while being frugal. She enjoys hunting for treasures at her local Goodwill Keystone Area stores to decorate her home and wardrobe. Meet up with her at one of Goodwill's shopping events! Check the event pages for details.