If I asked you to guess how much this look would set you back, what would you guess? $1,000? $2,000?  Believe it or not the original retail of this outfit rings up at over $3,000!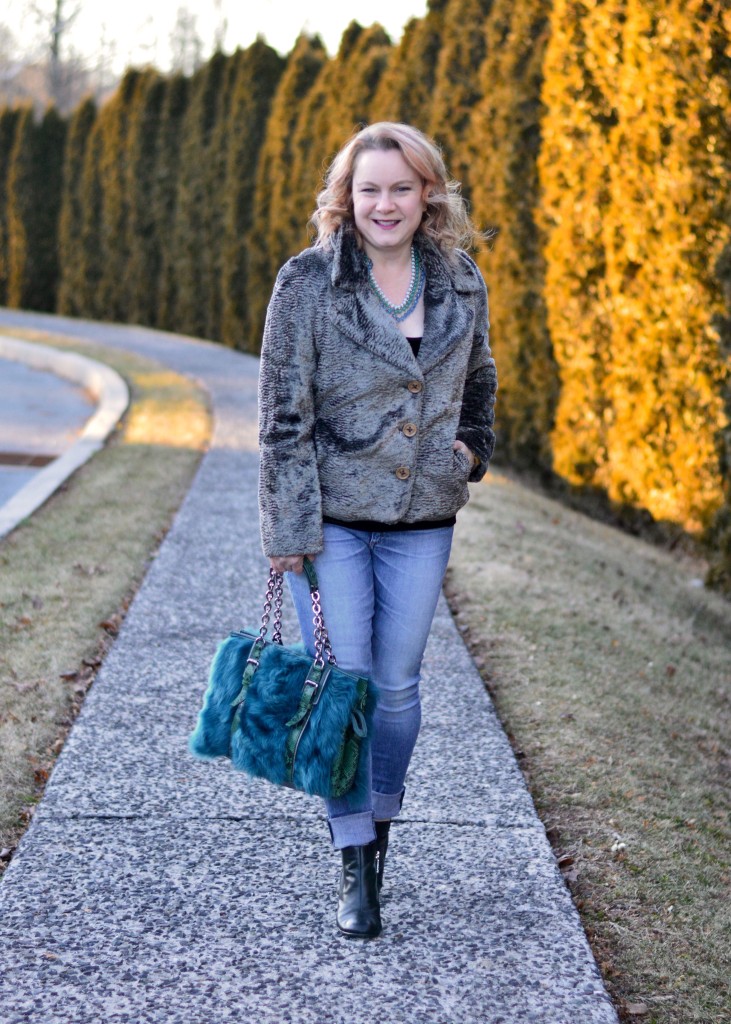 This is by far my most expensive thrifted outfit since I have been blogging for Goodwill. The majority of it is the unique fur and leather purse from Longchamp.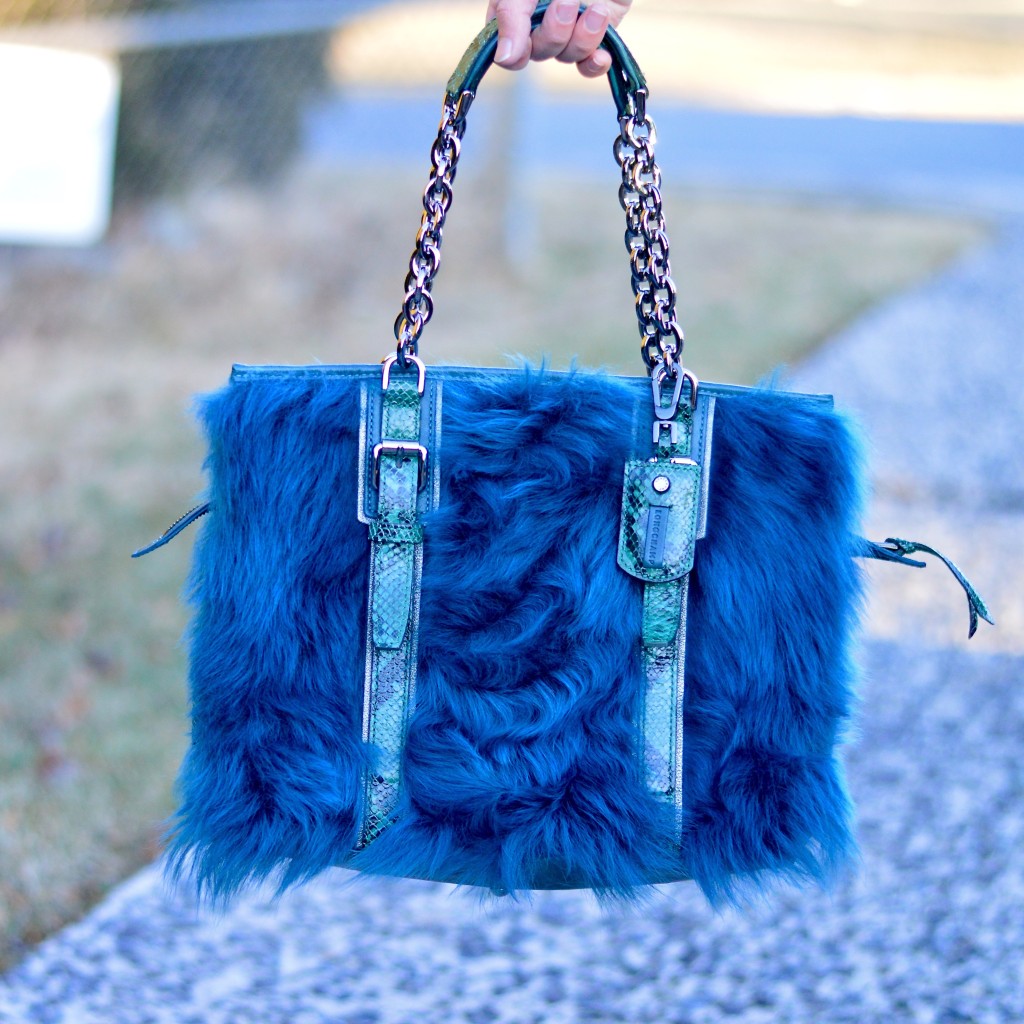 Longchamp is a French luxury leather goods company, founded in Paris in 1948 by Jean Cassegrain. I dug up this interesting handbag at the Reading Outlet. It caught my eye because of the unique color and details.  It is not really my style, but for the blog's sake, I knew I had to purchase it. If you know the outlets, you know you only pay per pound. I estimated I paid about $4 for this bag. And after having it authenticated at the Longchamp store in King of Prussia, I discovered it was worth $2,200 when new. It was part of the 2012 More is More line. The salesperson was very impressed with my find!
The next more expensive piece is the See by Chloé silver velvet jacket.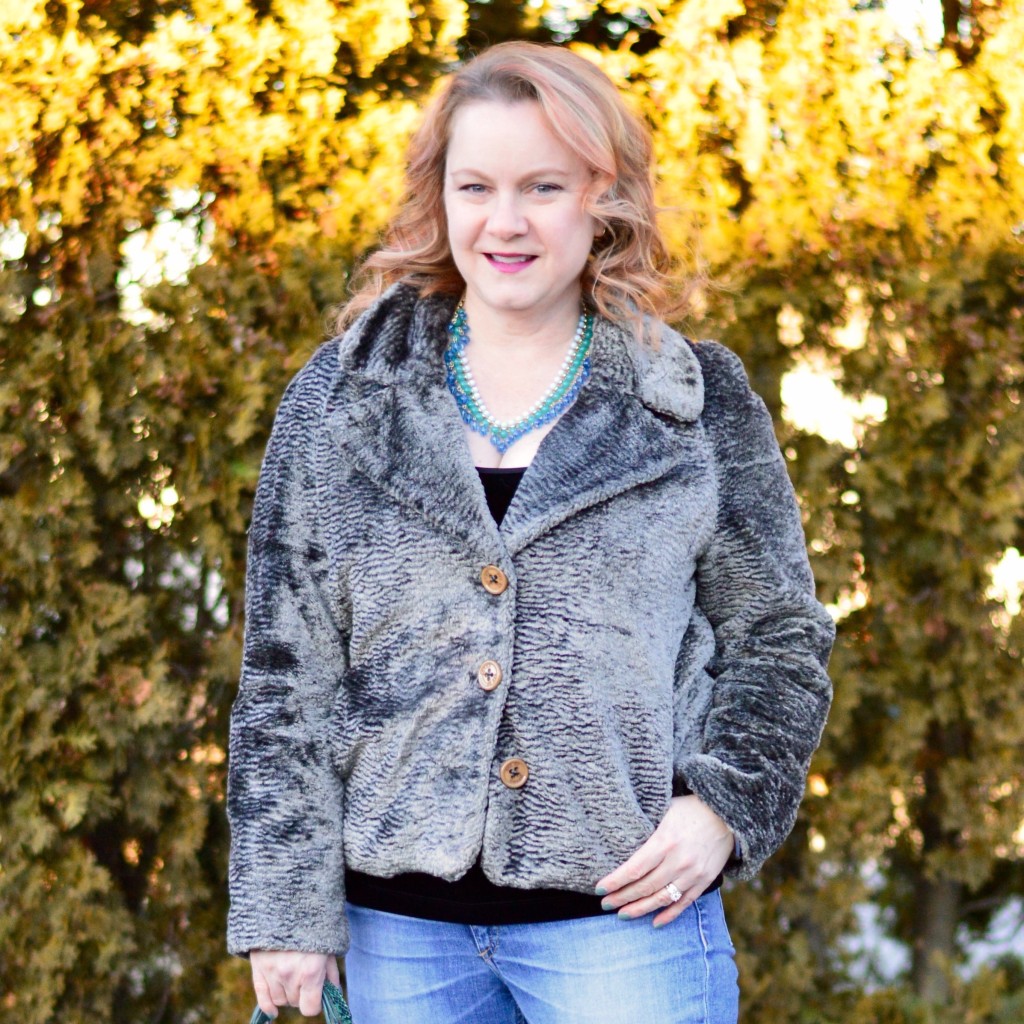 According to Wikipedia, "See by Chloé is a younger line of the Chloé luxury brand. This line manufactures ready-to-wear, handbags, and accessories since 2001. This line of apparel is intended to target the younger generation and is more affordable for those who are starting to become more sophisticated in their styles." The texture, pattern and shine from the fabric makes this a fun piece. I've dressed it down with jeans, but could easily be layered over your little back dress for a night out! I estimate the original price at around $500. See by Chloé has been worn by the likes of Catherine, Duchess of Cambridge.
The black booties from United Nude were found by a friend at the Robesonia location for $4.97.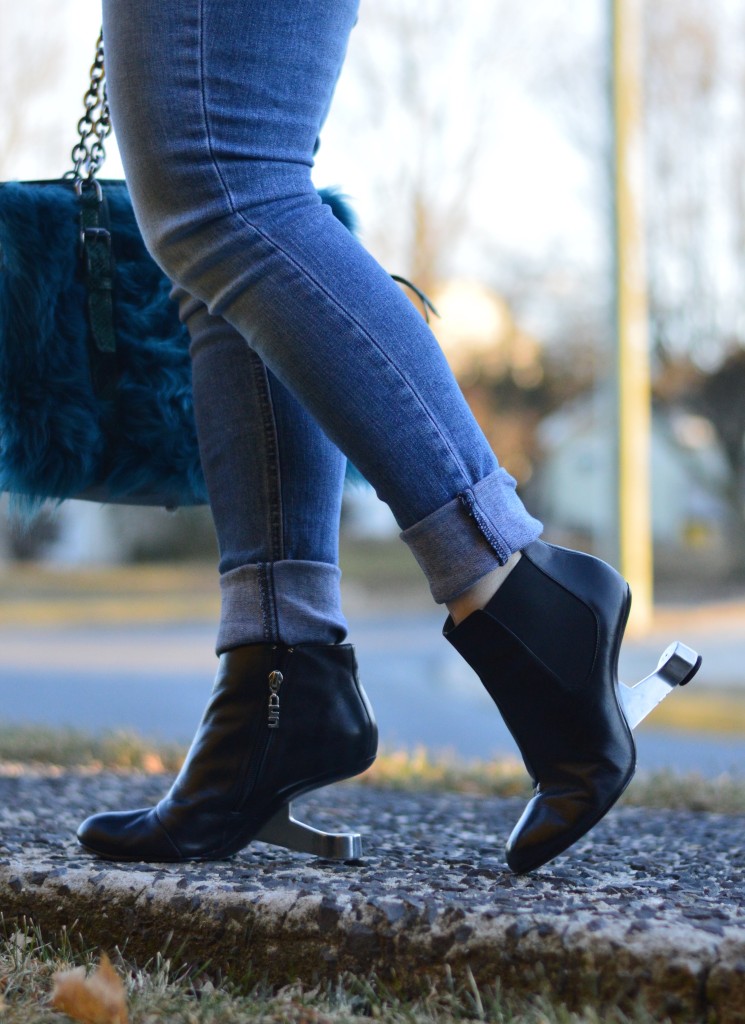 How such a unique pair of heels ended up at a rural Berks County store amazes me! These are from the Eamz line. Despite how they look (with the metal heel), they are surprisingly comfortable and easy to wear. The brand was founded by Dutch architects and this style was inspired by an aluminum office chair by Ray and Charles Eames. The "Eamz" series, featuring pumps, lace ups, boots and Mary Janes and they have integrated their heels with a detail of the chair foot, a feature that seems to suspend the shoe in mid-air. The would have been about $295 when new.
Rounding out the outfit are a pair of Rag & Bone skinny jeans (featured before on the blog – retail about $200), a black velvet tank top from Chico's and a teal beaded necklace from Coldwater Creek.
If you do the math (from the details below), you'll see I paid just 1% of the retail value of this look! While these aren't everyday finds for me, once in a while you find some very interesting and expensive pieces.
Jacket: $10.00
Bag: $4.00
Shoes: $4.97
Jeans: $5.50
Tank top: $3.95
Necklace: $3.97
Total: $32.39
Retail: $3,285
From my closet to yours,
Kirsten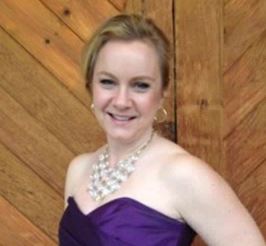 About The Blogger
Kirsten is a 40-something mom, wife and marketing professional. She loves all things crafty, tasty and fashionable, especially while being frugal. She enjoys hunting for treasures at her local Goodwill Keystone Area stores to decorate her home and wardrobe. Meet up with her at one of Goodwill's shopping events! Check the event pages for details.