Give me a bouclé jacket and I feel like I am channeling the iconic Coco Chanel! She first designed this menswear-inspired piece in 1954 and it has been popular with all types of women ever since. But, this is a very modern look with all the color, texture and pattern I've combined in this expensive looking, yet thrifty outfit.
The gold, beige and ivory boucle fabric gives this cropped jacket by Cabi (Original retail $188), a very classic feel.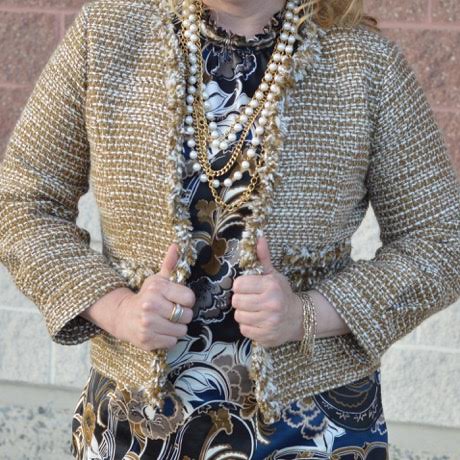 I've combined it with a vibrant sleeveless ruffled neck blouse from Ann Taylor Loft.
On it's own, each piece has a lot going for it, but together they create a dynamic duo of pattern and texture! To add to the "Ladies who lunch" feel, I've added a multi-strand pearl and gold necklace. Pearls always add a timeless touch to an outfit.
To compliment the fringed detail of the jacket and the ruffled neckline, I purposely cut and roughed up the hems of the ivory jeans by GRG DNM (A Canadian company).
Being vertically challenged and short of hemming most of my pants, I am really enjoying the recent trend of cutting jeans at the hem to create a modern, cropped silhouette.
Lastly, I finished the look with delicate gold pumps with bow details by Franco Sarto (which were found still with the original $79.00 price tags attached) and a roomy navy snakeskin, tasseled bag by DGH.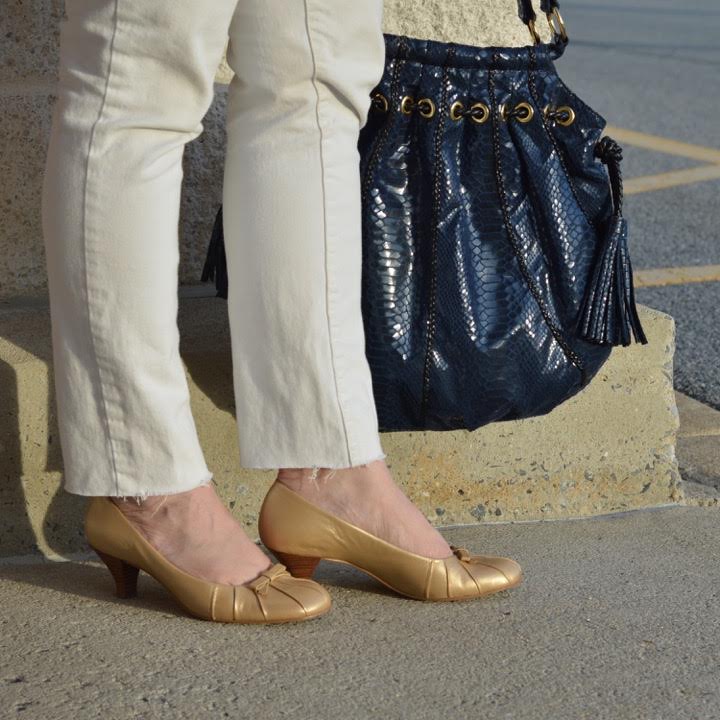 This outfit easily would have retailed for over $400, but I only less than $30! I have plenty of cash left over for a fun brunch with my girlfriends or a mani/pedi. I'm sure Coco Chanel would approve.
From my closet to yours,
Kirsten
Jacket: $4.75
Blouse: $3.95
Denim: $3.95
Necklace: $6.00
Bag: $6.97
Shoes: $3.48 (Purchased on 50% off day)
Total: $29.10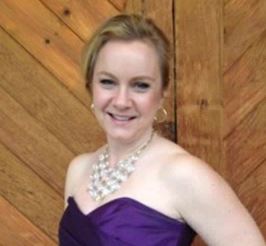 About The Blogger
Kirsten is a 40-something mom, wife and marketing professional. She loves all things crafty, tasty and fashionable, especially while being frugal. She enjoys hunting for treasures at her local Goodwill stores to decorate her home and wardrobe. She is a stylist and volunteer for the fundraiser the Goodwill Runway Show, which is held every spring in Reading, PA.