Black down puffer coats, while warm and sometimes essential for cold Pennsylvania winters, make me long for a more original piece of outerwear. Bright colors and patterns are always a staple of my wardrobe, so why not have a unique jacket?
Polka dots are always in style so this bold and graphic wool jacket from CoffeeHouse. CoffeeHouse was not a brand I was familiar with so a little research online revealed that CoffeeShop is a part of Santa Fe Apparel. According to their website "We manufacture true outerwear that always stays on the cutting edge of fashion. We've become notorious in our industry for designing quality garments for trendy-savvy consumers. We pride ourselves not only on the creation of great jackets and coats but also on our ability to make them available to a wide array of shoppers through private label designs and our own four collections: CoffeeShop, CoffeeShop Kids, Mo-Ka, Bleecker & Broad!"
My cost at my local Goodwill Keystone Area store was $9.50 and this coat would have retailed for around $65 when new.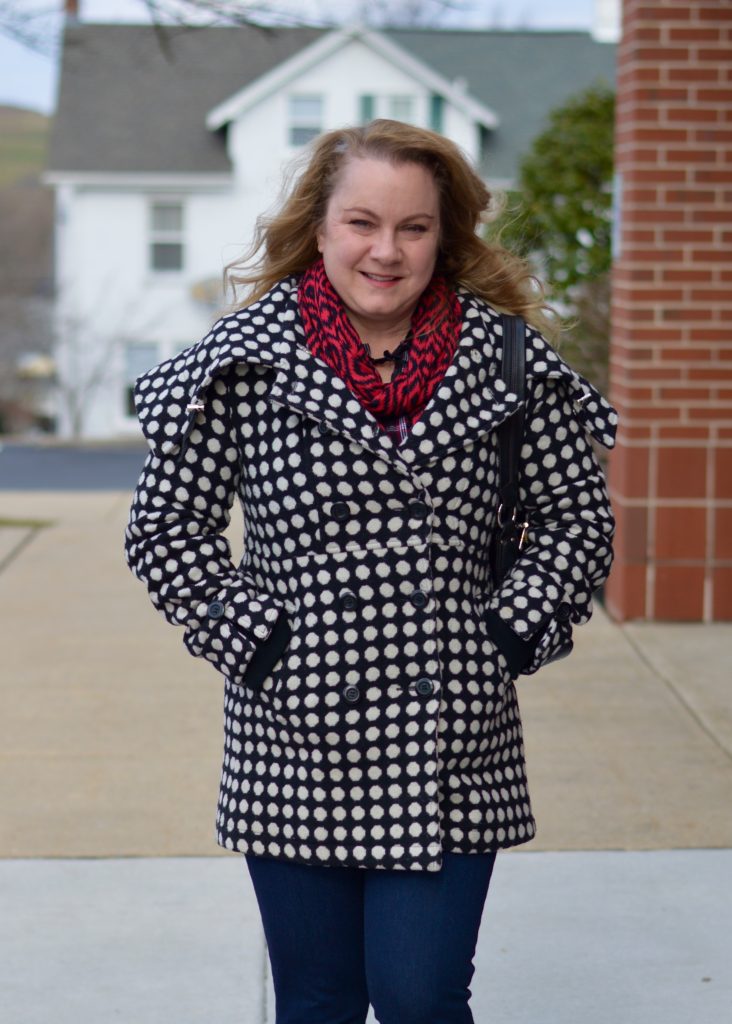 The classic black and white color scheme will always be in style and the wide collar and button-down sleeves add some flair.
Since I'm always a fan of mixing prints, I paired this with a plaid Loft blouse (Goodwill: $4.95: Retail: $59) and a red and black knit scarf (made from bamboo!) from Papillon.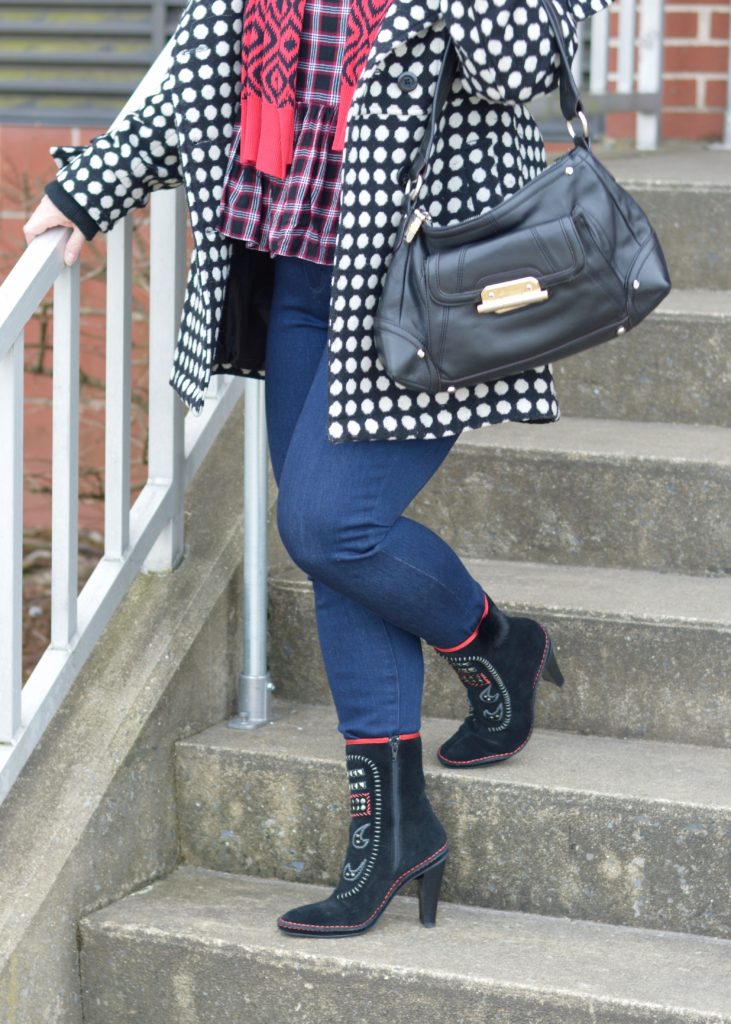 This is another new to me brand and the scarf has buttons that enable it to be worn in a variety of ways. There's a complete YouTube video to show you how to style it in a variety of ways! "Papillon™ transforms the everyday scarf into the style of your choice to coordinate with any outfit on any day! This innovative design has buttons at each end to allow endless versatility in fashion, security, and comfort. Transform your Papillon from a scarf to a shawl or cardigan, just to name a few. Make it yours today and create your own style!" (Goodwill: $1.97: Retail: $49)
Simple dark wash skinny jeans from Loft (Goodwill: $7.25: Retail: $79) and a black leather B. Makowsky purse (Goodwill: $6.97: Retail: $198) are wardrobe staples that can be worn in a variety of ways and with different outfits.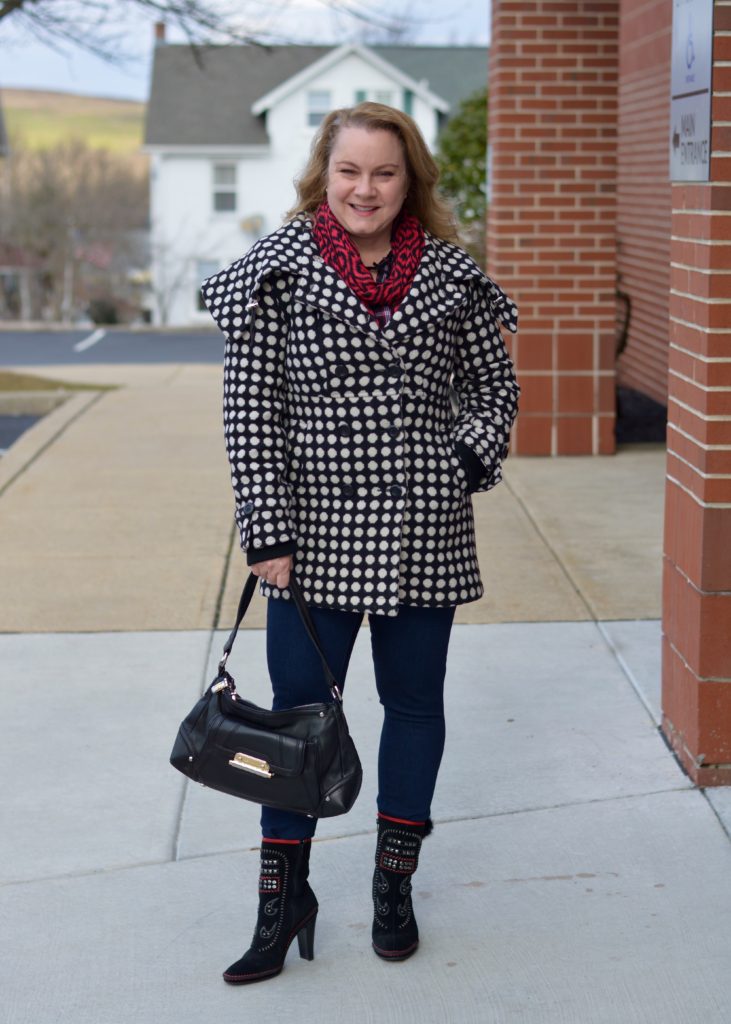 To finish the ensemble, I added black, heeled booties from Linea Paolo. The embroidery and embellishments elevate these from just regular black boots and the red finished off the look and pulls it all together. My cost at Goodwill was $8.99, but these retail for $225.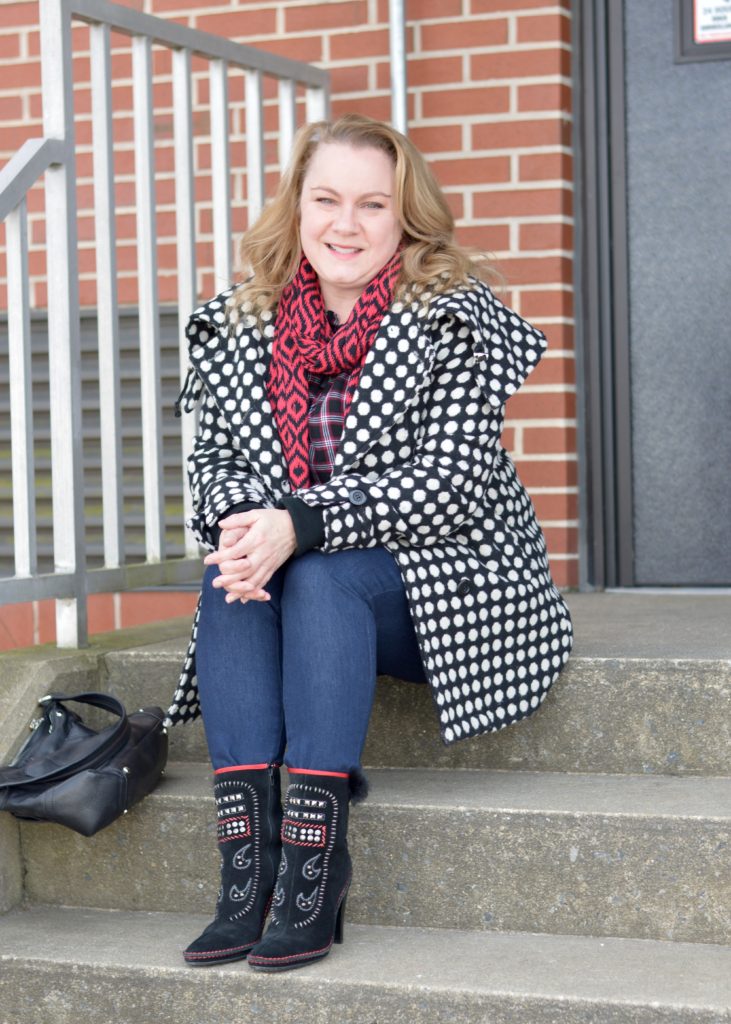 I still love that I find fashion brands and styles that surprise and delight me! And Goodwill Keystone Area makes it possible for me to discover new brands at prices that I love as well as making me feel good about shopping through their mission of supporting the local community.
From my closet to yours,
Kirsten
Coat: $9.50
Shirt: $4.95
Jeans: $7.25
Scarf: $1.97
Boots: $8.99
Bag: $6.97
Total: $39.63
Retail: $675+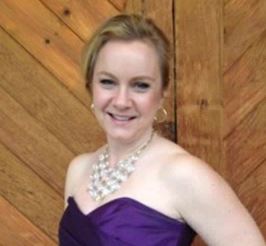 About The Blogger
Kirsten is a 40-something mom, wife and marketing professional. She loves all things crafty, tasty and fashionable, especially while being frugal. She enjoys hunting for treasures at her local Goodwill Keystone Area stores to decorate her home and wardrobe.