Faux fur is a look that tends to show up in the cooler months when chilly weather sets in. Vogue magazine reported that it was still going to be a popular trend for fall and winter of 2017. Pieces occasionally pop up at Goodwill and they are always a fun faux find.
This soft acrylic/polyester blend vest by Trocacci Blu in various shades of beige and gray was a cozy choice for a cool day.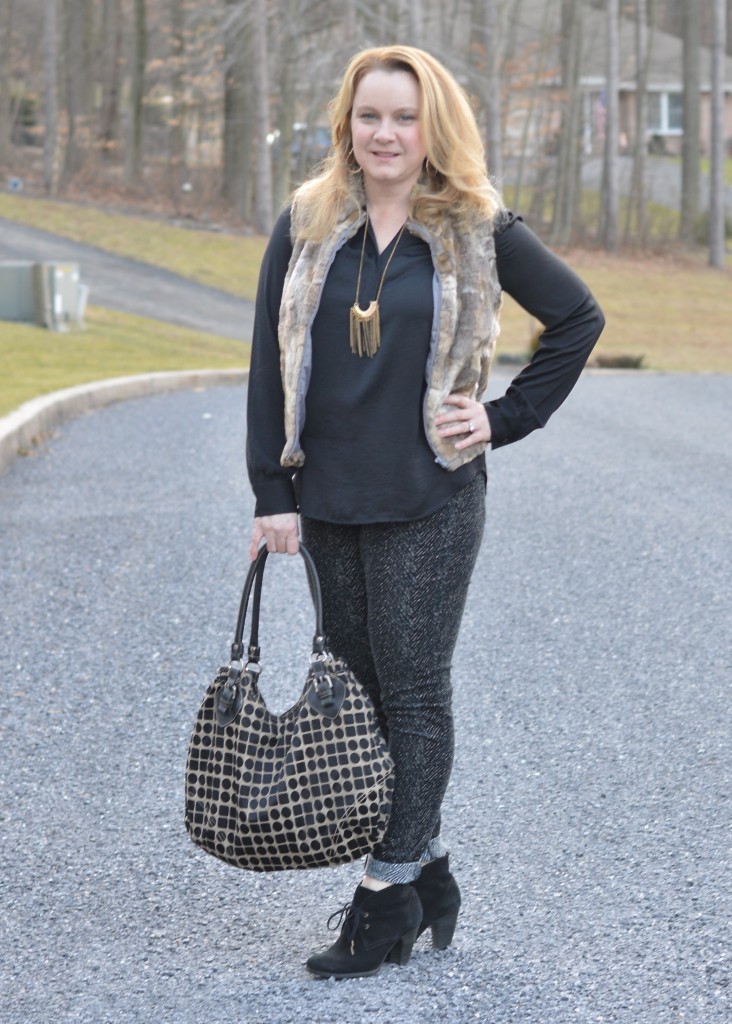 I paired it with corduroy skinny jeans in black and beige and a black v-neck blouse, both from Ann Taylor Loft. It would look equally as chic thrown on over a denim dress or with blue jeans and boots.
I rolled my skinny jeans, mostly because I am petite, but also because cuffed skinny pants and ankle boots is something I am seeing all over the fashion magazines and around town.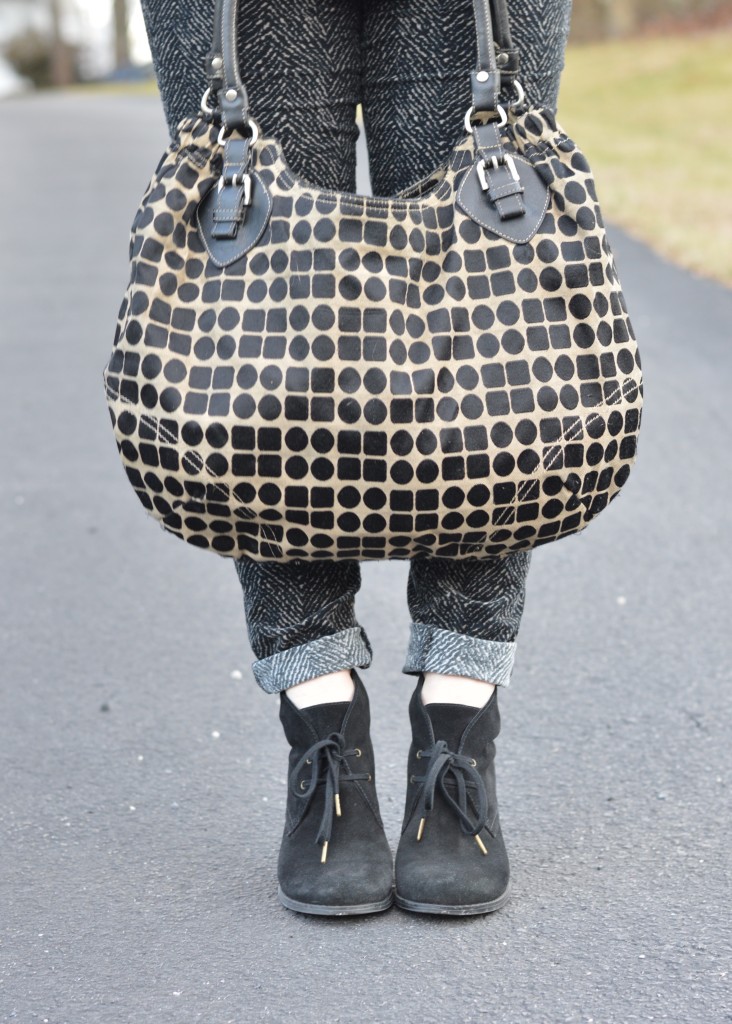 My black suede boots from Indigo by Clarks are designed for comfort, yet are stylish with their stacked heel and lace-up front.
My accessories include a beige and black canvas bag from Thirty One, a direct sale company founded in 2003.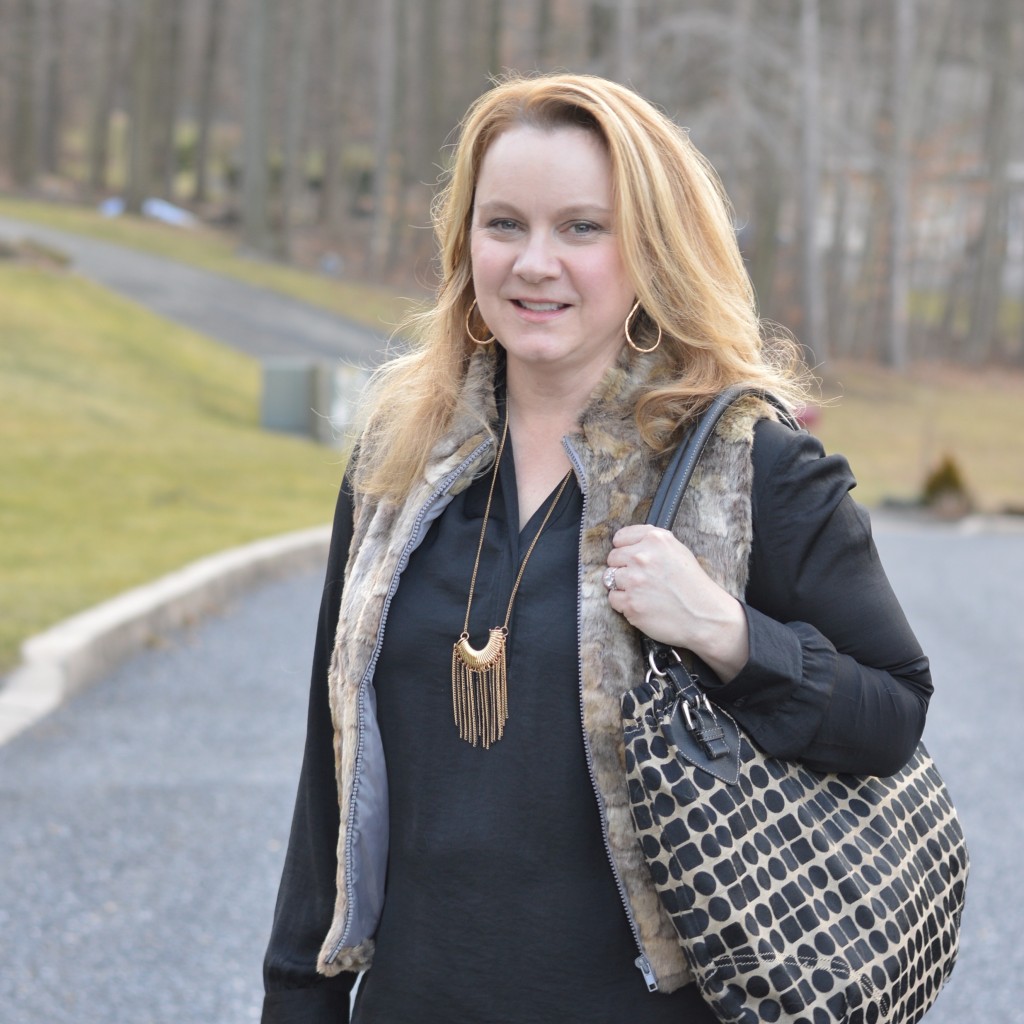 According to their founder, Cindy Monroe: "Not only do our fashionable, functional products make life easier – they also help independent business owners across the country support their families and reach their dreams." I wrapped up this look with a gold and black fringed necklace.
While I would not cover myself in faux fur, a few pieces here and there make a nice winter accent. I'll be featuring a faux fur bag in my next post!
Note: All items except the blouse were purchased on 50% off Winter Sale day in January. Be sure to keep an eye out for their next sale and they are currently featuring $5 off a $30 purchase for Rewards members. See website for details!
Vest: $2.37
Jeans: $2.12
Blouse: $4.75
Boots: $3.48
Bag: $3.48
Necklace: $0.99
Total: $17.19
About The Blogger
Kirsten is a 40-something mom, wife and marketing professional. She loves all things crafty, tasty and fashionable, especially while being frugal. She enjoys hunting for treasures at her local Goodwill stores to decorate her home and wardrobe. She is a stylist and volunteer for the fundraiser the Goodwill Runway Show, which is held every spring in Reading, PA.