Winter sure blew an icy blast at the Northeast this weekend! While we didn't get the predicted snow and ice, the bitter chill sure made for an interesting (and quick) blog photo shoot.
I'll write more about it later, but the new sensation of "tidying up" from Marie Kondo has really filled the racks and shelves at my local Goodwill Keystone Area stores! On a recent trip to the store in Trappe, I found several great pieces including this striped sweater and the dark wash skinny jeans.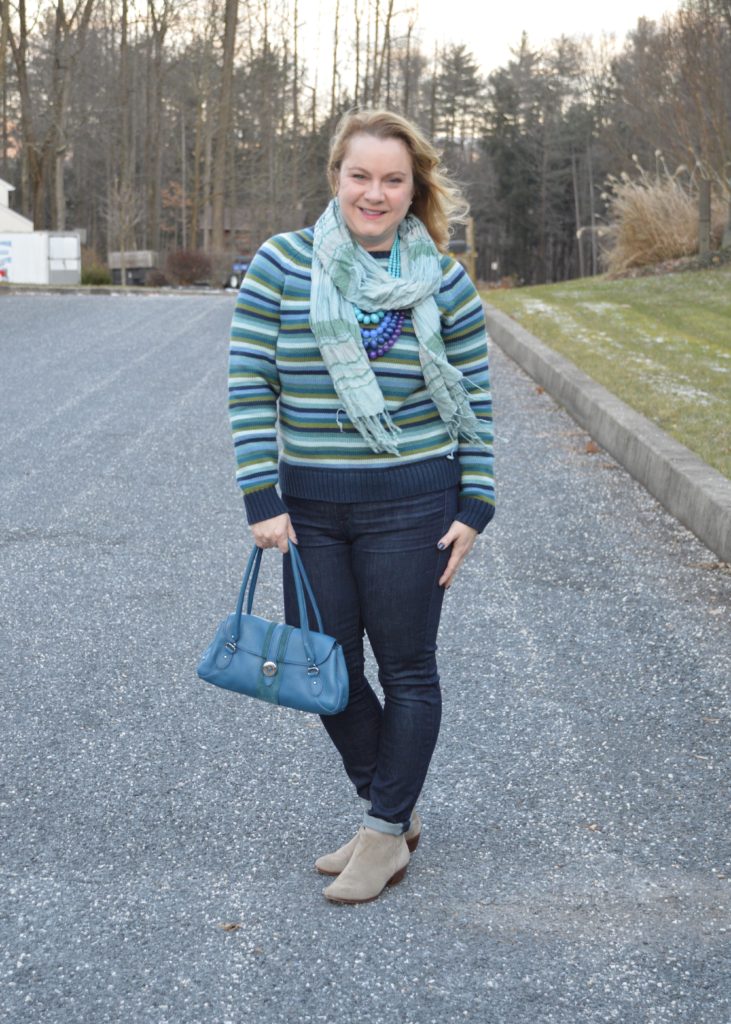 But, because I too need to clean out, I am being more mindful of my choices when shopping.
The warm cotton sweater from Lands' End caught my eye because of its beautiful blue stripes.
The shades of turquoise, cerulean and indigo were playful, yet classic in style. Founded in 1963 in Wisconsin, Lands' End delivers timeless styles for men, women, kids and home. This sweater probably would have retailed for about $70 online. My cost: $3.94 (because it was one of the daily discounted items).
I can never pass up a good pair of designer denim, and these J Brand Skinny Leg "Eclipse" jeans came home with me as well.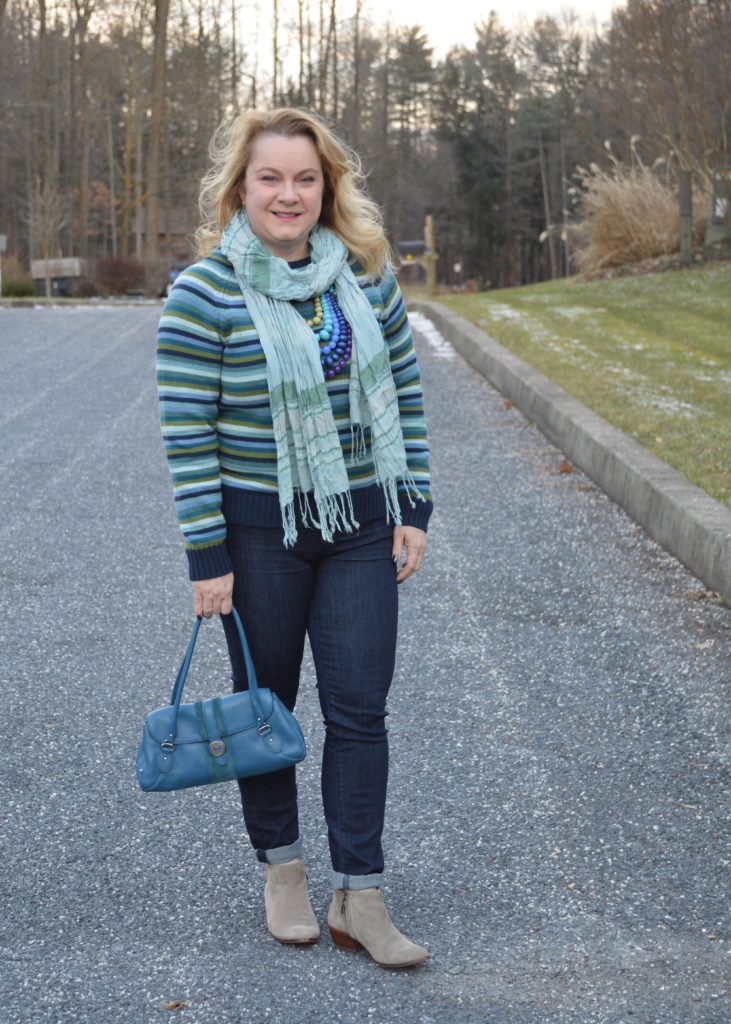 They sold for about $188 when new, so I didn't mind paying $10. I'm not sure if I will cut them into a raw hem, roll them or have them professionally hemmed to the right length.
In an effort to "Spark More Joy", this year (I stole that phrase from Marie Kondo), I will be more mindful of how much I purchase. I received so many positive comments about this beautiful blue Cole Haan purse in my last blog, and since it went perfectly with the sweater, I decided to feature it again.
How can you reuse the items already in your closet? It retailed for $250 and my cost was $9.97.
The Sam Edelman nubuck booties are a perfect neutral footwear for this outfit. They are very comfortable and one of my favorite shoe finds (and were only $7.47!). This style is called "Petty" and are still available online for $99!
Finally, this necklace certainly makes a statement!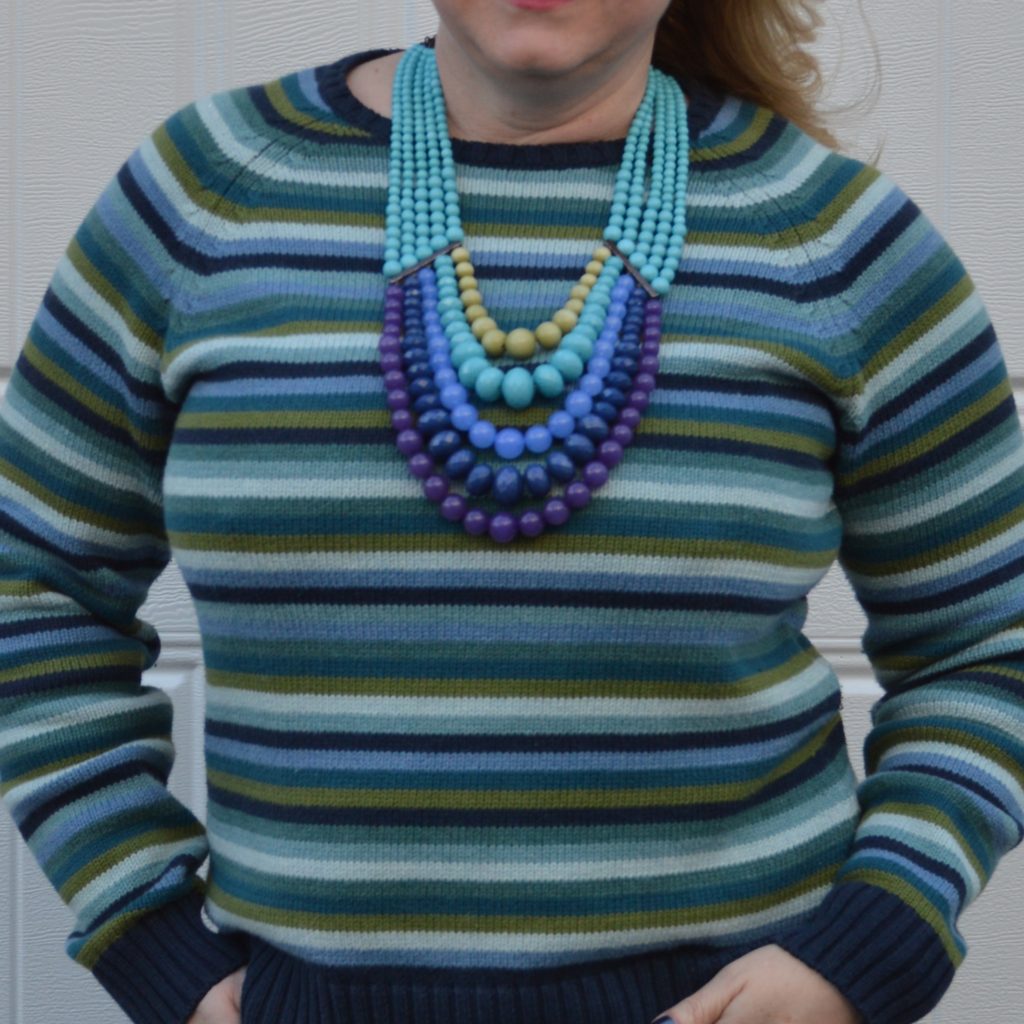 It's been in my stash for a while, but when I brought the sweater home, I knew it was the perfect partner for this outfit. The mix of colors is fantastic and will set any outfit apart! This piece brings me joy, so you'll probably be seeing it again this year!
Hopefully you are all staying warm at home (cleaning out your closets!), but if you do venture out, be sure and visit your local Goodwill Keystone Store to see what treasures are turning up every day!
From my closet to yours,
Kirsten
Sweater: $3.94
Jeans: 10.00
Bag: $9.97
Booties: $7.47
Necklace: $6.97
Total: $38.32
Retail: $630+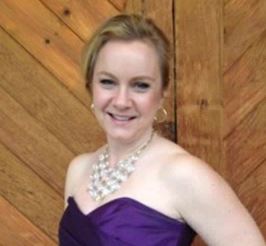 About The Blogger
Kirsten is a 40-something mom, wife and marketing professional. She loves all things crafty, tasty and fashionable, especially while being frugal. She enjoys hunting for treasures at her local Goodwill Keystone Area stores to decorate her home and wardrobe.