I'm an 80s girl through and through. Give me all the popped collars, pegged jeans, and preppy fashions. I grew up with pop art, Duran Duran music, and Esprit and Benneton clothing. There was no lack of color in my wardrobe when I was in high school. But, everything that is old is new – again and again. So finding older items has become harder as more people are searching for them at Goodwill Keystone Area stores – either for their wardrobe or to resell.
Still, I'm amazed that I can find fabulous vintage 80s Christmas sweaters at my local Goodwill Keystone Area stores. Maybe this year it is from all the cleaning out that everyone did while they were quarantining at home. If so, then I thank you for this gorgeous find, whoever you are!
This sweater is from Chicago designer Lisa Nichols and originally sold (in the 80s!) for $225 – $250. According to her bio, her sweaters appeal to women who really want to be noticed and who want something fun in their wardrobes. You can read more about her here.
Each year I make it a goal to uncover at least one or two "ugly" or "festive" Christmas sweaters. And for these, beauty is in the eye of the beholder because I think this one emblazed with Christmas balls, gold trim, plaid detail, and even actual ornaments, sewn to the hem and collar, is a stunner! The chunky knit and cropped length also gives it away as a true vintage find.
The black suede heels are also from the 70s or 80s.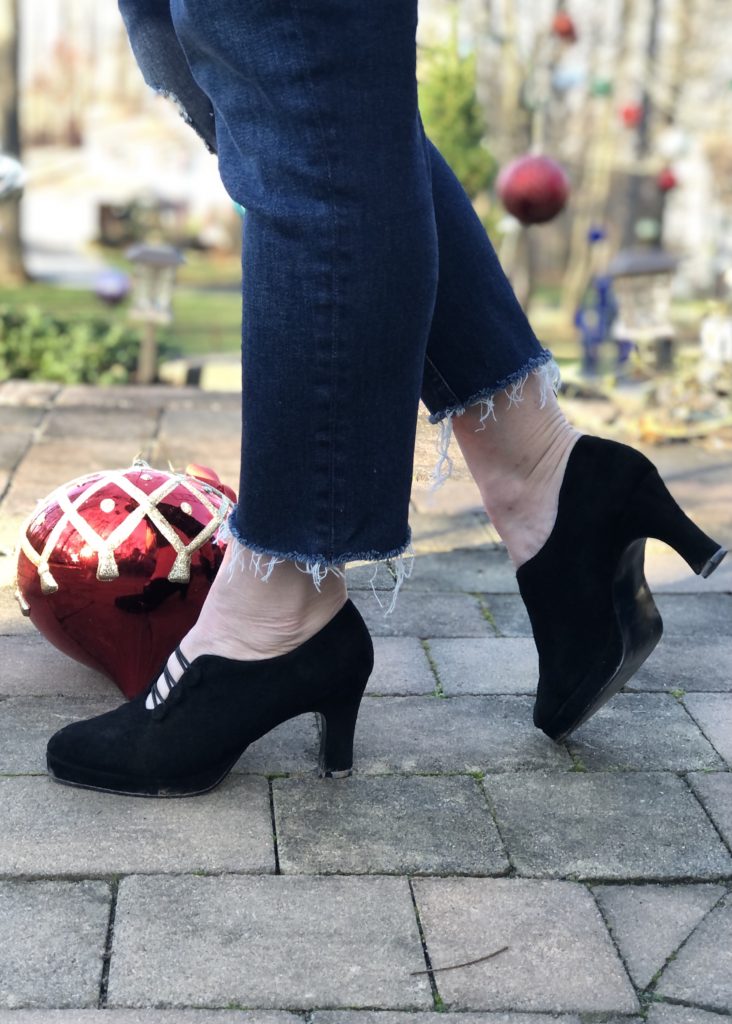 The elastic loop, button close with the platform soles give their vintage away, and they are the type of details I love to find in a shoe. They make them unique and the perfect complement to the sweater. They are also comfortable enough to wear for work as the heel is not too high. These would look great with tights and a dress this winter.
The jeans from Vigoss are a new-to-me brand.
Their website states that "Since 2002, Vigoss USA has highlighted the inherent beauty of denim, by creating washes and treatments that bring out its unique characteristics. From washes to hardware, Vigoss USA pays the utmost attention to each pair of jeans. Today, Vigoss USA continues to push the boundaries of quality, design, and fit through the integration of new materials and construction, making for great collections that transcend seasons, lifestyles, and trends." They are a mid-price denim brand with prices ranging from $74 – $89 online. My Goodwill price was $7.25.
The purse, from Guess, makes the yellow in the sweater pop.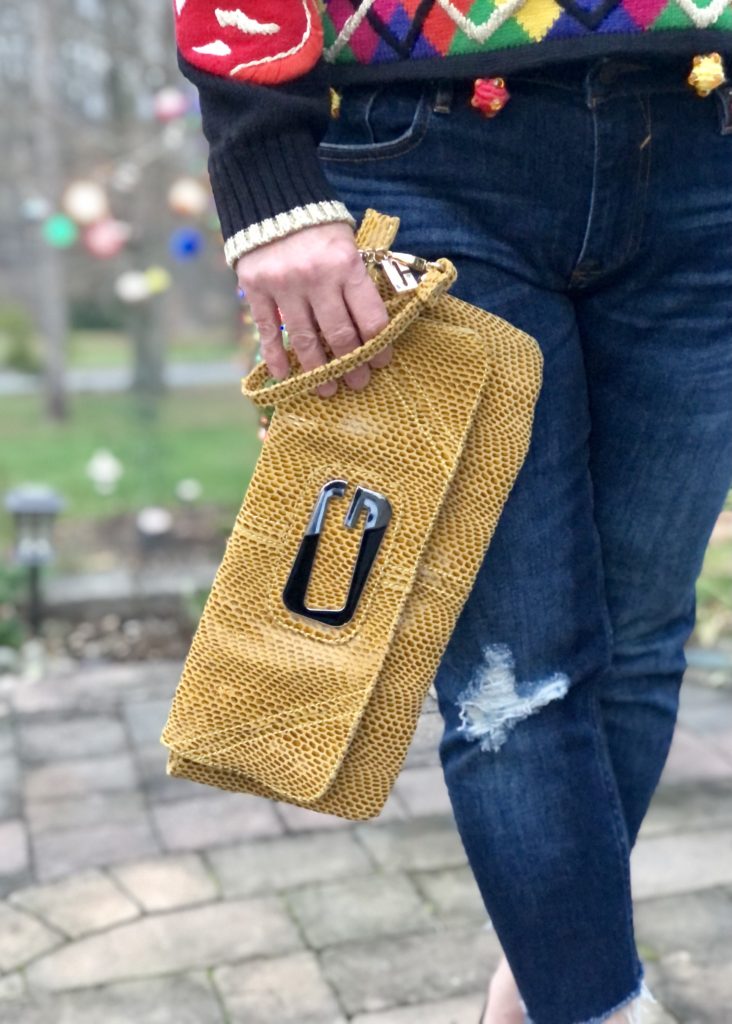 GUESS is a brand that has been around since the early 80s. According to their website, "GUESS was established in 1981 by the Marciano brothers, who left the south of France in pursuit of the American dream." Growing up, a pair of GUESS jeans with the upside triangle logo was one of my most prized articles of clothing, that and a pair of bubble gum pink Reebok hightops. This clutch is new but still fun.
Goodwill Keystone Area is an amazing resource for those of us looking for fun in their wardrobe. I'm glad that I can find beautiful, unique, and affordable pieces to make my holiday outfits standout and get noticed! Next time you're shopping at Goodwill, have a little fun and add some vintage to your closet.
From my closet to yours,
Kirsten
Sweater: $7.50
Shoes: $7.47
Jeans: $7.25
Clutch: $6.97
Total: $29.19
Retail: $425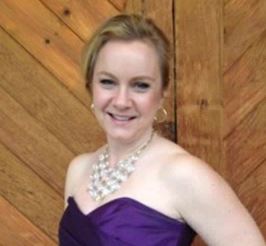 About The Blogger
Kirsten is a 40-something mom, wife and marketing professional. She loves all things crafty, tasty and fashionable, especially while being frugal. She enjoys hunting for treasures at her local Goodwill Keystone Area stores to decorate her home and wardrobe.