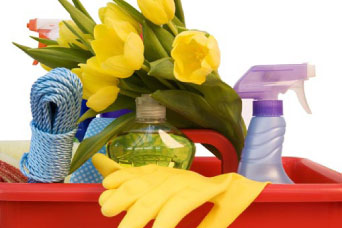 As the snow melts and the kids are antsy to get outside and run around, I realize that is time for my favorite clean-up of the season. Spring cleaning is almost here!! All that clutter from the winter has got to go. But some might ask, "where do I start?"
The best idea is to tackle the most chaotic areas first. This will help make some room for stuff that is worth saving. Make sure you have different bins set up. Have one for trash and one for donations. This accomplishes your first step.
Make sure you get rid of these bins as soon as they are filled. I remember one time I did the first step and forgot to get rid of it. Whew, I had clutter cluttered with clutter. Say that 5 times fast.
Bring the stuff to donate, like unwanted kitchen items, clothes, or coats from past seasons to your local Goodwill to get your tax deductible receipt. Make this spring cleaning worth your time. While there, make sure you check out their deals for the spring. The bargains thrift stores have in the spring is the best with all the newly donated stuff that comes in. Remember a great bargain is just around the corner!
If you enjoyed this post, fan Goodwill on facebook or follow them on twitter.