For many years, it was a tradition in my family to add one or two special ornaments to the Christmas tree each year. It didn't have to be something store bought. It was often something one of the children made. As this tradition continued, we had more ornaments than we had space on the tree, so inevitably, some would stay box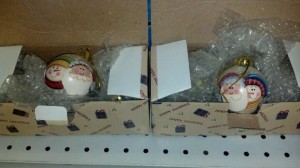 ed and unused,  some were given to friends and family, and some were donated to Goodwill.
Many families must donate unused ornaments because every Goodwill store I have been in recent weeks contains a bounty of high-quality – often vintage and collectible  – Christmas decorations that are no longer sold in other stores.
I recently found a bunch of NFL, NHL, NBA and NCAA team logo Christmas ornaments, which I know once went for $6, $8 or even $10 a piece in other stores.  Now, you can't find them at all. Except at Goodwill, where they were just 97 cents.
You really can't beat these prices.