A New Generation of Thrift Store Shoppers
My daughter has become a thrift store shopper like me. On two recent trips to Goodwill, she went back-to-school shopping and she was excited to find a number of outfits – black camis and 'hippie' skirts.  She has her own sense of style and found exactly what she was looking for. Of course she did, she was shopping at Goodwill.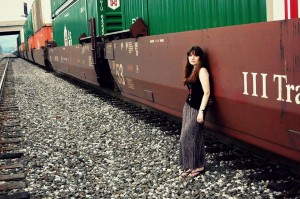 She's a college student looking to differentiate her style from the crowd. When I saw her trying on outfits, I knew she'd struck Goodwill gold.  When you are shopping for your style, you often find exactly what you are looking for at Goodwill. Better yet are the bargain prices.  The skirts and shirts were both just $3.50 a piece.
Save More with Goodwill Rewards Card
With a Goodwill Rewards Card, shoppers can save an additional 25% on daily specials, which in this case was $6. Total bill – just over $25 with tax. The money saved helped pay for lunch.
Goodwill Sales Funds Job Programs
It's also good to know that her purchases and support of Goodwill  fund job training programs.  Sales of gently used donated items benefit people with disabilities.  Bargains fund opportunities.  It's a win win.