This Holiday Season marks my third anniversary and the start of my fourth year as the Goodwill Keystone Area blogger. But, Goodwill is not just about clothing. The mission of Goodwill Keystone Area is "To support persons with disabilities and other barriers to independence in achieving their fullest potential as workers and as members of the broader community."
Goodwill came to me when I needed employment and I understand how it felt to be lifted up by this organization. I don't just write about fashion, I also do my best to interact with the community and promote the mission (as well as finding great deals on fashion at their 40+ stores in Central and Southeast PA).
I've written over 200 blog posts, hosted bus trips and meet ups and given lots of advice on finding the best items. I love to tell complete strangers how inexpensive my outfits are and I have found a whole online community on social media that does the same (Follow me on Instagram @kirstenkeimshendge and @goodwillkeystonearea).
This holiday I'm celebrating my anniversary in a LBD (little black dress).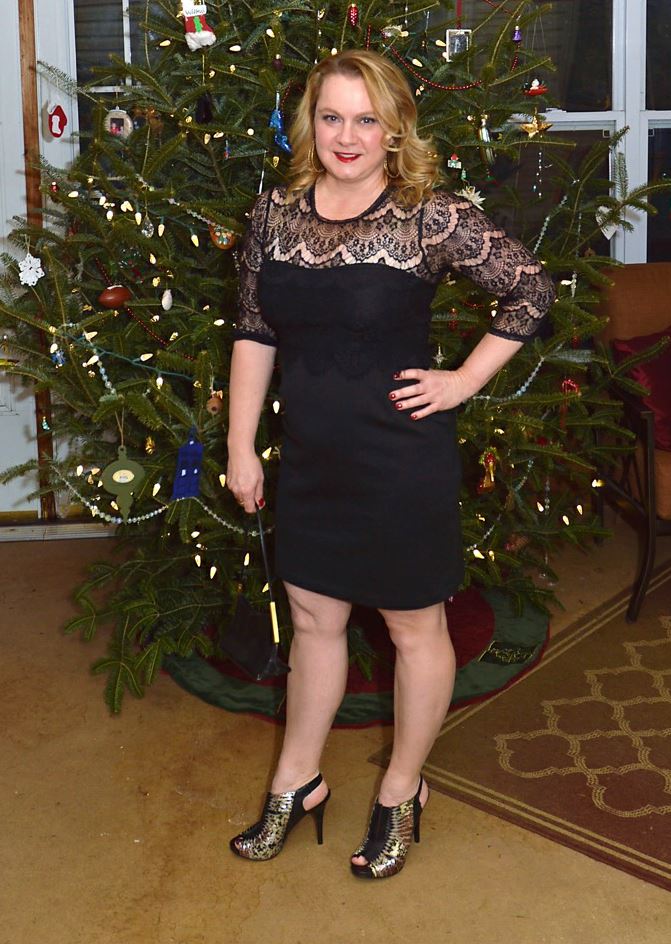 This one was NWT (new-with-tags) from Black Swan. According to their website "Black Swan is for the refined, romantic woman who effortlessly blends her laid-back aesthetic with her busy city life.
Intricate details and feminine silhouettes, this collection offers an array of options from day to night." I love the simple fit and the sheer, lacy overlay. My cost at Goodwill was $5.95, but this dress would have retailed for about $80.
To keep it simple, I added black and metallic woven leather heels from Carlos by Carlos Santa.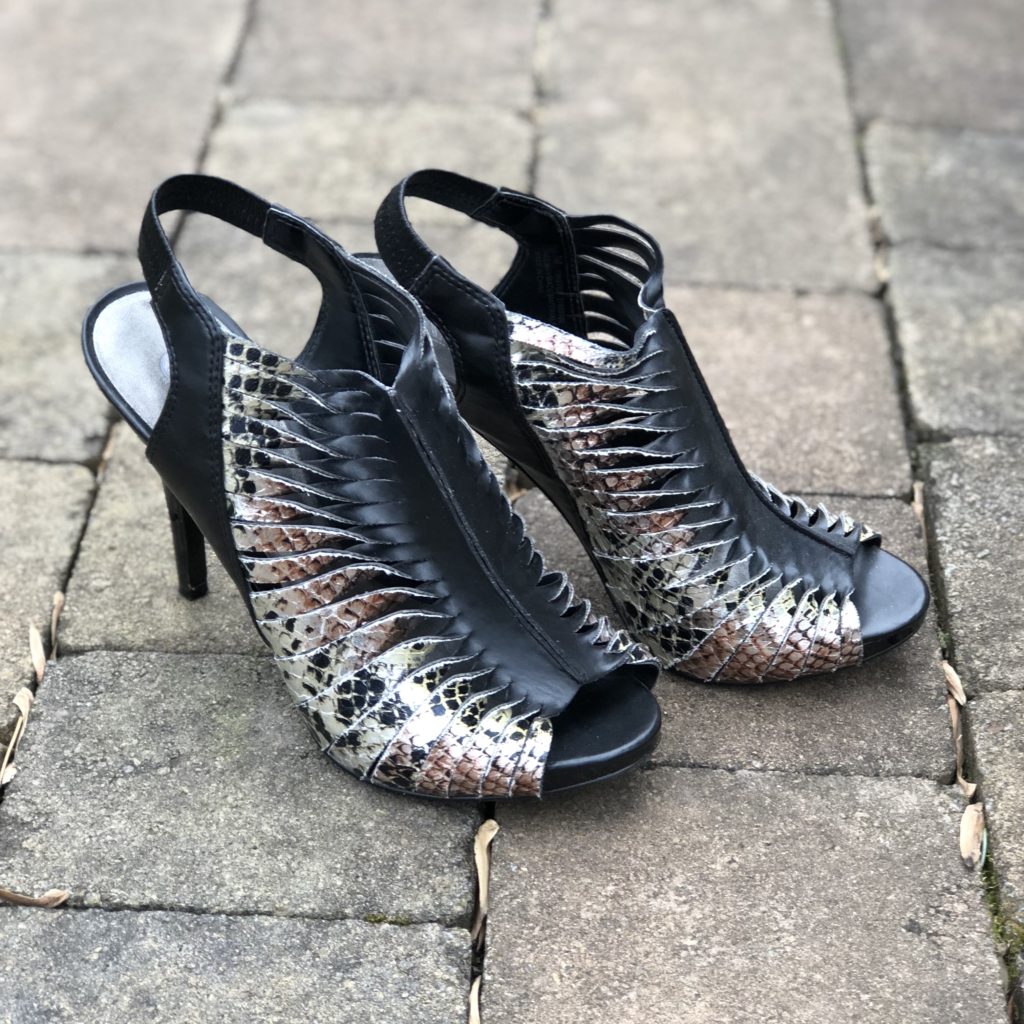 The mix of silver, gold and copper in the snakeskin print leather means I can wear these with any style or color of accessories. These beauties were about $80 when new, but just $6.97 at Goodwill.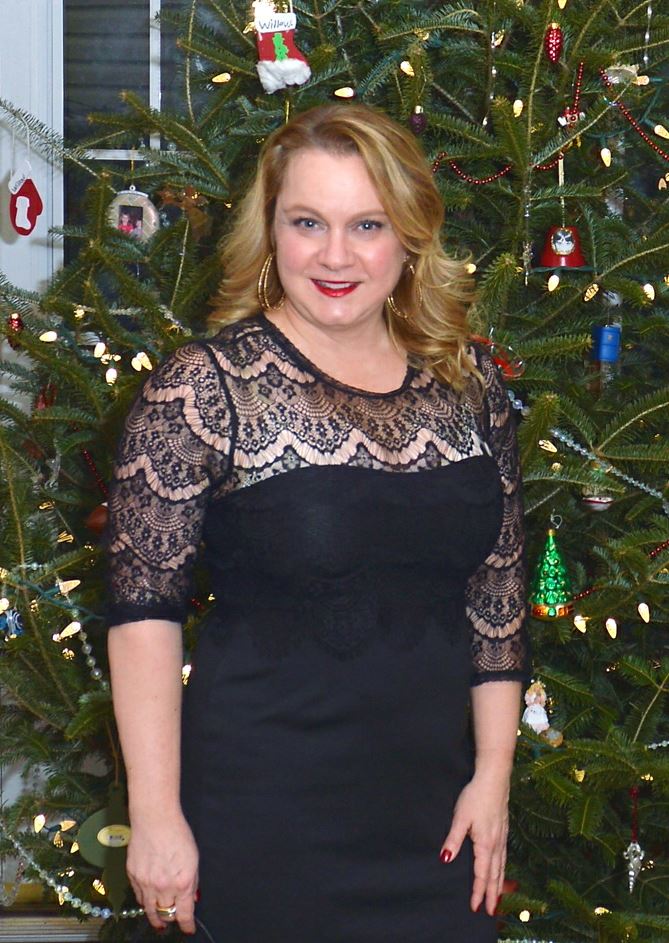 Oversized gold hoops ($1.97) and a structured gold and black leather handbag from Kenneth Cole New York ($4.97) complete the look. When shopping at Goodwill you may see two different Kenneth Cole brands: Kenneth Cole New York and Kenneth Cole Reaction. The New York version of this brand is much more high end, so this simple bag would have cost around $150. It pays to know your labels when thrifting.
I hope you enjoy reading this blog as much as I enjoy creating it. Happy Holidays from your Goodwill Keystone Area Thrifty Fashionista!
Kirsten
Dress: $5.95
Shoes: $6.97
Bag: $4.97
Hoops: $1.97
Total: $19.86
Retail: $330+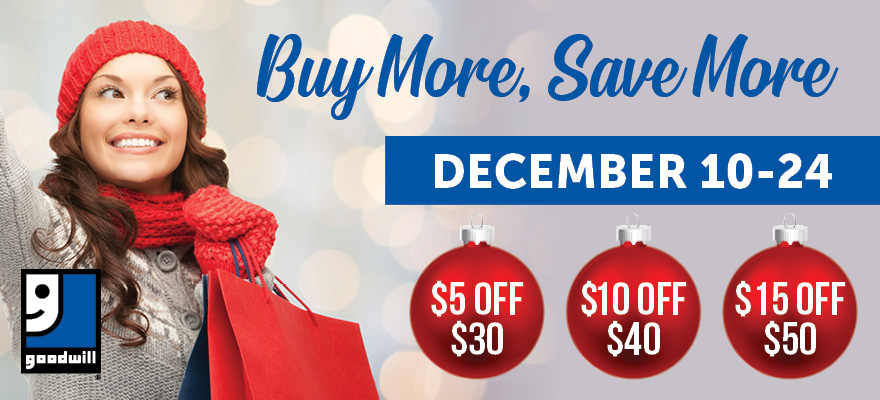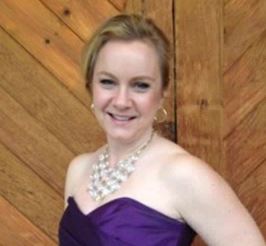 About The Blogger
Kirsten is a 40-something mom, wife and marketing professional. She loves all things crafty, tasty and fashionable, especially while being frugal. She enjoys hunting for treasures at her local Goodwill Keystone Area stores to decorate her home and wardrobe. Meet up with her at one of Goodwill's shopping events! Check the event pages for details.