Choosing a Halloween costume can be difficult, especially if a last-minute invitation pops up for you or your trick or treater. Sometimes it just takes a little shopping to be inspired. Goodwill makes it easy.
If you don't want to pay retail prices for a costume you'll wear just once, look to a Goodwill store for some inexpensive costume ideas this week. Bring your children after school or come browse over the lunch hour.
Prepackaged and Create Your Own Costumes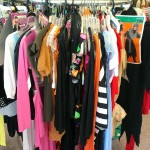 Some of our Goodwill stores carry a limited number of pre-packaged costumes. The week before Halloween, the Goodwill Store at 627 N. Cameron St., Harrisburg, carried prepackaged costumes including an evil paparazzi and a hunchback outfit.
include an evil paparazzi and a hunchback outfit.
Or you can create your own costume. Whether you are looking for a missing piece to your costume puzzle or an entire outfit, your neighborhood Goodwill store just might have it, so come in and browse and be inspired.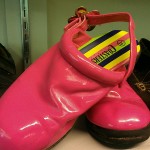 These adorable pink shoes (size 1 ½) from the well-stocked shoe department would complete your young lady's princess outfit.
Donate
When planning to shop, consider bringing in lightly used clothes you no longer wear or costumes from previous years. Those Halloween costumes can still be put on the rack for purchase. Donors will of course receive a receipt for  a tax write off for their donation.