We're trying something for the first time on Friday, Nov. 30 – Goodwill Keystone Area has agreed to participate in a one-day fundraising event called Extraordinary Give.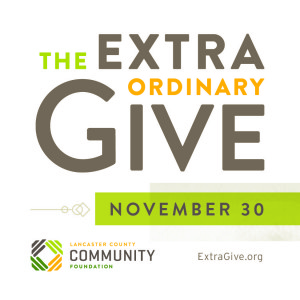 The Lancaster County Community Foundation is sponsoring the event to make giving to Goodwill as easy as going to www.extragive.org.  The website goes live Friday at 12:01 a.m.
The Foundation will give a partial match to Goodwill Keystone Area for online donations made on Friday.
Your donation of $25 or more will help our mission to support persons with disabilities and other barriers to independence. Donations to Goodwill help people like Mary, a young woman with autism. With your support, Mary is learning to overcome challenges, make friends and enjoy new experiences.

Extraordinary Give Day – It's easy!
Donations to Goodwill can be made using on your home computer, smartphone, tablet or other Internet-enabled device.
Remember, the tax year is ending. Donations are tax deductible if you itemize.
 Even if you don't give, there are actions you can take to help.
Tell your friends and family about Extragive.org using email, Facebook, Twitter or other social media.
Like us on Facebook if you are not already a fan or follow us on Twitter or Pinterest.
 Give the gift of a job this holiday season. Give the gift of independence.