We live in an ever-changing world. Cars run on corn. News is received on your cell phone. Fast food restaurants offer healthy choices. Just like these trends, fashion is always changing. When current fashion trends leave us, the clothes get discarded and passed on. But what happens when fashion trends come back?
This is where thrift stores come in to play. Fashion can always be found at your local Goodwill, you just have to know how to look.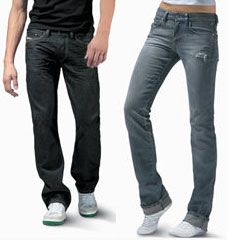 Tip 1– Designer products can be found. People will get rid of anything for many reasons… Too big, too small, don't wear, the list goes on. Just because someone else doesn't want it, doesn't mean that it can't become your treasure.
Tip 2– When buying jeans, make sure you check the size. One easy trick for doing this is you should be able to wrap the waist of the jeans around your neck and the ends should touch. While this may look silly, it will save you time from trying to slide into jeans that are too tight. Plus, it makes you that much wiser to know fun facts like this.
Check back later for more tips on how to stay in fashion while shopping at your local thrift stores. Until then, stay thrifty.