The leaves are almost gone, but the warm, autumnal hues have completely invaded my wardrobe. I'm not rushing the holidays and diving right into red and green or blue and gold. I'm soaking up the burgundys, the mustards and the eggplants. These rich colors are warm and inviting.
Today's look is a color block dress from Loft.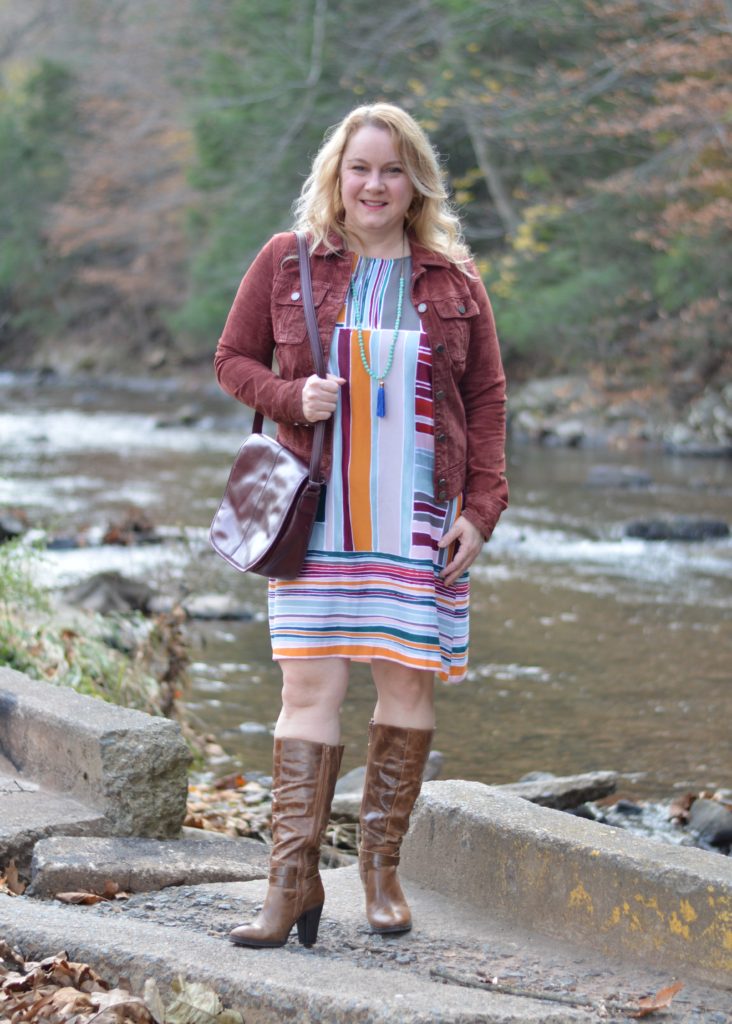 I snagged it for $6.50 at my local Goodwill Keystone Area store. It would have retailed for around $79. I loved the combination of teal, burgundy, mustard and a few neutrals. According to Wikipedia "Color-blocking is thought of as the exploration of taking colors that are opposites on the color wheel and pairing them together to make interesting and complementary color combinations. It is commonly associated in fashion as a trend that originated from the artwork of Dutch painter, Piet Mondrian."
I paired it with a rust-colored suede jacket from Calvin Klein.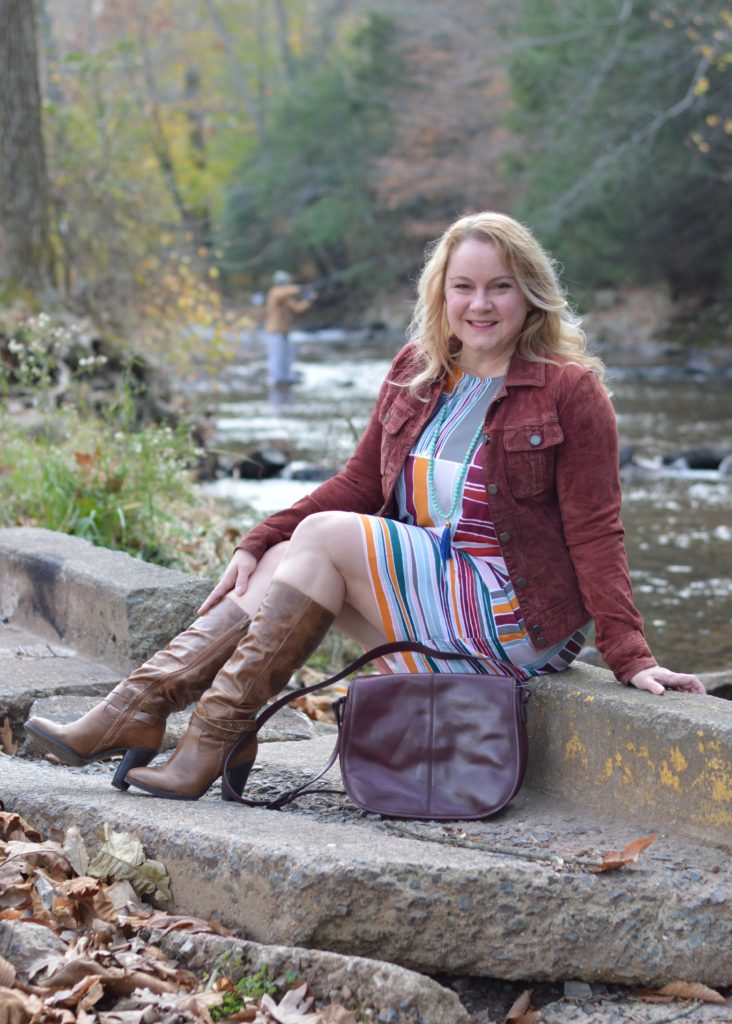 My cost was $10, but this would have sold for around $159. It's a perfect layering piece for fall. It would look smart over a t-shirt and jeans on the weekend and just as well over a blouse and trousers for work.
It's boot weather and I was ready to break out these slouchy brown leather boots from Matisse.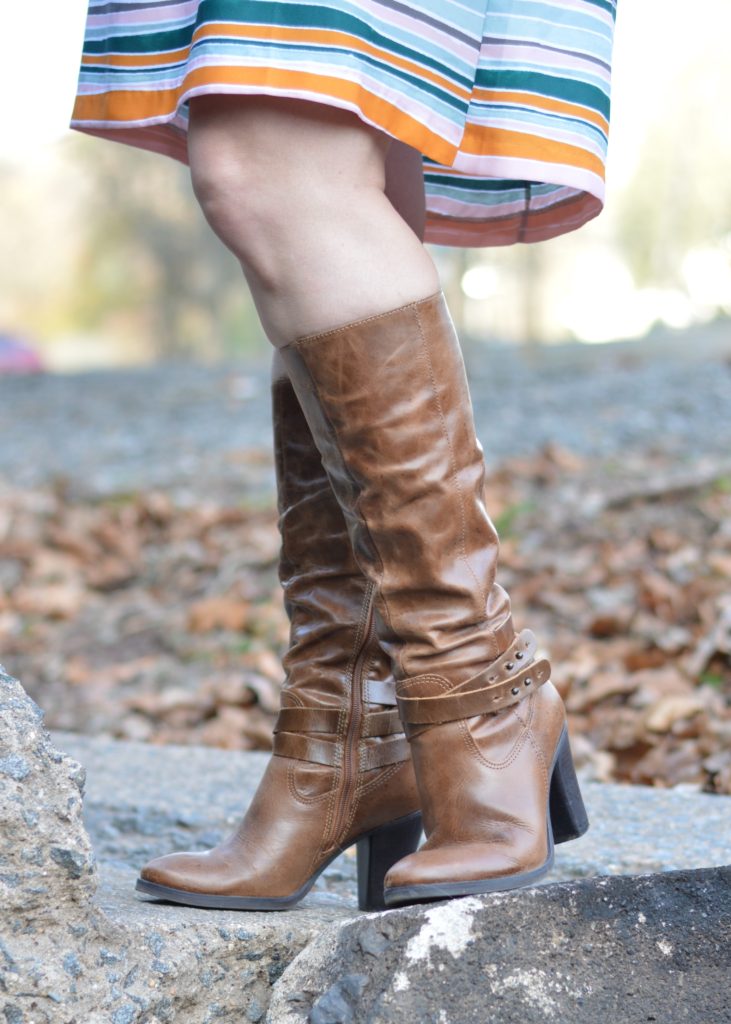 I have featured them on the blog years ago, but they are such a classic, I had to bring them back. I love re-using items in new and different ways. My cost was $9.97; retail was $275.
The bag was a great find from the Goodwill Keystone Area Outlet Center on St. Lawrence Avenue in Reading.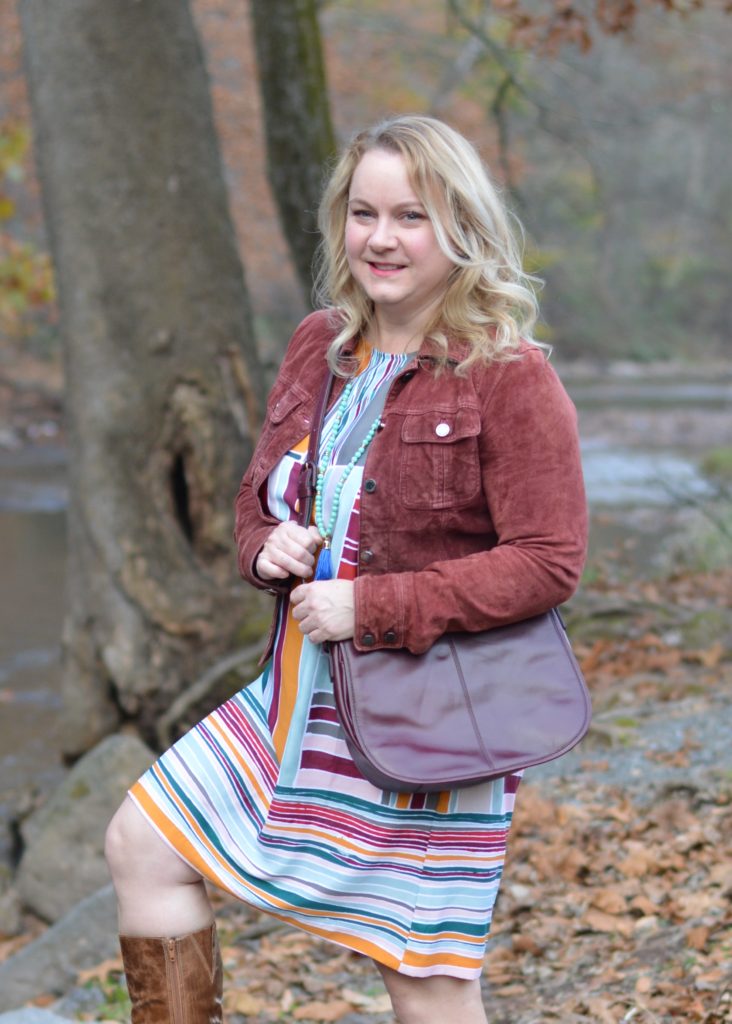 The merchandise at outlets is typically sold by the pound and I estimate that I paid around $1.00 for this gorgeous oxblood Adrienne Vittadini purse. It was new-with-tags with the original price listed as $295. The necklace was $1.97 and was new-with-tags from Target.
This whole look came together nicely and the color blocking gives the outlet a fun and stylish look. Incorporating styles of art into fashion and finding an outfit that retailed for over $800 for less than $30 at Goodwill is priceless!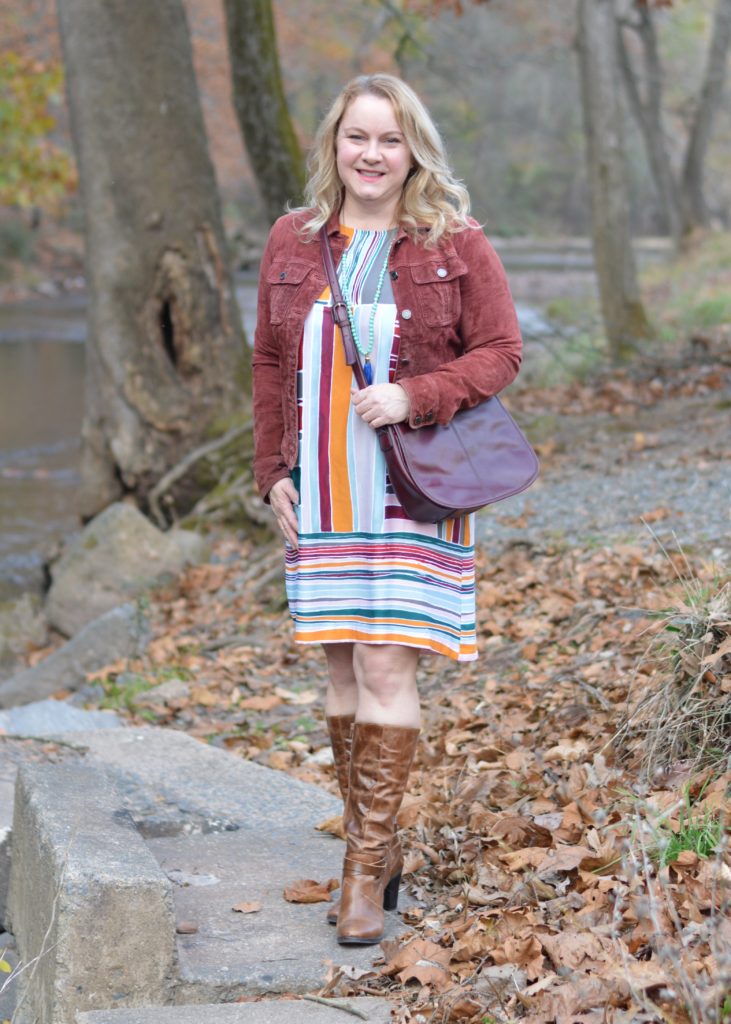 From my closet to yours,
Kirsten
Dress: $6.50
Jacket: $10
Boots: $9.97
Bag: $1.00
Necklace: $1.97
Total: $29.44
Retail: $825+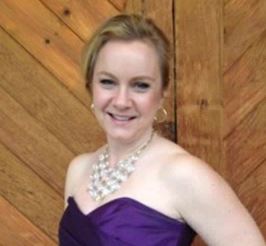 About The Blogger
Kirsten is a 40-something mom, wife and marketing professional. She loves all things crafty, tasty and fashionable, especially while being frugal. She enjoys hunting for treasures at her local Goodwill Keystone Area stores to decorate her home and wardrobe.