October is finally here after what seemed like a long summer. Everyone is hoping that the change of seasons brings more change than just the temperature. However, fall is my favorite fashion season. Maybe it's all the warm colors and cozy fabrics, but I think it's the great textures – soft cashmere cardigans, nubby sweaters, leather and suede (real or vegan), and especially, corduroy.
From October 1 – 7, as a rewards member, you can save $$$ on all these textures, fall colors, and more at your local Goodwill Keystone Area! Save $5 off $30; $10 off $40 or $15 off $50! Check out all the details here! 
As a child in the 70s, I despised the wide wale (width of the cord) corduroy pants and overalls my mom bought for me at Sears. I didn't the rustle of the fabric against itself as I walked through the hallways of my elementary school. But, the fabric kept reappearing every few years as a trend and the modern fabrics became softer, the wale became more delicate and I started to see the fabric in a new light. (Fun fact: velvet and corduroy are derived from the same kind of fustian fabric.)
Corduroy blazers make me feel scholastic or collegiate – something a professor might wear, but this one has a sleeker, more modern cut, and a notched collar.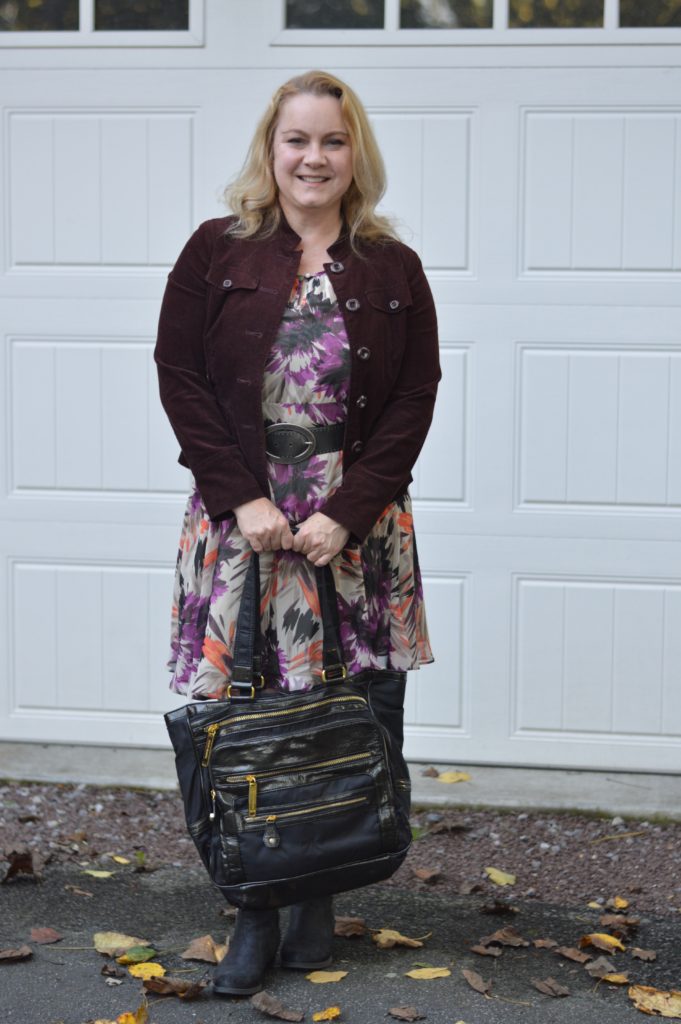 The dark eggplant color is the perfect neutral for fall. It looks great with the floral dress I've paired it with here, but would also look great with a lightweight cotton sweater, jeans, and booties.
I've added a black belt, booties, and bag (all featured in past blogs as I've been trying to recycle even more of my wardrobe).
Goodwill Keystone Area is where you can find all the autumnal colors and textures you need to add to your fall wardrobe. Maybe you'll even find some great vintage pieces from the heyday of polyester corduroy! I'll stick to my more modern cotton/spandex pieces for a great fit.
From my closet to yours,
Kirsten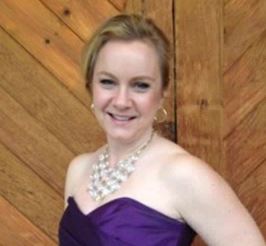 About The Blogger
Kirsten is a 40-something mom, wife and marketing professional. She loves all things crafty, tasty and fashionable, especially while being frugal. She enjoys hunting for treasures at her local Goodwill Keystone Area stores to decorate her home and wardrobe.