Blogging has become such a part of my life that I now plan photo shoots around my adventures, so I can have a new backdrop (and a new outfit!). On a recent visit to the Keswick Theater in Glenside to hear Midnight Oil (a 80s Australian band), I planned a casual concert look of a t-shirt and jeans. But, these were no ordinary pieces.
The t-shirt's pattern caught my eye at Goodwill in Robesonia, PA.
It was inky black color in a soft jersey fabric with a smattering of silver foil dots. It was sparkly without being over the top. I checked the tag and it was Juicy Couture! T-shirts on their website range up to $118, so my $3.95 was a solid investment.
The jeans were also a hidden gem.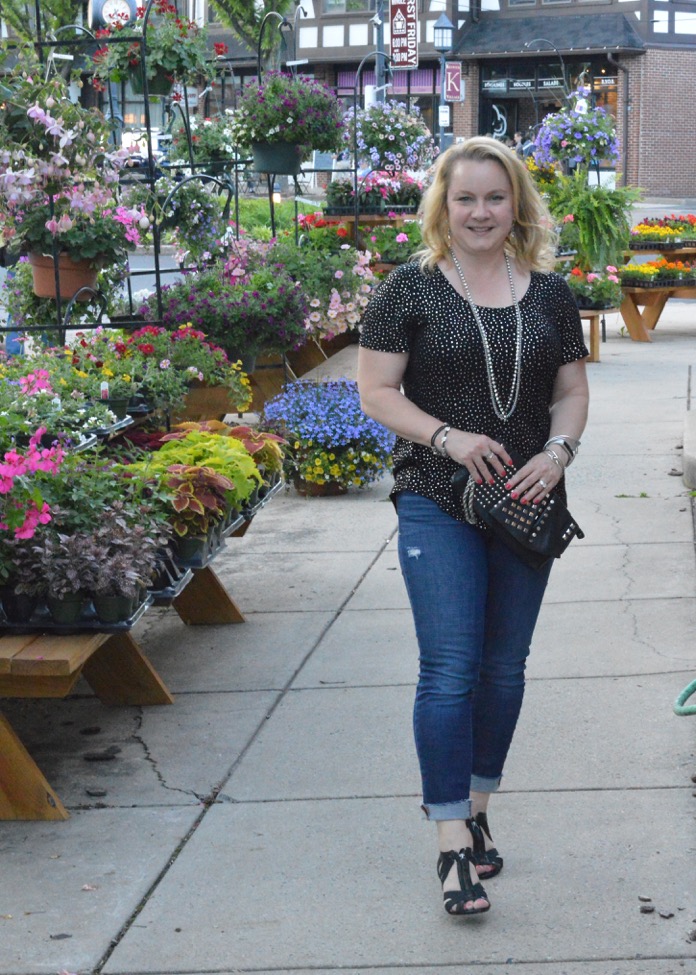 I pulled the non-descript distressed dark wash jeans from a rack at Goodwill in Exton, PA. I wasn't familiar with the brand "Pilcro and the Letterpress", but a quick internet search revealed that they are an Anthropologie brand and would have retailed for $138! I plunked down my $6.50 and walked out with the newest addition to my premium denim collection.
For accessories I added a Jessica Simpson studded black clutch. This would have cost $57 had I bought it new. The multi-strand rhinestone necklace from Chico's played up the silver in the shirt and the studs on the clutch. Lastly, I needed footwear that I could dance in. These strappy low heeled, zippered sandals from MRKT fit the bill.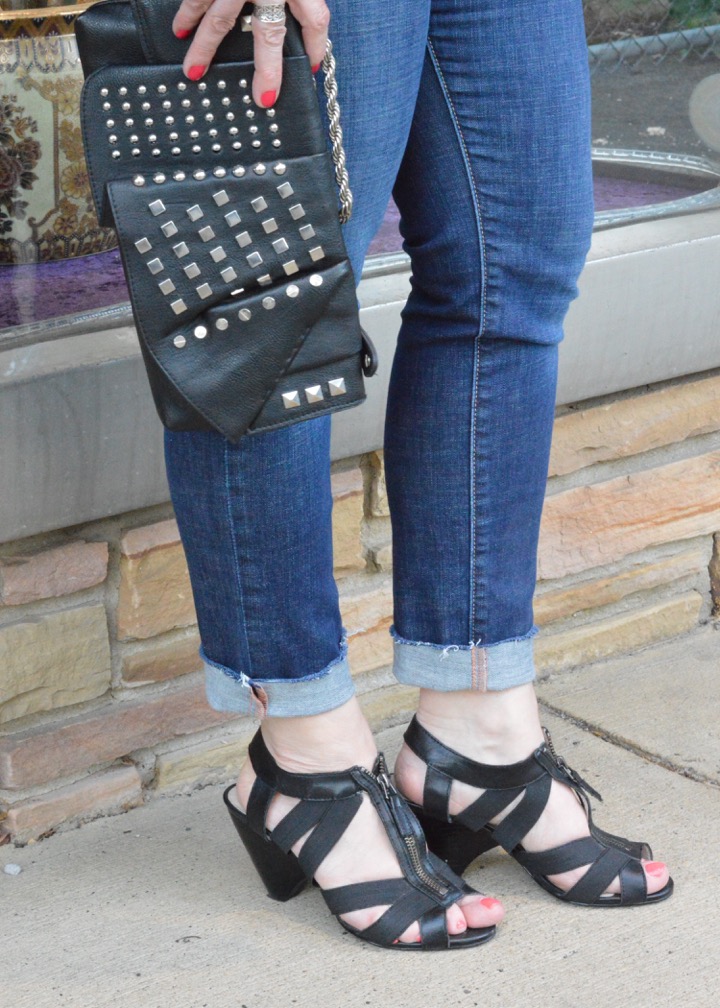 This outfit would have retailed for about $400, but my total was just $25.89, so I can keep affording those concert tickets!
Shirt: $3.95
Jeans: $6.50
Clutch: $4.97
Necklace: $3.50
Shoes: $6.97
Total: $25.89
From my closet to yours,
Kirsten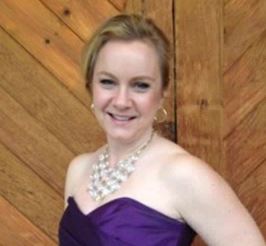 About The Blogger
Kirsten is a 40-something mom, wife and marketing professional. She loves all things crafty, tasty and fashionable, especially while being frugal. She enjoys hunting for treasures at her local Goodwill stores to decorate her home and wardrobe. She is a stylist and volunteer for the fundraiser the Goodwill Runway Show, which is held every spring in Reading, PA.