Sometimes I purchase a complete outfit on one shopping trip and another time, a look comes together from pieces purchased separately. This outfit came about that way. Piece by piece…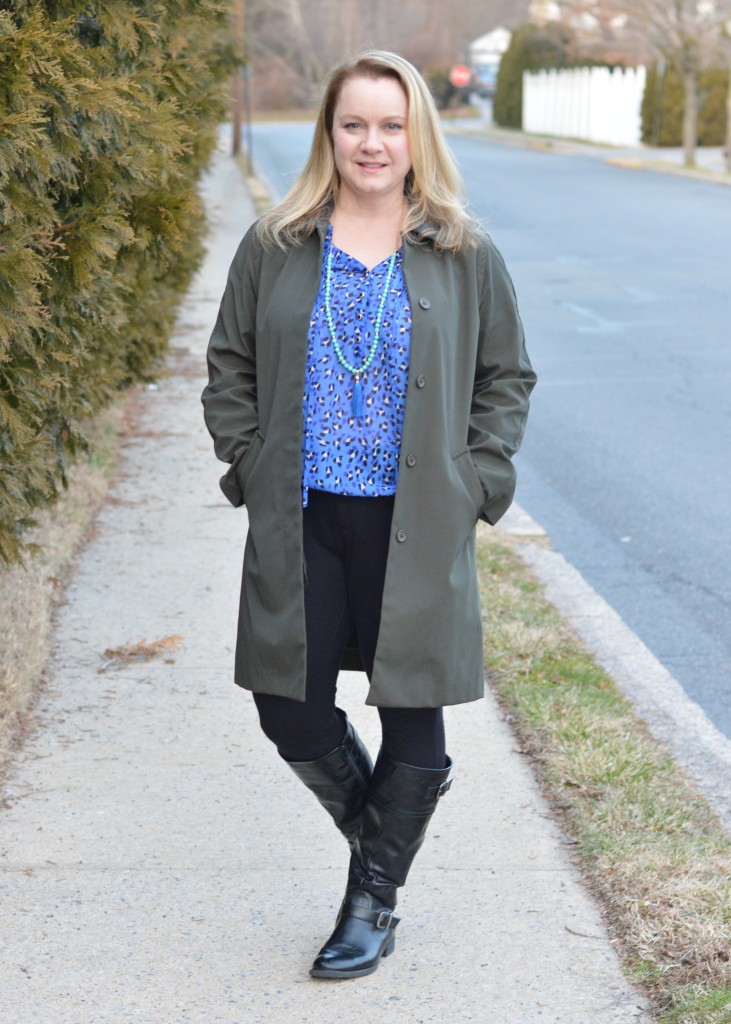 I enjoy mixing colors and finding new and interesting combinations. Cobalt and olive was a color palette I saw several months ago in a fashion magazine. I had tucked the idea away and after a few Goodwill shopping trips, I ended up with the cobalt blouse and olive trench coat in my stockpile of blog clothing.
The gauzy blue and leopard-print blouse by Gap is fun without being wild.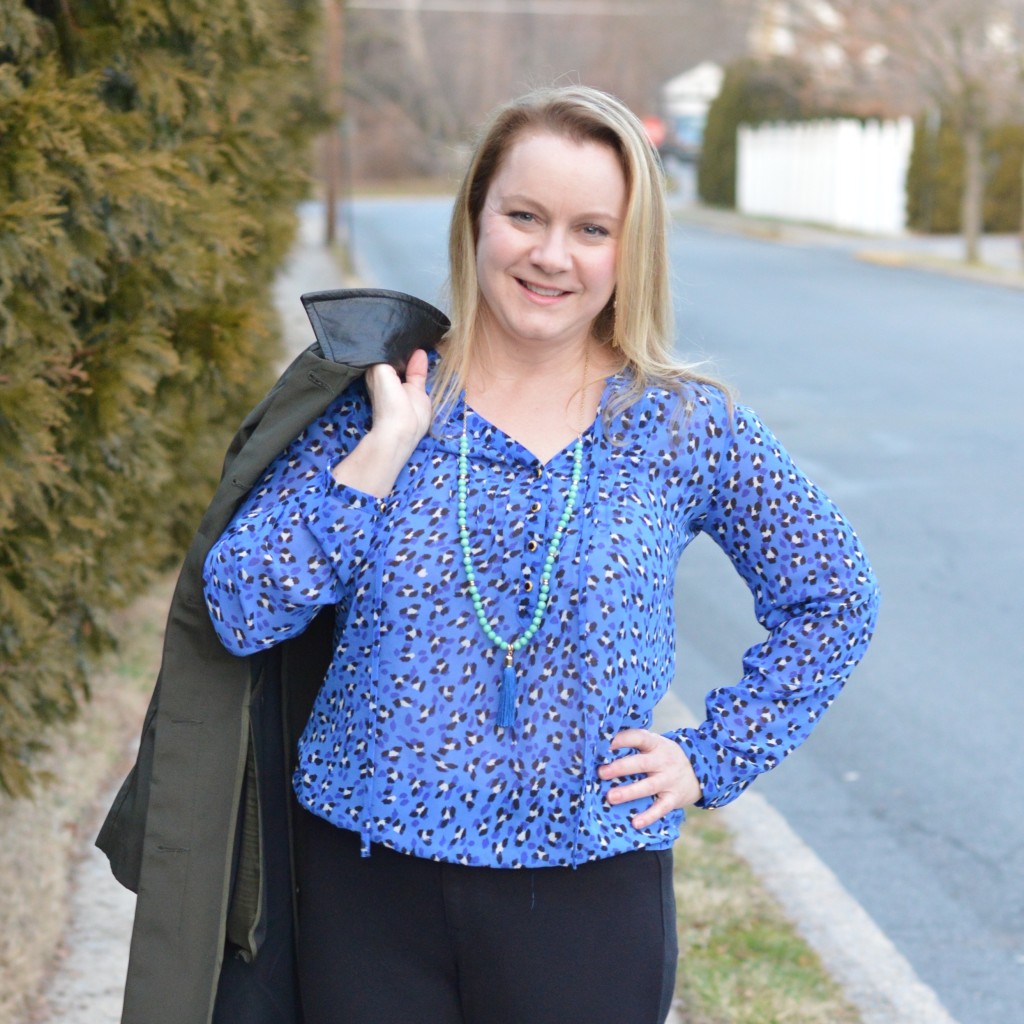 I paired it with skinny black pants from Ann Taylor Loft, which are a staple in my wardrobe. The blouse would also look great with boot cut jeans, black heels and a black moto jacket for a night out. I added flat, belted tall boots from Wearever for a comfortable, casual footwear option.
The olive trench from Club Monaco is a truly classic piece.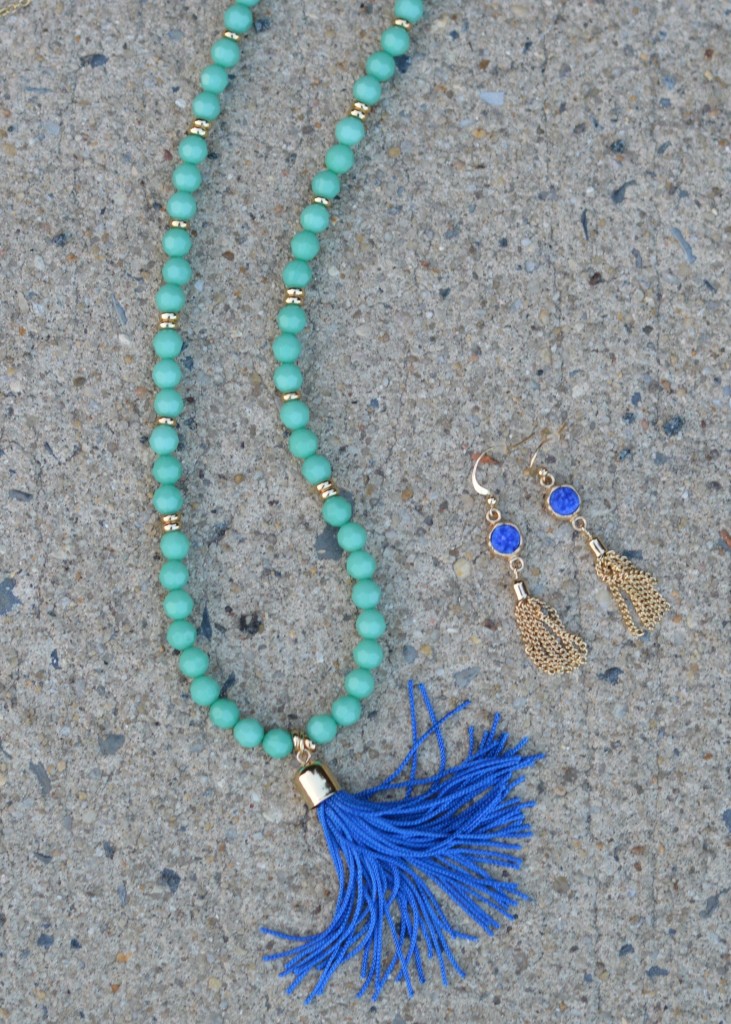 I had heard of Club Monaco, but hadn't researched it much until writing this post. I had not realized the simple trench I had paid $10 for was originally sold for about $329! Club Monaco is a mid-priced, high-end casual clothing retailer owned by Polo Ralph Lauren. I found a hidden gem at my local Goodwill and will be on the lookout for more pieces from that brand.
The only items I bought after the outfit came together were the jewelry pieces. I found the (new with tags from Target) earrings and tassel necklace and instantly knew I had to have them to complete this look.
Fashion magazines often provide the inspiration for my blog looks, but Goodwill lets me recreate the high-end styles and play with unique color combinations at prices everyone can afford.
Necklace: $3.99
Earrings: $1.99
Blouse: $3.95
Coat: $10.00
Pants: $4.50
Boots: $6.97
Total: $31.40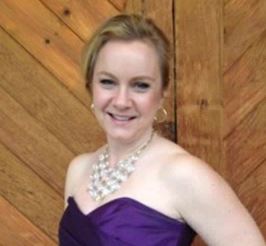 About The Blogger
Kirsten is a 40-something mom, wife and marketing professional. She loves all things crafty, tasty and fashionable, especially while being frugal. She enjoys hunting for treasures at her local Goodwill stores to decorate her home and wardrobe. She is a stylist and volunteer for the fundraiser the Goodwill Runway Show, which is held every spring in Reading, PA.