Summer has arrived in the Goodwill Keystone Area, and it brought its friends – heat and humidity. I expect heat waves in July and August, but this early bout of warm weather has me dressing as light as possible. I want to stay looking stylish and cool, especially now that restrictions are being lifted, and I'm spending more time out and about, not just going to work and the grocery store.
When the temps soar, I don't reach for shorts and tank tops – my go-to article of clothing is a dress. I love a light A-line cut in the summer – one made of breezy fabric with a floaty hemline. You don't want anything hugging or clinging to you – you want cotton, linen, or jersey fabrics with simple styles and cuts. Lighter color fabrics also reflect light, keeping you cooler.
Since I'm such a fan of prints, these two Loft dresses (Retail: $79; Goodwill: $7.95)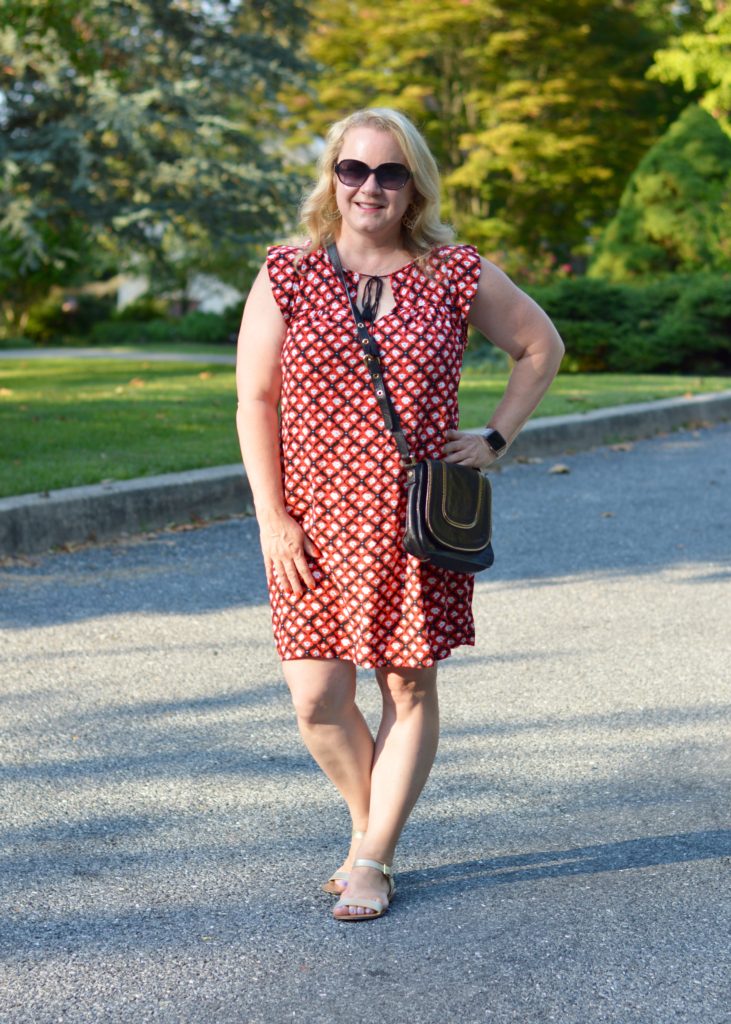 were obvious choices for my summer wardrobe. With the addition of a few accessories, these dresses are perfect for the office, brunch, or a night on the town. They could even double as bathing suit cover-ups at the beach.
I wore the white floral dress to dinner to celebrate my 25th anniversary recently. I love the cap sleeve and ruffled hem. I added pink and gray snakeskin-print sandals from Bobs (by Sketchers) which are some of the most comfortable shoes I own. (Retail: $50; Goodwill: $7.47) Throw on a coordinating Coach bag (Retail: $200; Goodwill: $12.99),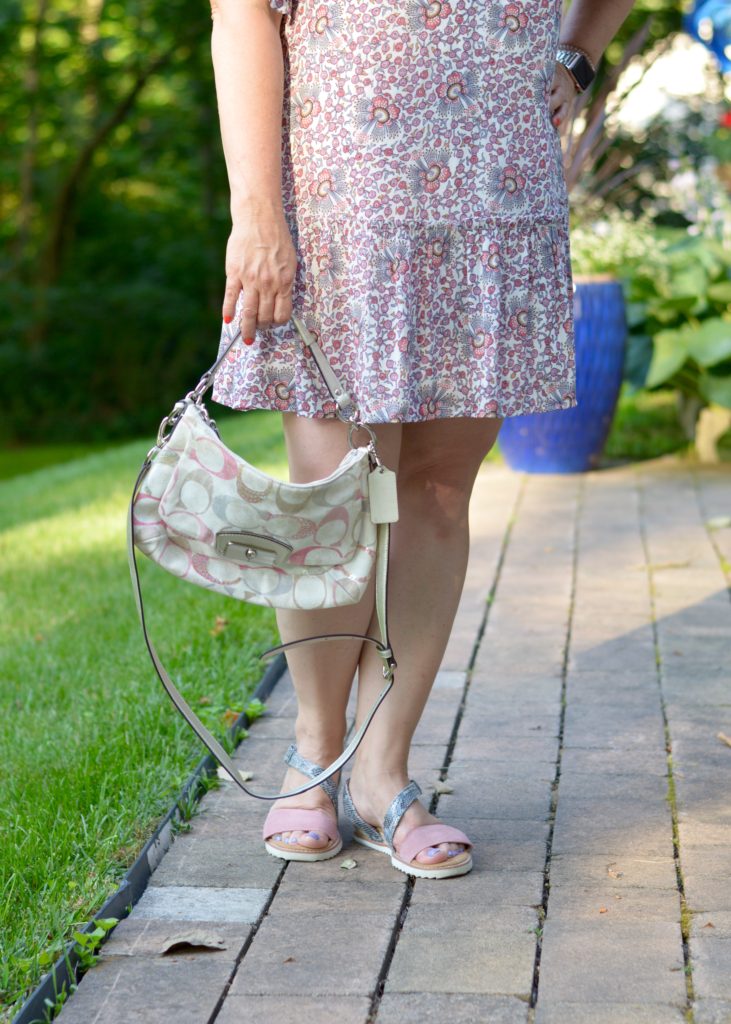 and I'm ready for whatever the heatwave throws at me.
The next look is a graphic red and black print Loft dress with tassels on the neckline. It is extremely lightweight, and I have worn it several times to work with different shoes and even flip-flops. I love the versatility of the style. I added gold sandals from J Crew I featured before and were a great find for $7.47 (Retail: $100). The final touch was a Michael Kors crossbody bag (Retail: $99; Goodwill: $6.99).
I like carrying smaller, lighter-weight bags in the summer, so I don't overload them with unnecessary items. My necessities in the summer, besides the regular items, include a small tube of sunscreen and a hair tie.
No matter the weather, Goodwill Keystone Area has got you covered, or uncovered, whatever the case may be. Feel good about spending your dollars on an organization that keeps your community cool.
Kirsten
Outfit 1:
Dress: $7.95
Sandals: $7.47
Bag: $12.99
Total: $28.41
Retail: $329
Outfit 2:
Dress: $7.95
Sandals: $7.47
Bag: $6.99
Total: $22.41
Retail: $278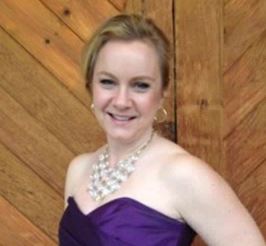 About The Blogger
Kirsten is a 40-something mom, wife and marketing professional. She loves all things crafty, tasty and fashionable, especially while being frugal. She enjoys hunting for treasures at her local Goodwill Keystone Area stores to decorate her home and wardrobe.