I've always admired Coco Chanel's style. Her iconic tweed suits inspired this look. Wikipedia says "The founder and namesake of the Chanel brand, she was credited in the post-World War I era with liberating women from the constraints of the "corseted silhouette" and popularizing a sporty, casual chic as the feminine standard of style. A prolific fashion creator, Chanel extended her influence beyond couture clothing, realizing her design aesthetic in jewelry, handbags, and fragrance. Her signature scent, Chanel No. 5, has become an iconic product."
While a Chanel suit would be extremely lucky to come by at Goodwill, I was pleased to find this sporty red and navy tweed jacket from Jones New York.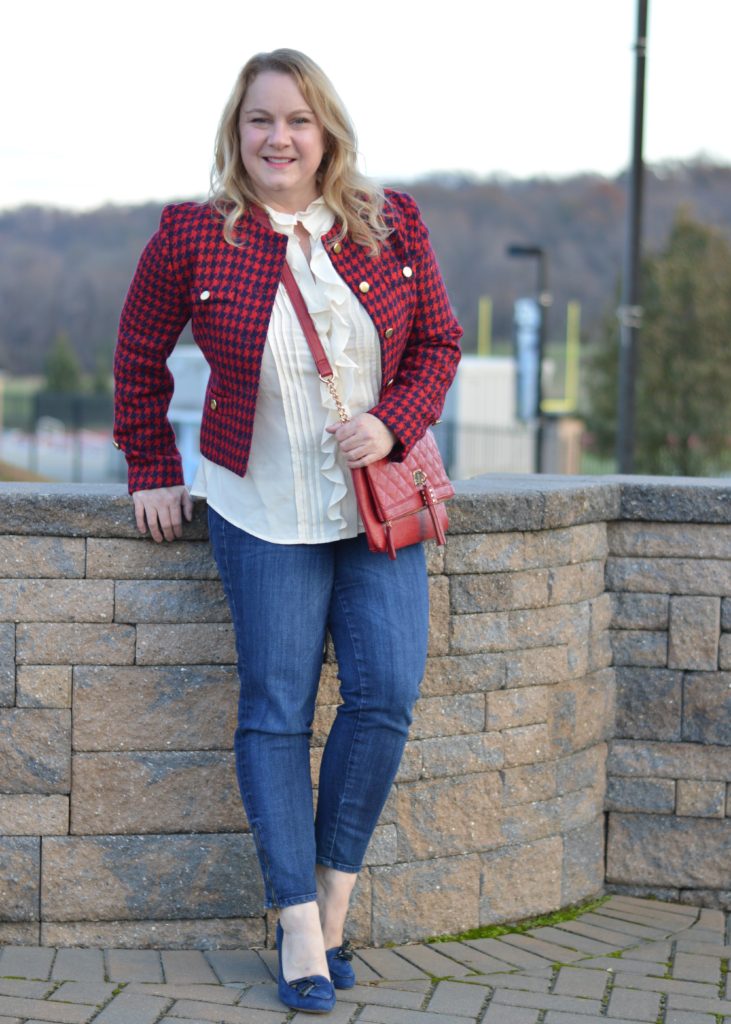 It has the classic lines like Chanel designed, but a modern feel. I snagged it at my local Goodwill for $6.00; the cost when new would be about $99.
To juxtapose the boxy jacket style, I added a feminine ruffled silk ivory blouse from Talbots. This classic top can work with many different jackets – from jean to leather. And the $4.25 price was a good buy since similar shirts sell for around $99.
To lighten the look, I styled it with Gap jeans.
These featured ankle zippers and a medium blue wash. My cost was $5.50, but Gap jeans typically retail for about $79. Jeans are one of my favorite items to purchase at Goodwill Keystone Area stores. You can find many different brands and variations and they are already worn in a bit for a softer feel to the fabric, especially if you like the distressed look.
I went with classic red and blue accessories: a red quilted purse with gold chain strap (not unlike the classic Chanel bag!)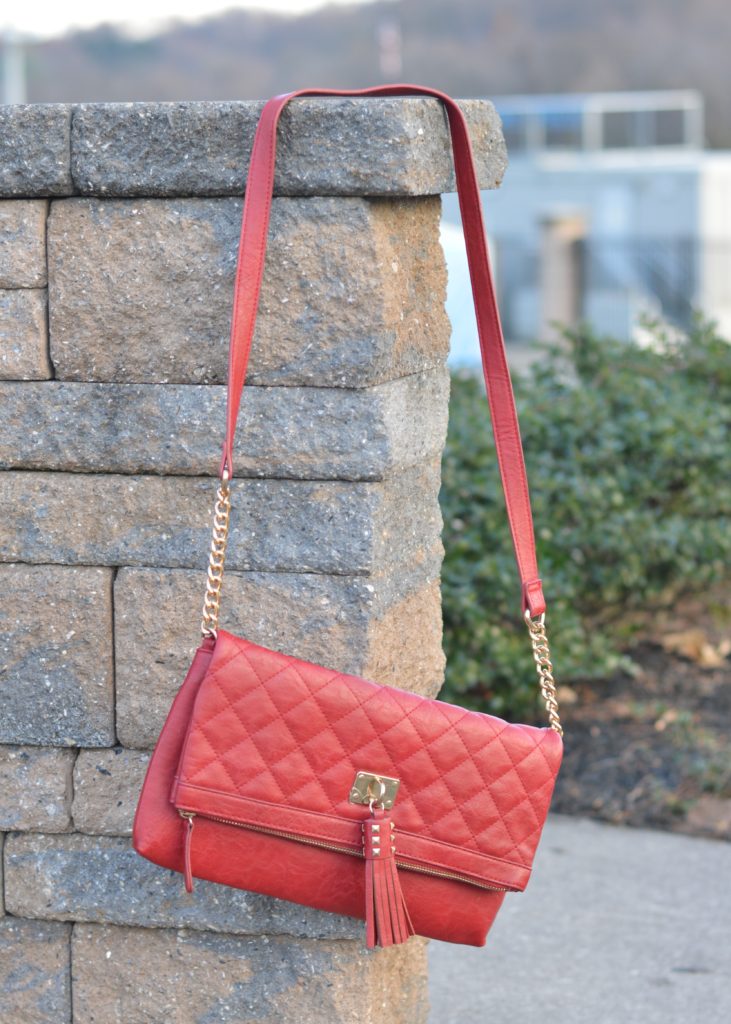 and navy pumps.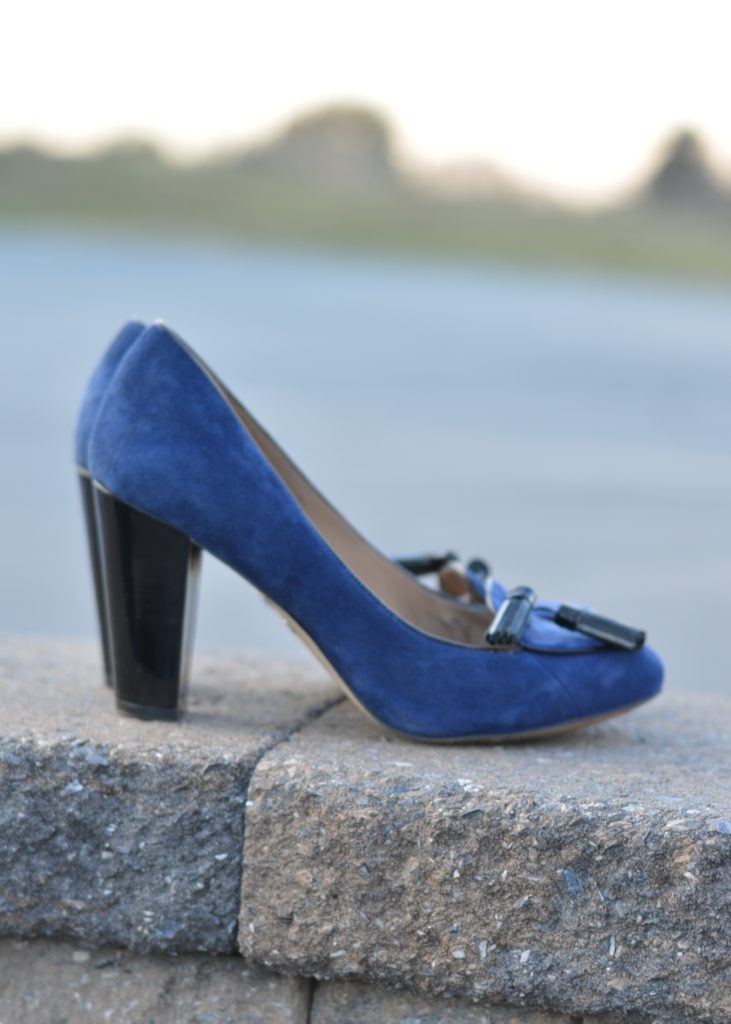 While Chanel bags cost thousands of dollars, this Aldo version (retail: $55) with tassel and stud detail was $4.97 at Goodwill.
The navy suede heels from Ann Taylor also featured black tassel trim. These walked out of Goodwill with me for just $6.97 while I would have spent up to $149 at the mall for them.
Recreating designer looks on a dime is one of the benefits of shopping at Goodwill Keystone Area stores. Being a Thrifty Fashionista has it's advantages when you know how to look like a million bucks at just a fraction of the cost.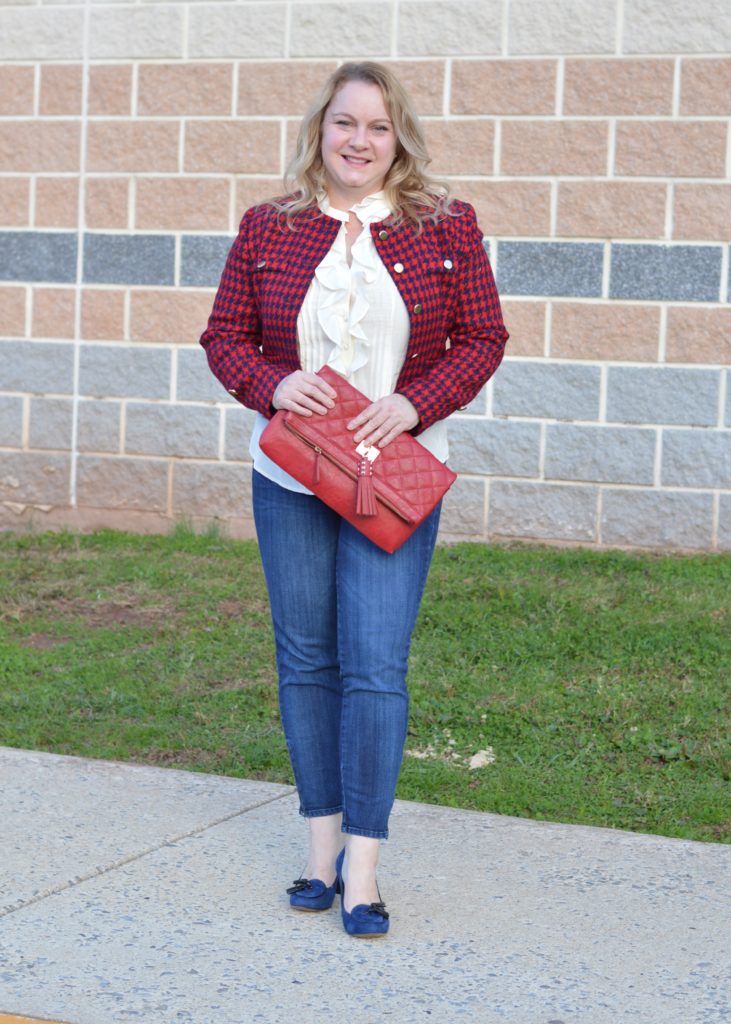 From my closet to yours,
Kirsten
Jacket: $6
Blouse: $4.25
Jeans: $5.50
Bag: $4.97
Heels: $6.97
Total: $27.69
Retail: $480+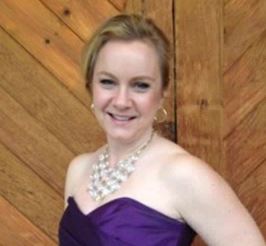 About The Blogger
Kirsten is a 40-something mom, wife and marketing professional. She loves all things crafty, tasty and fashionable, especially while being frugal. She enjoys hunting for treasures at her local Goodwill Keystone Area stores to decorate her home and wardrobe.