While I can appreciate people who have monochromatic, classic and simple wardrobes full of white, ivory, gray and black such as Diane Keaton, I admire them from afar and fill my own closet with almost every color in the rainbow (except yellow – not always my favorite color on me).
I've always enjoyed bright, colorful and bold patterns such as florals and stripes, but lately I've been gravitating to even more festive pieces. I attribute that to the situation we're all in right now and the months of being home wearing sweats and pajamas. Now that I'm back out (cautiously and always with a mask, of course) my outfits are down-right rainbow-colored.
A few months ago on the blog I shared a long-sleeved, winterized-version of this dress from laundry by Shelli Segal.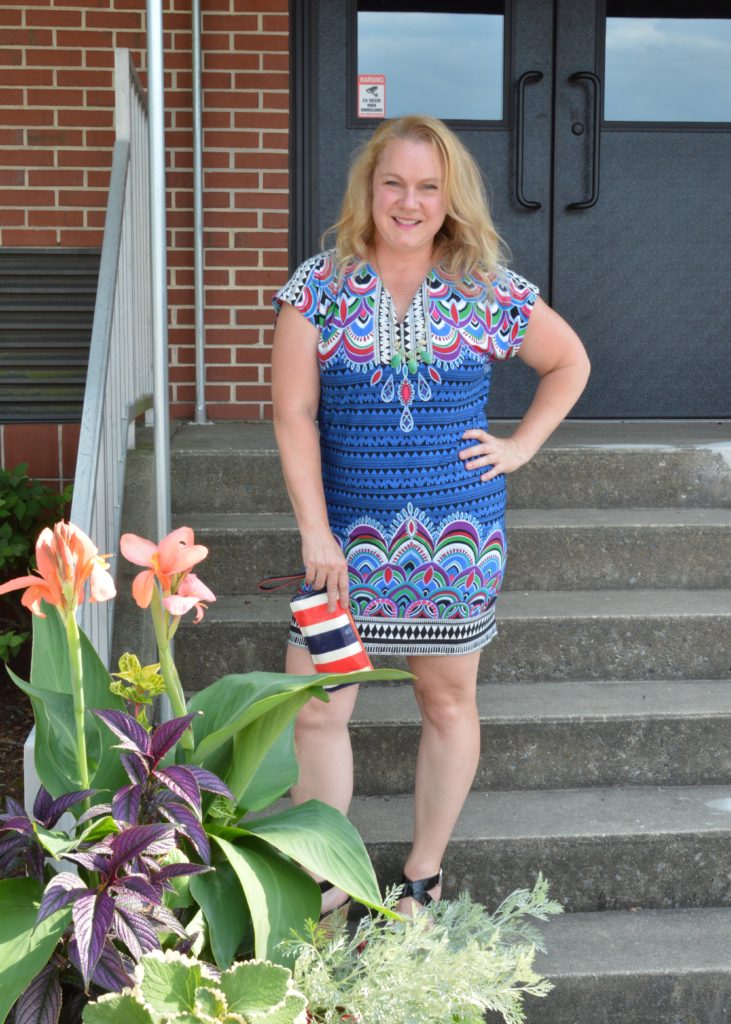 I love the patterns and colors from this brand. If you don't recall, here's a little info from their website: "A leader in fashion, Laundry by Shelli Segal has been setting trends and inspiring women for more than 25 years. Laundry balances just the right blend of red carpet glamour and West Coast chic that is iconic and universal in its appeal. Always feminine and vibrantly colorful, the brand is known for its unique use of embellishments and signature prints. The result is a distinctive collection with a contemporary aesthetic crafted to fit the lifestyle and sensibility of a modern woman who is stylish, smart, sexy, and not afraid to make an entrance."
Right now, wherever I go I want to make an entrance, so this brand is definitely for me. I had my months of working from home in comfortable (yet dull) attire and now I look forward to get back out in the world.
This bold-patterned shift dress with split neckline is comfortable and cool for humid, hot days.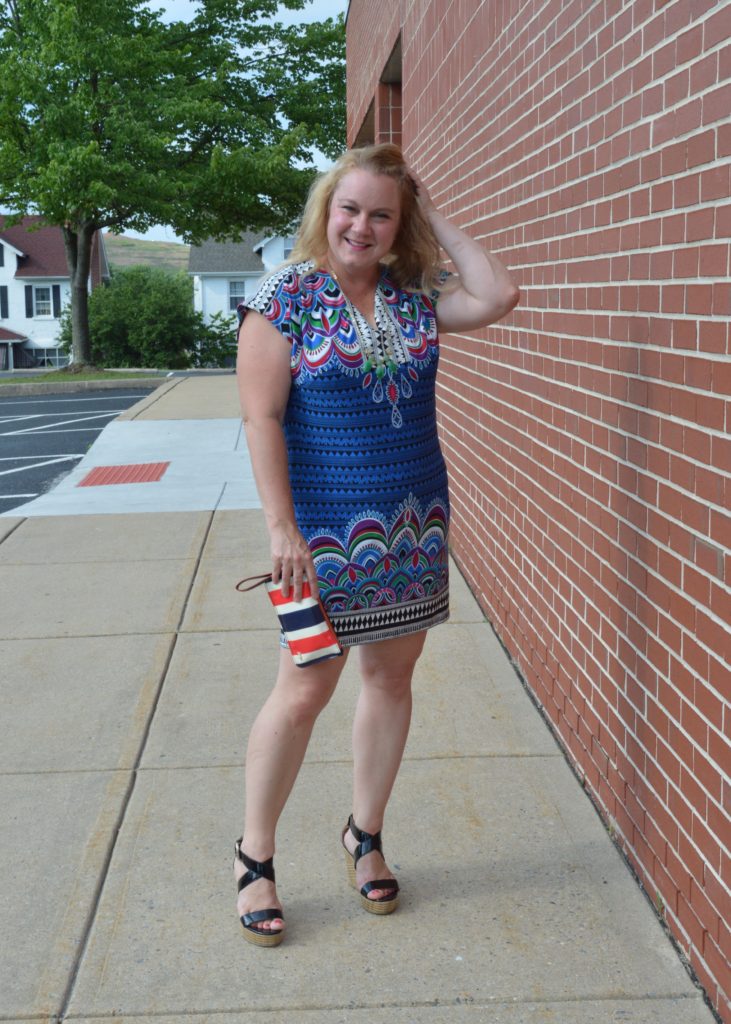 I paid $7.50 at my local Goodwill, but similar styles retailed for $128 at stores such as Macy's, Nordstrom and Bloomingdales.
For this shoot I added stacked wedge sandals, but it is so rare that I wear such high heels anymore!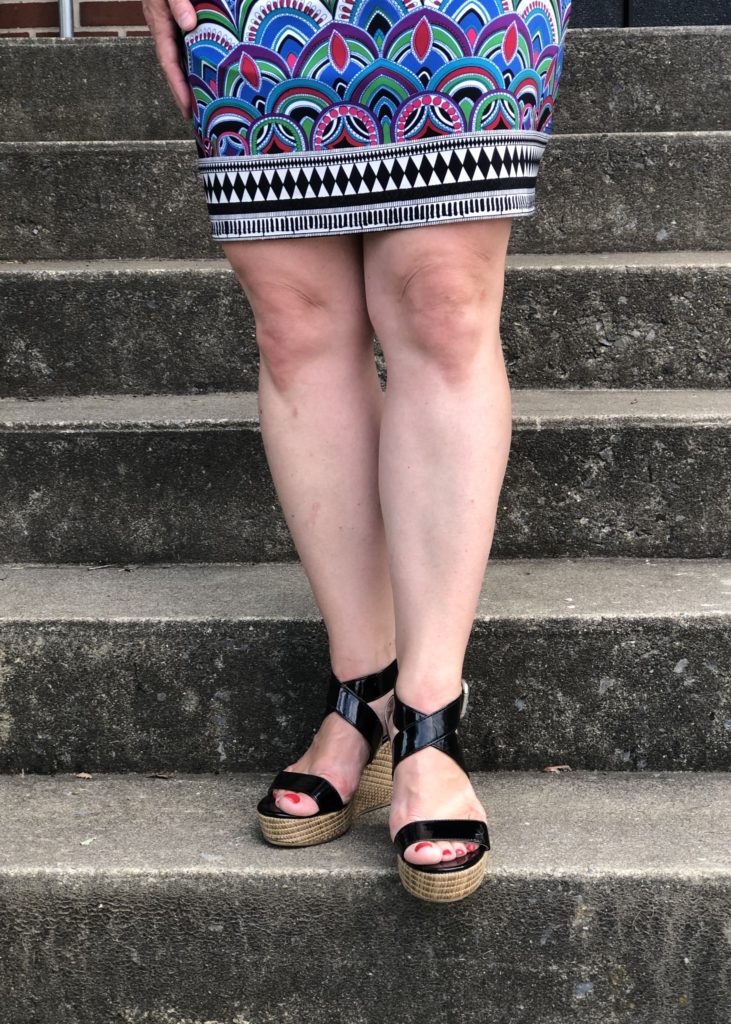 My daughter remarked how tall I looked, which is surprising because I was always a high heel fan, never leaving the house for work in anything less than 4" heels. My new job is much more casual and I have come to appreciate being able to wear Bermuda shorts, sandals and even flip flops to the office! These black patent and rattan wedges are from New York and Co. They sold for around $45 when new, but my price at Goodwill Keystone Area was $6.97.
For accessories, I kept them bright and colorful: a long green stone necklace and a striped clutch from Juicy Couture.
The necklace was $3.97 and the bag was $2.97 (Retail: $90!).
The other odd thing, besides wearing heels for this shoot, was wearing lipstick. Since mask-wearing has become the norm, I don't use much makeup and never wear lipstick or lipgloss! Smile with your eyes and make your outfit stand out with a rainbow of colors – available at Goodwill Keystone Area stores! They even organize their racks by color making it easy to choose the hues you are looking for!
All 43 stores are now open Monday-Saturday 9am-9pm, Sunday 12pm-6pm (see yourgoodwill.org for details and exceptions) and the following procedures are being implemented:
Masks will be required for all shoppers and employees (unless covered by a medical exemption)
Social distancing of six feet will be encouraged throughout the stores
A limited number of customers will be allowed in the store at one time
Enhanced cleaning measures will be implemented, especially for high traffic and high touch areas such as shopping carts
Donation areas will remain "no contact," self-service for drop off of clothing and housewares, no furniture
No returns, all sales are final until further notice
From my closet to yours,
Kirsten
Shorts: $7.50
Sandals: $6.97
Necklace: $3.97
Bag: $2.97
Total: $21.41
Retail: $300+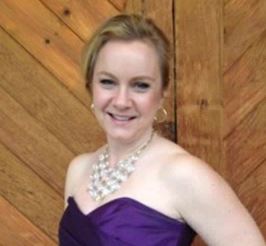 About The Blogger
Kirsten is a 40-something mom, wife and marketing professional. She loves all things crafty, tasty and fashionable, especially while being frugal. She enjoys hunting for treasures at her local Goodwill Keystone Area stores to decorate her home and wardrobe.