August is when back-to-school supplies and cooler weather clothing are on the top of your shopping lists. However, it's an excellent time for your summer style to meet your new fall fashions.
Summer: I had picked up the ruffled floral dress on a whim.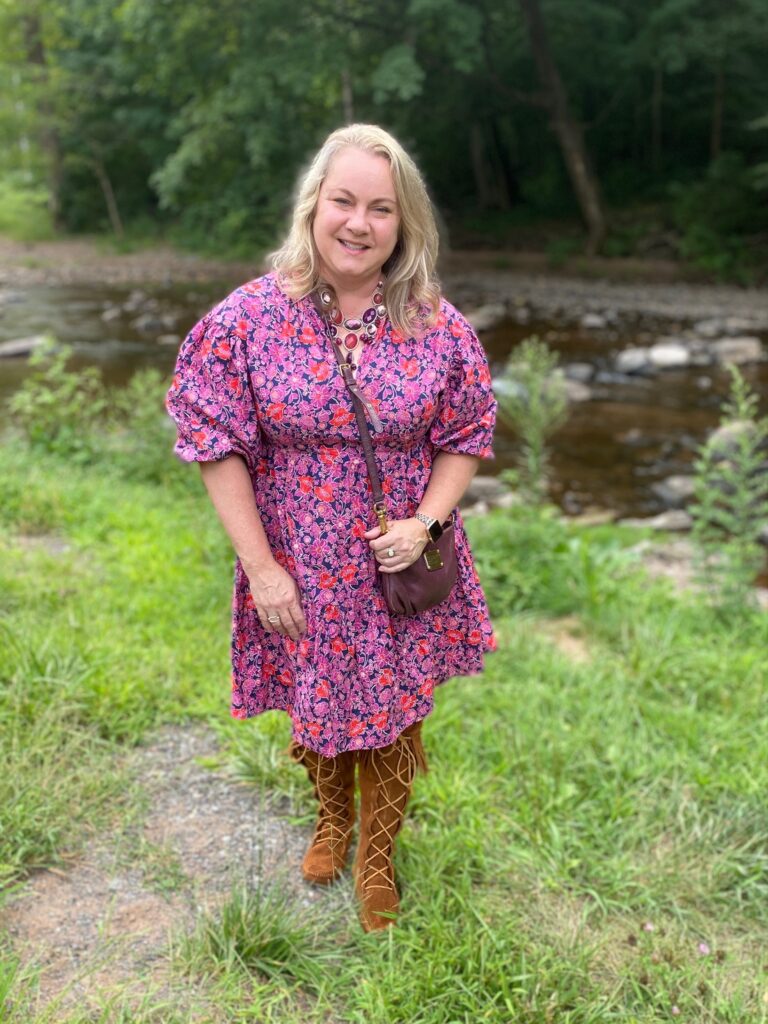 I didn't try it on, and I didn't see a tag, but I loved the print and took it home. Luckily, it fit perfectly; I found the brand tag, and the best part – it has pockets!!! The brand is Sundry, and according to their webpage, they are a fusion of the Mediterranean Sea and the Pacific Ocean with a casual coastal, French chic vibe. I felt great in this dress, so whatever they are doing, I love it! Retail on this dress was $199, but my Goodwill Keystone Area price was only $3.50 since it was a color tag sale of the week!
Fall: These Minnetonka suede fringe boots were picked up from the Goodwill Halloween section.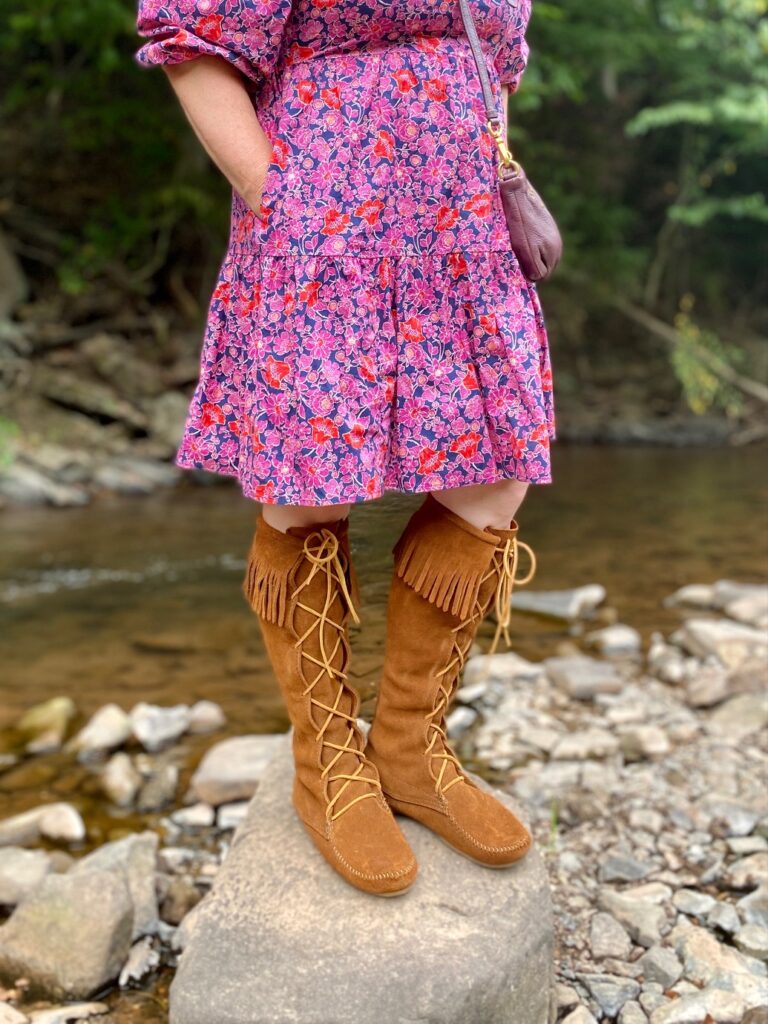 Halloween and swimsuits are side by side in the stores I'm visiting right now. They were brand new, and I knew they'd be a fun addition to my wardrobe (and not just for a Halloween costume). This exact style is still available on their website and has been around for five decades! That's iconic! The laces and fringe add a fun, whimsical feel to the floral dress. (Retail: $107; Goodwill: $19.99).
I added an older Marc by Marc Jacobs bag (previous purchase from Goodwill) and a purple statement necklace to wrap up this mash-up, cross-seasonal look.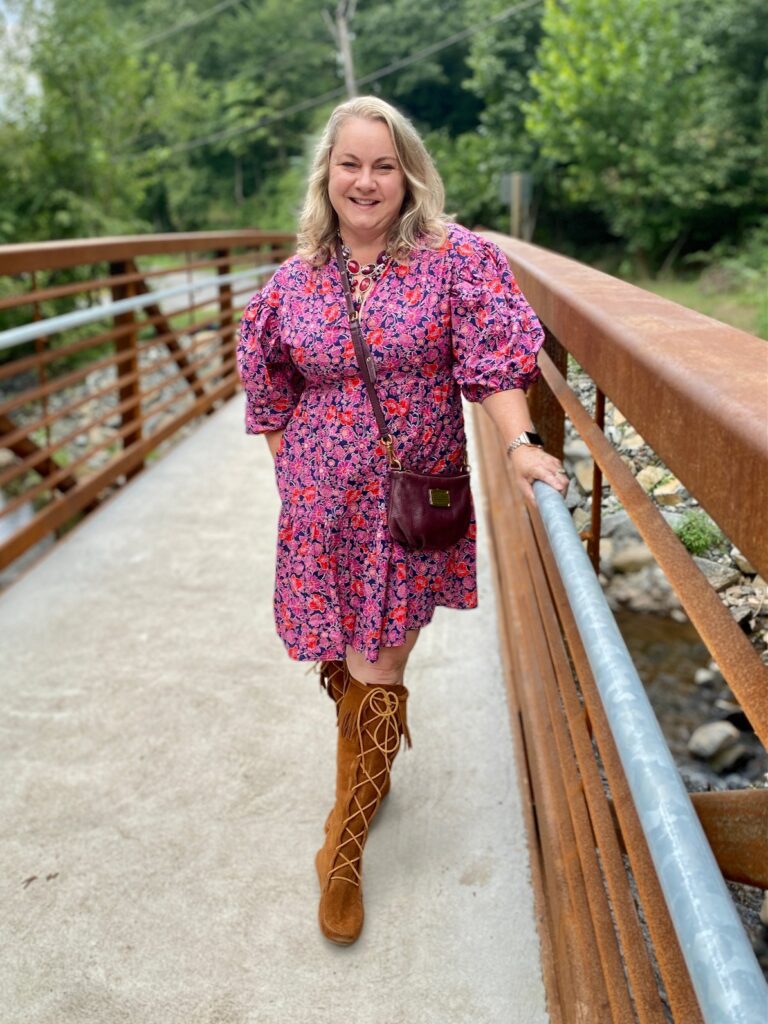 Don't overlook the seasonal sections when shopping at your local Goodwill Keystone Area store. Now is a great time to pick up a cardigan to layer over a lightweight summer blouse, or add some sturdy boots under your cropped capris. Mix up your seasons for a brand new look!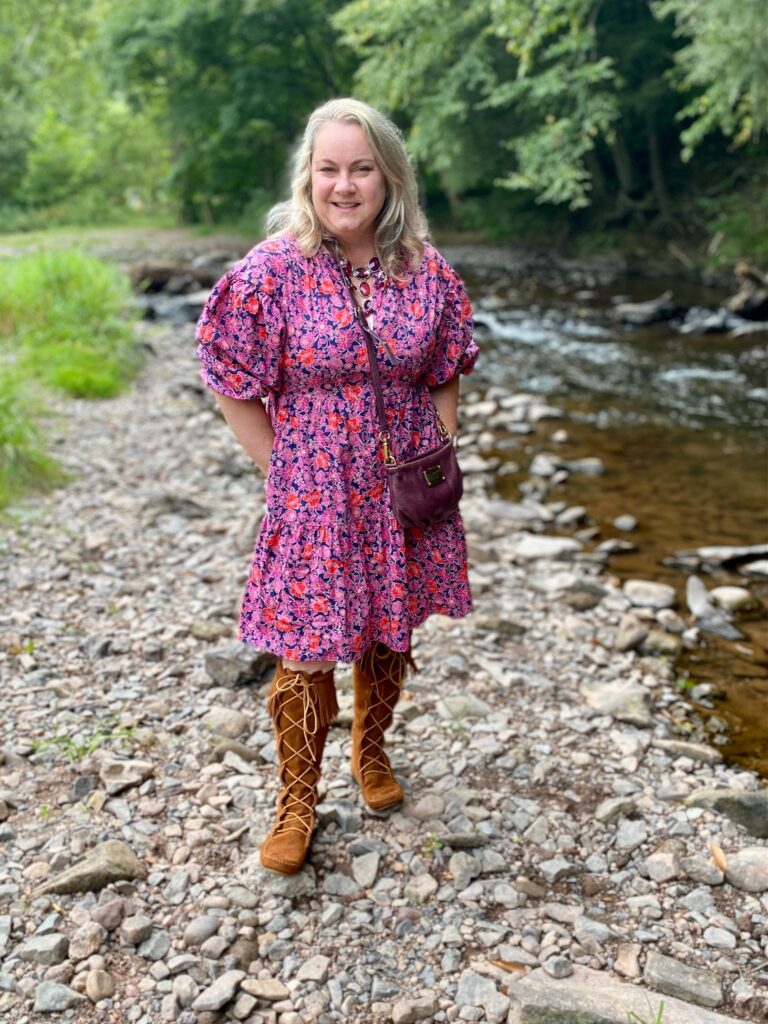 From my closet to yours,
Kirsten
Dress: $3.50
Boots: $19.99
Bag: 4.99:
Total: $28.48
Retail: $406
From my kitchen to yours,
Kirsten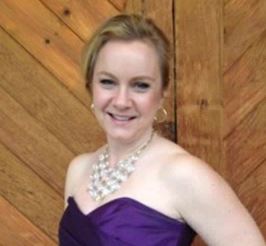 About The Blogger
Kirsten is a 40-something mom, wife and marketing professional. She loves all things crafty, tasty and fashionable, especially while being frugal. She enjoys hunting for treasures at her local Goodwill Keystone Area stores to decorate her home and wardrobe.