Introducing 2014 Goodwill Re-Design Contest Winner of the Accessories Category, Kirsten Irwin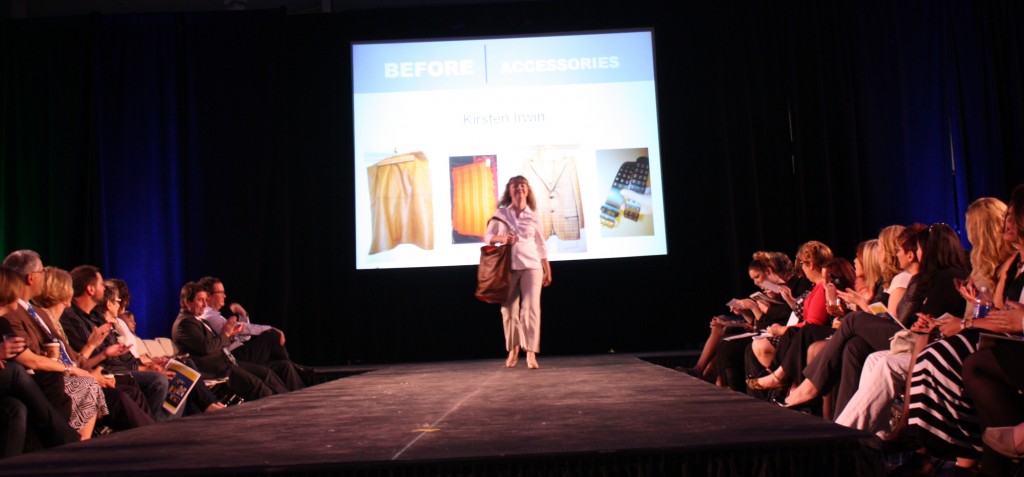 How did you get started in re-designing clothing and why do you shop at Goodwill?
I really needed a creative project to get me through the long winter! I had noticed the signs for the Re-Design Contest at Goodwill and read the article in the newspaper, and I thought I would try it this year. I've been interested in art my whole life and thought this would be a fun way to try something different – sewing!
I love shopping at Goodwill because there is such a wide variety of styles available for bargain prices. I'm constantly amazed at the quality of the items. I know the money from these purchases provides jobs and training for people with special needs. My stepsons both have special needs and my one son worked for Goodwill last year.
What Goodwill locations do you shop at and what items do you typically look for when considering a re-design piece?
I usually shop at the Shillington store because it is so convenient, but I will check out the other Goodwill stores in Berks County sometimes. I try to find fun fabrics, interesting colors, or unusual details in the items for re-designs.
How do you create your re-designs?
The tote bag is my first re-design piece.
I used an upside-down, perforated-leather skirt for the outside of the bag. The lining is made from 4 orange, striped placemats and a man's plaid suit coat.
The stripes in the plaid include orange and brown that tied the colors together and added some pattern to the mix. I kept the pocket of the jacket and used it for the inner pocket of the bag.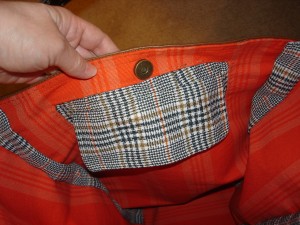 I found a great, wide belt with grommets that became the handle for the bag.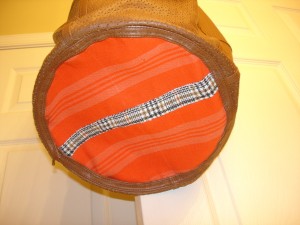 I hope to buy a sewing machine and start practicing with that for next year's entries!
What was your experience like at the Goodwill Runway Show?
I had a wonderful time! Everything was executed very well and I think the show was incredibly enjoyable for participants and audience members alike. It was great meeting all the finalists in the Re-Design contest. My friends and I really had a fun evening; I can't wait until next year!
What advice do you have for aspiring re-design artists? 
Enjoy the creative process and take some chances! Have a good time making something unexpected!
See all of the 2014 Goodwill Re-Design Winners on our Facebook Page, click here.